Many decades completed, but still a lot of untapped potential business for the banking sector in India. In the past six months or so the Indian economic growth story has shifted from a lackluster economy with a slowing growth rate to one of the most interesting and exciting economic growth stories, with cooling inflation and strengthening confidence improving the prospects for the banking sector. Changing the competitive landscape in the banking sector does not possess any potential risks in the near future, but signifies an intensifying environment.
According to the World Bank, only 35 percent of India's 1.2 billion people have bank accounts; the government says the figure is close to 58 percent. About 73 percent of farming families in rural areas have no access to formal sources of credit, according to a 2013 report by the Reserve Bank of India. Many rely on money lenders or informal women's groups for small loans.
Source: Washington Post
Underperforming public sector banks and a few other banks (only 27 state-owned and 22 private sector banks) have a vast market to cover, which has created a situation where many people have no access to formal sources of credit. There are many people paying 20% to 40% interests to moneylenders in India. The vast opportunity and the inability of the public sector banks to effectively benefit from the opportunity, rather than focusing heavily on big corporates which are the cause to huge bad debts they hold, made things much easier for private sector banks to grow. Private sector banks benefited from the low competitive environment. Imagine what would have happened if all the public sector banks, or at least SBI in this list, had performed at par with new private sector banks like HDFC Bank (NYSE:HDB), Axis bank (OTC:AXBKY) and Yes bank, in terms of efficiency and profitability. Their branch expansion would have been much larger, leaving minimal opportunity for private sector banks. A low competitive environment and low banking penetration in India is also a result of very few new entrants entering this sector.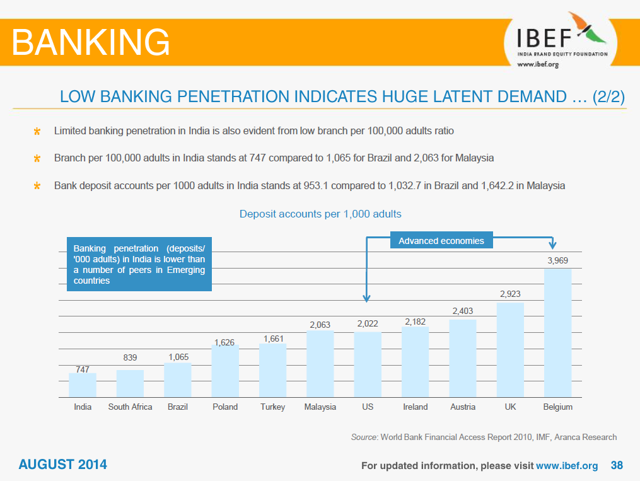 Source: IBEF.org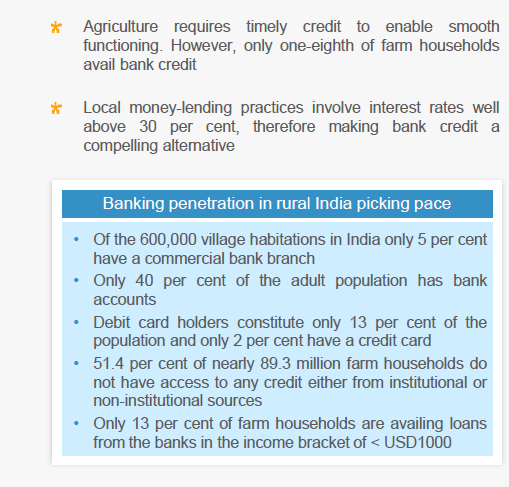 Source: IBEF.org
The Reserve Bank of India did not gave licenses to start new banks for many years. After more than a decade, RBI granted two full-fledged banking licenses at the start of this year, and is expected to give permits to start payment banks and small finance banks in 2015; not full-fledged banks but banks created to increase the penetration of banking in rural India. These are definitely good moves to penetrate banking in rural India after more than a decade of mundane initiatives by India to increase the penetration. I do not think these will change the prospects of private sectors banks like HDFC Bank Limited in a significant manner in the long term; however, it is premature to draw conclusions. We need to know at least the number of permits that RBI will give in 2015 to get an understanding of the impact that the new entrants will create. Due to low capital requirements and big opportunity for growth in the sector, it is possible that more than 50 applications might knock the door and the new government and RBI is keen to give as many permits as possible, it appears.
In the Union Budget 2014-2015, Finance Minister Arun Jaitley had said, "After making suitable changes to current framework, a structure will be put in place for continuous authorization of universal banks in the private sector in the current financial year."
Source: DNA
The number of new entrants who enter the banking sector is crucial to understand the impact they will create and the kind of competitive environment that exist.
Boosting the expectations of stronger growth in the near future in the Indian economy, the wholesale price index remained flat in November against last year, heavily supported by a significant decline in oil prices. This makes a strong case for a cut in interest rates early next year, which will make things much easier for the Indian economy to achieve an economic growth rate of above 7 percent sometime soon. This will further strengthen the case for much better banking sector growth.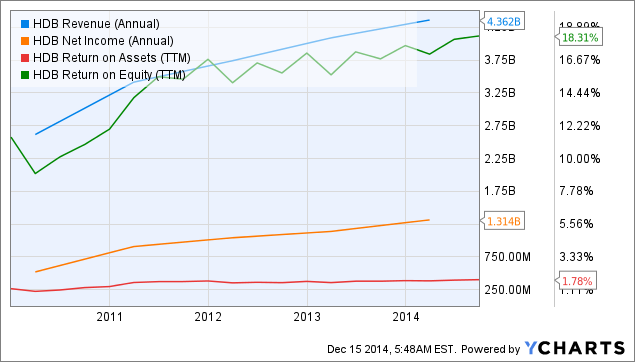 It is clear that things are getting tougher in the banking sector in India. Widening differences between the long existing banks and new players (started after 2000) in products and services signifies an intensifying environment in the banking sector. However, it does not possess any threats for the growth of long existing players like HDFC bank, due to vast opportunity as explained earlier. In the private sector banks, HDFC Bank is my pick; I also like ICICI Bank (NYSE:IBN) but I give more weight in my portfolio to HDFC Bank, as it is growing at an awesome double digit growth rate and is heavily focusing on increasing the branch network to get the first mover advantage among the private sector banks. In the year ended March 31, 2014 HDFC Bank added 341 branches, of which 230 branches are in unbanked locations. Great asset quality and better performance in all conditions compared with its peers are other great characteristics of HDFC Bank.
Disclosure: The author has no positions in any stocks mentioned, and no plans to initiate any positions within the next 72 hours.
The author wrote this article themselves, and it expresses their own opinions. The author is not receiving compensation for it (other than from Seeking Alpha). The author has no business relationship with any company whose stock is mentioned in this article.