CenturyLink's (NYSE:CTL) rapidly expanding best-in-class IPTV network has been contributing toward moderating its revenue decline. Moreover, CTL has earned a wider and a stronger broadband subscriber base as compared to its peers due to its efforts being focused on capitalizing the growing demand of high-speed internet services by consistently enhancing network speed capacities for its broadband subscribers. However, the company's aggressive investments to broaden Prism TV network and to enhance broadband capabilities have been weighing on its EBITDA margin. I expect the company's EBITDA margin will remain under pressure in 2015. But in the long-term, margin is poised to grow at a decent pace due to the strong growth potential of current investments. Also, I believe the company's network investments have the potential to support its healthy capital allocation strategy, which is focused on rewarding investors through dividend payments and share repurchases. And the stock offers a potential price appreciation of 9%, as per my price target calculations.
Preparing to Grow In 2015
CTL's growth formula, being focused on getting a broader subscriber base through the consistently growing reach of its IPTV services, has been helping moderate the decline in its top-line numbers. In a bet to deliver better IPTV services to larger audiences, the company has been consistently expanding the footprint of its Prism TV network. So far, CTL's Prism TV rollout has made significant progress by passing almost 240,000 addressable homes year-to-date. Also, the company is well headed to reaching its target of getting past 300,000 homes by the end of 2014. In addition to network expansion, CTL is pursuing opportunities to invest to enhance the capabilities of its Prism TV network. I believe the network capability enhancement investments and the launch of Prism TV to new markets during 2015 will portend well to grow the company's Prism TV subscriber base.
Moreover, the company is successfully capitalizing on the growing demand of fast speed internet services by facilitating its broadband subscribers with enhanced speeds and wider area coverage. Due to its ongoing efforts to facilitate broadband subscribers with high bandwidth data services by using fiber-to-the-premise (FTTP) technology, CTL has been reporting a broader broadband subscriber base than Windstream (NASDAQ:WIN) and Frontier Communications (NYSE:FTR). Although the company is in the initial stages of deploying gigabit services, its focus being on business customers has distinguished CTL from its peers.
The company recently announced to launch 1 gigabit per second speed to 16 markets, mainly to benefit its business customers. I believe that as the cloud and managed hosting market is growing at a fast pace by combining its cloud services with enhanced gigabit capabilities, CTL will better serve small-and-medium businesses, which will add to the company's top-line numbers. Also, I believe that i's ramped up network investments, both in Prism TV and broadband network, will moderate CTL's revenue decline in 2015. The following graph shows CTL's revenue growth (in %) for 2013 and also incorporates my estimated figures for 2014, 2015 and 2016.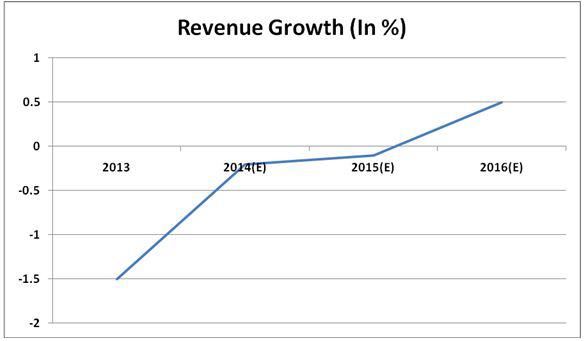 Source: Company's Yearly Earnings Report and Estimates.
On the flip side, network investments have been weighing on the margins of the company. It is due to the network investment efforts that CTL's EBITDA margin has been shrinking the past three years. Owing to the recent acceleration in network enhancement and expansion efforts, both in Prism TV and broadband network, the company's EBITDA margin will remain under pressure in the near term.
However, investors shouldn't get bothered by the EBITDA margin decline, as in the long-run, when the Prism TV rollout starts delivering benefits to the company's earnings base, the combined effect of efficiencies earned from a strong Prism TV footprint and broader broadband subscriber base will positively impcat the company's earnings and EBITDA margin. The following graph shows the steadily declining EBITDA margin base of CTL. Also, it includes my estimated EBITDA margin figures for 2014 and 2015.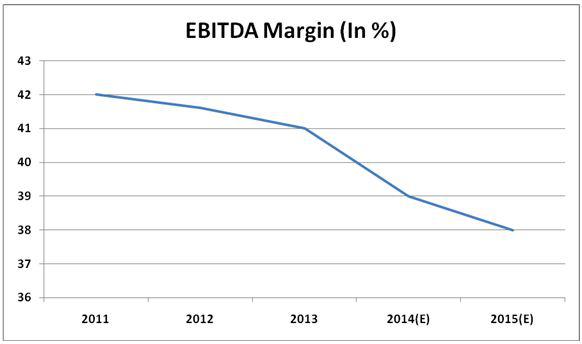 Source: Company's Yearly Earnings Reports And Estimates.
Efficient Capital Allocation
Due to its well balanced capital allocation strategy, strongly supported by its healthy free cash flows and strong balance sheet, CTL has been benefiting its shareholders by repurchasing shares and with its ongoing dividend payments. Although the company reduced its dividend by more than 25% earlier last year, the dividend cut was very well justified with the announcement of a strong share repurchase plan of $2 billion. Also, the $2 billion repurchase plan was followed by another $1 billion share repurchase plan, which is currently being actively pursued by the company. By the end of 3Q14, 1.7 million shares have been repurchased for $64 million, while the remaining amount is expected to be repurchased in coming quarters.
Looking ahead, the company's long-term growth potential makes me believe that CTL's free cash flow productivity will improve, which will support its dividends. Also, the company has better balance sheet strength as compared to its peers. CTL currently has a debt to EBITDA of around 3x, below FTR's 4.66x and WIN's 3.98x. Therefore, I believe the company's free cash flows will remain strong to support healthy cash returns in 2015. Furthermore, with the end of the current $1 billion repurchase plan by the end of the first half of 2015, the company may soon announce another strong share repurchase plan in 2015, which will portend well for its EPS and ROE growth. The following chart shows CTL's dividend payout ratios for the last two years, and it incorporates my anticipated payout ratios for 2014 and 2015.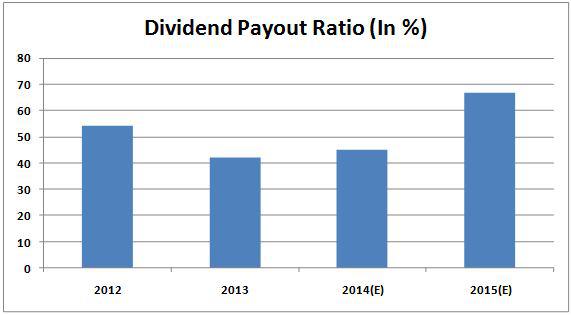 Source: Company's Yearly Earnings Data & Estimates.
Risks
The potential risks to CTL's future performance include a challenging business environment, rapid changes in technology and increasing competition from competitors. Moreover, if the merger between Comcast (NASDAQ:CMCSA) (CMCSK) and Time Warner Cable (TWC) gets past regulatory hurdles, the negotiation power of these two well-established cable service providers will rise, which will increase CTL's content cost, disturbing the growth potential of its nascent cable business. Moreover, if the company fails to record significant gains from the Prism TV rollout and broadband network enhancements, the investment cost burden on its EBITDA margin wouldn't be eased, which will keep CTL's bottom line down in the long run.
Price Target
I have calculated a price target of $42 for CTL. In my price target calculation, I have used cost of equity of 6.5% and nominal growth rate of 0.5%. The stock offers an upside price potential of 9%, as per my price target calculations below, calculated using a dividend discount model.
| | | | | |
| --- | --- | --- | --- | --- |
| | 2015 | 2016 | 2017 | Terminal Value |
| Dividend/Share (In-$) | 2.16 | 2.16 | 2.58 | 43 |
| Present Value of Dividend/Share (In-$) | 2.03 | 1.91 | 2.14 | 36 |
Source: Calculations and Equity Watch Estimates.
Total Present Value of Firm = Price Target = $2.03 + $1.91 + $2.14 + $36
=$42
Conclusion
CTL's efforts to grow its revenue base through its widespread IPTV, Prism TV network and consistently improving broadband services are well headed to supporting its top and bottom-line growths in the long run. In the near-term, aggressive investments will keep margins under pressure, but by the time these investments start delivering benefits, I expect to see CTL's EBITDA margin growing in the long run. Furthermore, the strong growth potential of these network investments will portend well to improve the company's free cash flow base, which will help it deliver healthy cash returns to shareholders. And the stock holds an upside price potential of approximately 9%, as per my price target calculations. Due to the aforementioned factors, I am bullish on CTL.
Disclosure: The author has no positions in any stocks mentioned, and no plans to initiate any positions within the next 72 hours.
The author wrote this article themselves, and it expresses their own opinions. The author is not receiving compensation for it (other than from Seeking Alpha). The author has no business relationship with any company whose stock is mentioned in this article.