Whitestone REIT's (NYSEMKT:WSR) core strength is taking unloved assets and turning them into valuable properties. If you like that idea, the real estate investment trust's (REIT) around 7.5% dividend yield, paid monthly, should be of interest to you. That said, this hands-on approach is one that works best on a small scale-which is both a blessing and curse.
Working small
Whitestone's portfolio is made up of roughly 60 properties in two states, Arizona and Texas. It has one property in Chicago, which is something of an outlier. Within those two states, 55 of its properties are located in and around Phoenix and Houston. So while the REIT is a small fry overall, it has some scale in the markets on which it's chosen to focus.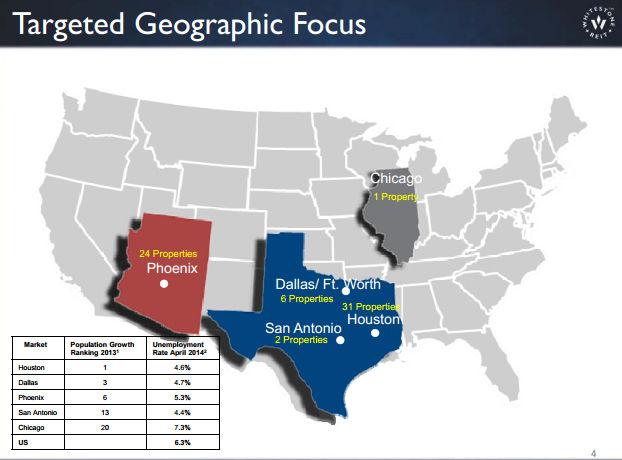 This is important because Whitestone's strengths play to small and focused. For example, it generally looks for what it calls community centered properties that need a little love. Fixer uppers, if you will. This isn't the playing field of giant REITs, this is the purview of smaller companies and mom and pop owners. So when an interesting property shows up, Whitestone has an advantage.
That advantage comes largely from access to capital. Because Whitestone is a publicly traded REIT, it can tap the capital markets via stock and bond sales for funding, and it has banking relationships on a scale beyond what most non-public companies can muster. Thus, it can move quickly and aggressively, when it wants to.
A secondary benefit is the scale it has in its core markets. If Whitestone buys another property in the Houston area, it already has a notable team there supporting its 30 odd other properties. That provides both economies of scale and a solid working knowledge of the region.
Houston, by the way, is in the REIT's current area of focus. According to CEO James C. Mastandrea, "...we have 24 properties now in Arizona and we think that's pretty close to where we want to be right now until the next down-cycle... ...right now we're focused on the Texas markets." This statement contains more information than it may at first appear. The underlying takeaway being that Whitestone isn't growing just to grow, it want to get good deals.
Fixing things up
Once the REIT owns a property, however, the hard work begins as it looks for ways to make it better. This can be in the form of redevelopment, expansion, or even less. For example, when speaking about two improvement projects in Texas during the third quarter conference call, CFO David Holeman noted that, "They are not large capital investments. One of the things we do is we're very good at looking at efficient ways to upgrade a center and make a difference from signage and visibility and we use paint and colors a lot." So just a quick touch up is sometimes all that's needed to make an old property look new again. (This, by the way, is why people selling houses often do a quick paint job-the increase in the selling price usually outweighs the investment.)
However, making things pretty is only part of the process. Whitestone also works to increase rents and, importantly, get the right tenants. On the rent front, the proof is in the numbers. The REITs average revenue per square foot was roughly $12.50 in 2011. At the end of the third quarter it was about $17. Watch this figure because it offers internal growth potential should acquisition opportunities slow down. That said, Whitestone is willing to give up near-term performance for the longer-term benefit.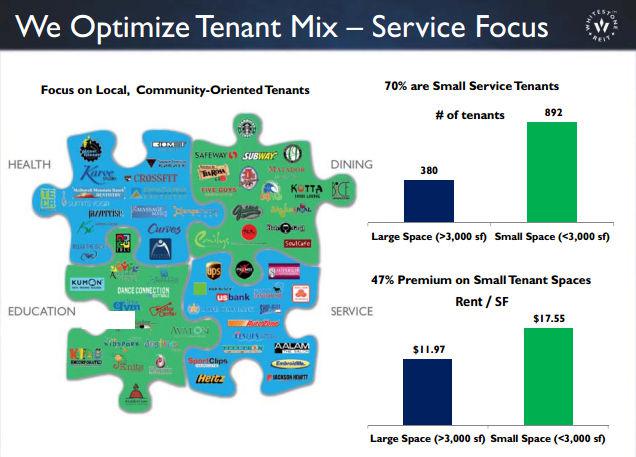 For example, according to Holeman, "...we've really worked our tenant portfolio this year. I think we pointed out that we've seen nice leasing spreads, we've got NOI growth. And so, part of that from an operating perspective has been really maximizing the mix of our tenant in our centers and with that we moved out a few tenants. So operationally we have moved out a few tenants more than we originally expected but the result of that has been obviously increased NOI and increased revenue." So higher rents, but also lower occupancy, which fell from 88% at the end of 2013 to 86% at the end of the third quarter.
Whitestone explains that every percentage point change is worth roughly $0.03 a share in funds from operations, or FFO, over a year's period. So letting occupancy fall isn't a good thing. That, however, is all part of making a property a better place. And increasing the value of its properties, in turn, makes Whitestone's a more valuable company. Occupancy is a current focus, so watch to see how this metric performs over the next year. This is another area that could lead to future top- and bottom-line growth.
What you get
So, Whitestone has proven adept at finding and fixing properties in its core markets, taking a long-term approach in the process. That makes it interesting, but not necessarily a buying opportunity. For example, with operations focused on two states, and basically two sub-markets within those states, Whitestone's overall business is highly reliant on those markets.
Should either local economy flounder, for example because of swiftly falling oil prices in an energy hub like Houston, Whitestone may find it harder to raise rents and lease out empty space. Of course such regional weakness could present property acquisition opportunities, too, so you have to take the good with the bad to some degree. But short-term pain would definitely be part of the equation.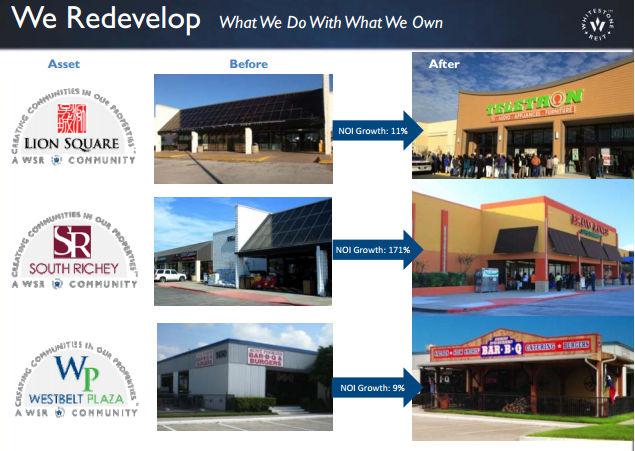 In addition, with such a small portfolio, each single acquisition can still have a meaningful impact on Whitestone's business. At some point, however, its scale will reach a point where that's not true anymore. That's when the model, perhaps, starts to make less sense. For now, though, slow and steady portfolio growth is likely to be the norm and any deviation from that should lead to a deep dive on your part.
There's also the issue of how big it can get in any core market. As noted above, Whitestone is hitting the pause button in Arizona. While it's fixer-upper model can easily be shifted to new markets, every new market requires new knowledge and support systems. That's not such a big deal as it moves into other areas of Texas, it owns properties in Dallas/Fort Worth and San Antonio, but if it were to move out of its home states, there would be a learning curve.
So this isn't a low-risk investment opportunity. Which is why the shares yield over 7.5%, with a monthly dividend of $0.095 that has been in place since late 2010. The share price, meanwhile, has traded roughly sideways in a band between $11.50 and $16.50, with the recent price at around $14.50. Since the dividend isn't moving higher, there's little reason to expect the shares to break out to the upside. And the current pace of acquisitions isn't going to turn Whitestone into a big enough player to garner widespread attention. So the yield you buy in at is likely to make up most of your return. Thus, if you are looking for income for today it may be worth trading off capital appreciation for that steady monthly check.
I don't know that I'd call this a "special situations" play, per se, but the business model certainly focuses on finding special situations to invest in at the property level. Being fond of special situations myself, that's enough to put Whitestone REIT on my watch list. It hasn't been enough to get me to buy it. However, if you want income for today, partnering with a company that's done a good job finding diamonds in the rough isn't the worst choice you can make. That said, you might want to wait for a higher yield to compensate for the lack of dividend growth.
Disclosure: The author has no positions in any stocks mentioned, and no plans to initiate any positions within the next 72 hours.
The author wrote this article themselves, and it expresses their own opinions. The author is not receiving compensation for it (other than from Seeking Alpha). The author has no business relationship with any company whose stock is mentioned in this article.