* All data are as of the close of Friday, December 12, 2014. Emphasis is on company fundamentals and financial data rather than commentary.
Investors would be forgiven for assuming the Technical Services industry belongs to the Technology sector and should thus perform like its component companies. But beware, investors, the companies within this industry neither belong with tech stocks nor perform like them, as the graphs below will show.
What exactly is this industry all about? In the simplest of definitions:
Technical Services companies offer a wide range of services, many of which are consulting and solution services. These companies aim to enable businesses, commerce, and industrial establishments to acquire and use scientific and engineering information more effectively.
The three largest companies in the space, all U.S. based, offer the following technical services:
Jacobs Engineering Group Inc. (NYSE:JEC), headquartered in Pasadena, California, provides industrial, commercial, and governmental clients with technical, professional, and construction services for engineering, design, architectural, interiors, planning, and environmental projects, including process, scientific, and systems consulting services involving scientific testing, analysis, information technology, and systems engineering activities. It also provides construction services comprising traditional field construction services, modular construction activities, direct-hire construction and management services, as well as services involving process plant and facilities maintenance. In addition, it provides systems integration and communication, information technology, and data security solutions for supporting the intelligence community, the U.S. Department of Defense, and federal civilian clients.
AECOM Technology Corporation (NYSE: ACM), headquartered in Los Angeles, California, provides public and private clients with planning, consulting, architectural and engineering design, and program and construction management services for a range of projects including highways, airports, bridges, mass transit systems, government and commercial buildings, water and wastewater facilities, and power transmission and distribution. It also provides program and facilities management and maintenance, training, logistics, consulting, technical assistance, and systems integration services primarily for agencies of the U.S. government, but also for the transportation, environmental, energy, and water utilities sectors.
KBR, Inc. (NYSE: KBR), headquartered in Houston, Texas, offers engineering and construction services to liquefied natural gas and gas-to-liquids facilities, which includes designing and constructing onshore and offshore oil and natural gas production facilities, including platforms, and floating liquefied natural gas facilities. It also licenses process technologies to the oil and gas, refining, chemicals, petrochemical, biofuels, fertilizers, coal gasification, and syngas markets. In addition, it designs and executes aviation, road, rail, maritime, water, wastewater, building, and pipeline projects for industrial, commercial, defense companies, and government agencies, which services may include module assembly, fabrication and maintenance, startup, and turnaround services used by the oil and gas, petrochemicals processing, mining, power, alternate energy, pulp and paper, industrial and manufacturing, and consumer product industries.
Hence, rather than belonging to the Technology sector, this industry more accurately belongs to the Services sector, as it provides "technical" services, not "technological" services. Given its strong association with construction and engineering, the industry is also closely associated with the construction sector, such that the SPDR group of funds includes the largest company of the Technical Services industry - Jacobs Engineering Group - as a component of its SPDR Industrial Sector ETF (NYSE: XLI).
This gives us a better idea of what to expect from the industry's companies, namely a performance which is not at all similar to the stellar performance of the tech sector, as graphed below.
Since the economic recovery began in early March of 2009, where the S&P has gained some 195% and the Industrial Sector ETF XLI has gained 255%, all three of our highlighted companies have landed near the 30% area, falling short of even their own industrial sector peers.
On an annualized basis, where the S&P has averaged 33.91% and the XLI has averaged 44.35%, the three largest Technical Services companies have averaged a meager 5.22% per year. Their performance is all the more disappointing given the tremendous boom in construction throughout the economic recovery period.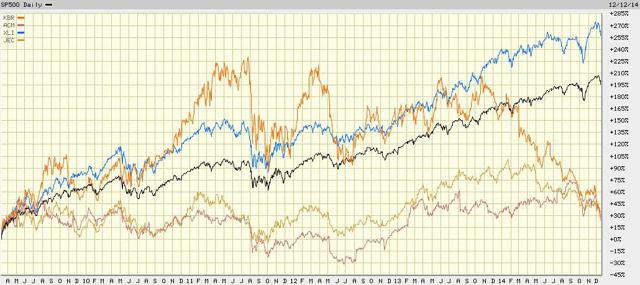 Source: BigCharts.com
Looking forward, the overall Technical Services industry's earnings growth is telling us that the economic recovery is set to continue for years to come, as tabled below where green indicates outperformance while yellow denotes underperformance.
After underperforming the broader market's average earnings growth in the current quarter, the industry as a whole is expected to grow its earnings at some 2.02 times the market's rate next quarter, 1.70 times in 2015, and 1.83 times annually over the next five years.

Zooming-in a little closer, the three largest companies in the space are likewise expected to underperform near term, but are seen mounting a surprise surge in earnings growth beyond, as tabled below.
In the current quarter, all three are seen slumping, with KBR shrinking its earnings by as much as 59% year-over-year.
But their growth is set to turn some heads beginning next quarter, with KBR reclaiming all its prior shrinkage and then some as it grows its earnings some 189% year-over-year. KBR then continues to outgrow its peers and the broader market by increasing its earnings some 1,714% over the whole of 2015.
Meanwhile, its two closest competitors are expected to outgrow the broader market for their part.

Yet there is more than earnings growth to consider when sizing up a company as a potential investment. How do the three compare against one another in other metrics, and which makes the best investment?
Let's answer that by comparing their company fundamentals using the following format: a) financial comparisons, b) estimates and analyst recommendations, and c) rankings with accompanying data table. As we compare each metric, the best performing company will be shaded green while the worst performing will be shaded yellow, which will later be tallied for the final ranking.
A) Financial Comparisons
• Market Capitalization: While company size does not necessarily imply an advantage and is thus not ranked, it is important as a denominator against which other financial data will be compared for ranking.

• Growth: Since revenues and expenses can vary greatly from one season to another, growth is measured on a year-over-year quarterly basis, where Q1 of this year is compared to Q1 of the previous year, for example.
In the most recently reported quarter, AECOM delivered the greatest revenue growth year-over-year, where KBR delivered the least, even shrinkage.
Since KBR's year-over-year earnings growth is not available, the metric does not factor into the comparison, though it is worth noting that both Jacobs and AECOM reported earnings shrinkage.

• Profitability: A company's margins are important in determining how much profit the company generates from its sales. Operating margin indicates the percentage earned after operating costs, such as labor, materials, and overhead. Profit margin indicates the profit left over after operating costs plus all other costs, including debt, interest, taxes and depreciation.
Of our three contestants, AECOM operated with the widest profit margins, Jacobs enjoyed the widest operating margins, while KBR contended with the narrowest, which were negative denoting loss.

• Management Effectiveness: Shareholders are keenly interested in management's ability to do more with what has been given to it. Management's effectiveness is measured by the returns generated from the assets under its control, and from the equity invested into the company by shareholders.
For their managerial performance, Jacobs' management team delivered the greatest returns on assets, where AECOM's team delivered the greatest on equity. At the low end of the spectrum, KBR's team delivered the least returns in both, even losing some assets and equity.

• Earnings Per Share: Of all the metrics measuring a company's income, earnings per share is probably the most meaningful to shareholders, as this represents the value that the company is adding to each share outstanding. Since the number of shares outstanding varies from company to company, I prefer to convert EPS into a percentage of the current stock price to better determine where an investment could gain the most value.
Of the three companies here compared, AECOM provides common stock holders with the greatest diluted earnings per share gain as a percentage of its current share price, while KBR's DEPS over current stock price is lowest.

• Share Price Value: Even if a company outperforms its peers on all the above metrics, however, investors may still shy away from its stock if its price is already trading too high. This is where the stock price relative to forward earnings and company book value come under scrutiny, as well as the stock price relative to earnings relative to earnings growth, known as the PEG ratio. Lower ratios indicate the stock price is currently trading at a cheaper price than its peers, and might thus be a bargain.
Among our three combatants, AECOM's stock is cheapest relative to forward earnings and 5-year PEG, while KBR's is cheapest relative to company book value. AECOM and KBR then reciprocate their ratings at the overpriced end of the scale.

B) Estimates and Analyst Recommendations
Of course, no matter how skilled we perceive ourselves to be at gauging a stock's prospects as an investment, we'd be wise to at least consider what professional analysts and the companies themselves are projecting - including estimated future earnings per share and the growth rate of those earnings, stock price targets, and buy/sell recommendations.
• Earnings Estimates: To properly compare estimated future earnings per share across multiple companies, we would need to convert them into a percentage of their stocks' current prices.
Of our three specimens, AECOM offers the highest percentages of earnings over current stock price for all time periods, while KBR offers the lowest percentages for all periods.

• Earnings Growth: For long-term investors this metric is one of the most important to consider, as it denotes the percentage by which earnings are expected to grow or shrink as compared to earnings from corresponding periods a year prior.
For earnings growth, Jacobs offers the greatest growth in the current quarter, KBR offers it next quarter and in 2015, while AECOM offers it over the next five years. At the low end of the scale, KBR offers earnings shrinkage in the current quarter, while Jacobs struggles with the least growth overall.
• Price Targets: Like earnings estimates above, a company's stock price targets must also be converted into a percentage of its current price to properly compare multiple companies.
For their high, mean and low price targets over the coming 12 months, analysts believe AECOM's stock offers the least upside potential and least downside risk, while KBR's stock offers the greatest upside and Jacobs' offers the greatest downside.
It must be noted, however, that both AECOM's and KBR's stocks are already trading below their low targets. While this may mean increased potential for sharp moves upward, it may warrant reassessments of future expectations.

• Buy/Sell Recommendations: After all is said and done, perhaps the one gauge that sums it all up are analyst recommendations. These have been converted into the percentage of analysts recommending each level. However, I factor only the strong buy and buy recommendations into the ranking. Hold, underperform and sell recommendations are not ranked since they are determined after determining the winners of the strong buy and buy categories, and would only be negating those winners of their duly earned titles.
Of our three contenders, KBR is best recommended with 2 strong buys and 7 buys representing a combined 52.94% of its 17 analysts, followed by Jacobs with 5 strong buy and 6 buy ratings representing 50% of its 22 analysts, and lastly by AECOM with 3 strong buy and 1 buy recommendations representing 40% of its 10 analysts.

C) Rankings
Having crunched all the numbers and compared all the projections, the time has come to tally up the wins and losses and rank our three competitors against one another.
In the table below you will find all of the data considered above plus a few others not reviewed. Here is where using a company's market cap as a denominator comes into play, as much of the data in the table has been converted into a percentage of market cap for a fair comparison.
The first and last placed companies are shaded. We then add together each company's finishes to determine its overall ranking, with first place finishes counting as merits while last place finishes count as demerits.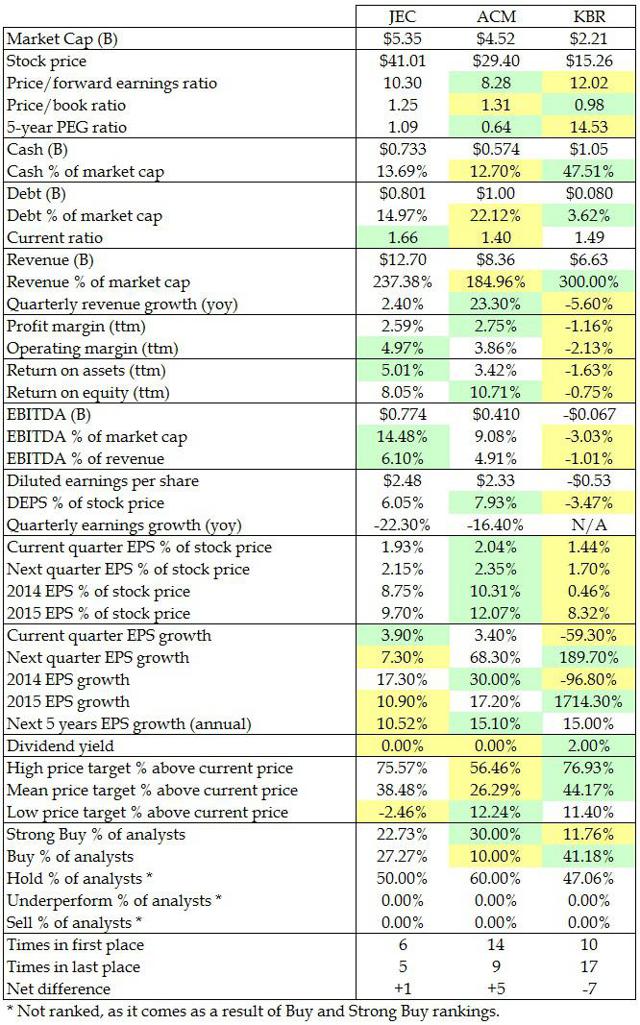 And the winner is… AECOM constructing the more solid financial structure, outperforming in 14 metrics and underperforming in 9 for a net score of +5, followed not far behind by Jacobs, outperforming in 6 metrics and underperforming in 5 for a net score of +1, with KBR trailing a distant third, outperforming in 10 metrics and underperforming in 17 for a net score of -7.
Where the Technical Services industry is expected to underperform the S&P broader market significantly this quarter, then outperform significantly next quarter, in 2015 and beyond, the three largest companies in the space are all expected to under-grow their earnings relative to the broader market near term, before overtaking the S&P's average earnings growth by very comfortable rates for years afterward.
Yet after taking all company fundamentals into account, AECOM Technology Corporation assembles the sturdiest financial stats given its lowest stock price to forward earnings and 5-year PEG, highest trailing revenue growth, widest profit margin, highest return on equity, highest diluted earnings over stock price, highest future earnings over current stock price overall, highest future earnings growth longer term, best low price target, and most strong buy analyst recommendations - handily winning the Technical Services industry competition.