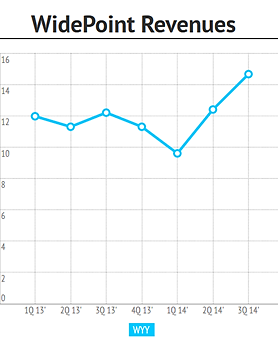 Last month, WidePoint (NYSEMKT:WYY), reported third quarter earnings with mixed results. Revenue exceeded expectations once again coming in at $14.6M vs. the consensus of $12.2M.
Earnings per share came in at a loss of seven cents per share versus expectations of a loss of just one cent per share. The miss on the bottom line was caused by a $5M tax charge the company took on. It's only a one-time expense, the company said in its filing.
"The losses on a GAAP basis look quite large because of the tax charge, but I did want to point out that if you look at the losses in the third quarter compared to the sequential second quarter, we saw our EBITDA loss decrease from $614K down to a loss of $320K. So there was EBITDA improvements as well..." - Jim McCubbin EVP/CFO of WYY
Revenues climbed 18% quarter-over-quarter and gross margins rose 300 basis points year-over-year from 24% to 27%.
"I am pleased to report that WidePoint posted a strong business building second quarter featuring revenues at $14.6M, up substantially from the prior calendar quarter and prior year and over 50% greater than from our first quarter of this year. We recorded our initial revenue from the DHS award during the second quarter of this year and we expect revenue from this contract to ramp up to over $75M annually over the next several quarters. We also continue to see additional wins and contracts from our federal business activities with other department level agencies. Across all our government markets, we have received over $190M in new or extended multi-year revenue awards, just in the second and third quarters of this year." - Steve Komar Chairman and CEO of WYY
Shelf Offering
On October 28, 2014, WYY completed the second part of its $25M shelf offering which raised approximately $10.8M. 6.9M shares were sold at a price of $1.45. Last February, WYY completed an offering of 7.9M shares at $1.38 to raise close to $12.5M.
So what did WYY do with all that cash? The company was able to pay off debt, make acquisitions (Soft-ex, etc.) and was able to expand its business, which in return allowed the company to take on even more work, awards and contracts from customers. So what is management doing with the recent capital raise? Here are the words from management itself:
"We have been working with a number of new partners, some announced and some not for strategic purposes. The effort to support them going into 2015 we believe will require us to focus on completing development and integration work with them as they prepare to take the new offerings to market. To date, we're preparing to start pilots with their partners that could lead to over a million devices to be supported that have already been targeted and won with an average price range of $1 to $5 per device per month. We've also targeted our partners - we've targeted with our partners and additional $5M devices that we're presently in the early stages of marketing to. These are known and identified opportunities. Our partners believe that there is in excess of 100M device universal growing that we can collectively target. This is a great opportunity for us, but we needed to make sure we have the assets to support these large and diverse partners and wrap a large portion of our integration work up by the end of this year. We had very little choice but to undertake the capital raise. We were pushed to do it because we were keen with some large players and they're building this into their strategic efforts and we didn't want to lose the market opportunity. So given this next generation of identity management opportunities, the continued roll out of the DHS BPA, our commercial expansion efforts with Compass and others, you can see why we had to do this, plus why we believe 2015 should represent a period that allows us to continue to ramp up our revenues and transition from a financial model producing operating losses to strong operating gains." - Jim McCubbin
To make a long story short, WYY had an opportunity it could not pass up. Management stated that they did not want to dilute shareholders and that is why they did not use the whole offering back in February. It was believed that the certificate-on-device program wouldn't be rolled out until 2015, and with the DHS revenue coming in at that point, management was hoping to not have to use the last portion of the shelf offering.
Shareholders should look at this as a positive though, because WYY's products are not only getting pushed faster, but in return will give the company additional revenue streams earlier than expected. Think of it this way. The growth at WYY is growing so fast that the company needed to raise cash in order to keep up with the high demand. I don't know about you, but I know a lot of companies who would love to be in that position right now.
Insiders Purchase Shares
During the question and answer session after the earnings report, a private investor asked management if they would be purchasing shares in the foreseeable future. Here is what management had to say:
"I am a shareholder myself. I want to give us every opportunity to improve our positions and at least that my voice within the company. So we tend to be a little bit more pragmatic and wait until we really have to do something and we try to be wise about it. We don't like to waste money either and God knows you've seen me manage the balance sheet for a long time. It drives me crazy if I see waste. I wish I was a wealthy man and if I was, I would probably buy the whole company." - Steve Komar
Need I say more? I don't know about you, but when a CEO says he would buy the entire company if he had enough money to do so, it doesn't get more bullish than that. What more could you want?
Don't forget that management is limited with what it can do because of insider information. Management is aware of those timetables and must wait to be out in the clear before they can purchase shares. Luckily for investors, that time has officially arrived.
On November 26, Steve Komar, Jim McCubbin and Jin Kang (COO) purchased shares. Komar bought 10K shares and McCubbin and Kang purchased 5K each.
The first thing that shorts love to point out is how small these purchases are. While they do have a point, shorts should also know that management isn't making seven figure salaries like most CEOs, COOs, etc., are making across the country. Looking at the salaries last year, these guys make anywhere from $245K to $265K. Komar's recent 10K share purchase comes out to 6% of his total salary this year.
So yes, these purchases are not as minuscule as some make them out to be. Also, with a salary like that, no wonder why Komar doesn't have enough money yet to buy the entire company. However, with another insider purchase, he is well on his way to doing so.

Also, taking a look at what Komar has done lately, investors can see that he has a knack for finding the bottom. In August of 2012, Komar purchased close to 44K shares for an average price of 49 cents. A year later, he doubled his money and last summer he more than tripled his investment.
Don't forget that as the CEO, Komar knows what the company is doing and what the future holds. So if he's buying shares and likes what he sees, then why would you bet against him and why aren't you buying with him?
Conclusion
One of those reasons why investors are having a hard time buying shares right now is what has taken place over the last couple of weeks. Fear of a government shutdown scared off a lot of investors. At the same time, did anyone really think our politicians (as crazy as they are) were not going to reach some kind of deal? Of course they were going to wait until the last minute to do their thing.
Because WYY depends on most of its revenue from government contracts, some investors were getting out because of the fear that cuts would be made that would impact WYY going forward. This however was not the case.
The second thing on investors' minds is what is taking place with the recent oil plunge and Russia fears. While it's great news if your heading to the gas pump, as an investor, shares have been hit hard as the global economy has recently taken a hit.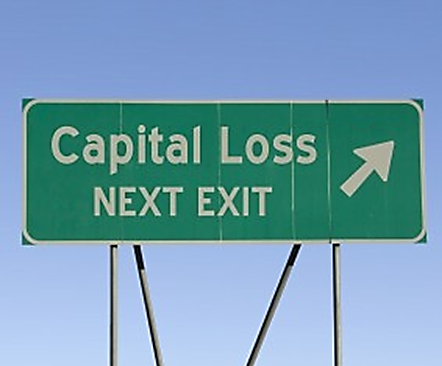 Last but not least, we have tax-loss selling that looks to have bombarded WYY over the week or so. With the end of the year approaching, investors who often hate sending money to the government go to great lengths to minimize the taxes they pay. Tax-loss strategies, or the selling of investments to claim losses, is one popular way to reduce tax payouts.
However, when a plethora of investors do the same thing all at once, the selling pressure becomes overpowering. For struggling companies, a sudden spike of tax-loss selling pressure has the potential to overwhelm buyers which ultimately results in lower prices.
On the flip side of things, once the selling pressure ends, shares that have become extremely oversold tend to bounce back nicely. According to academic studies, many of the worst-performing companies at the end of one year tend to be among the best-performing companies in the first quarter of the following year. Therefore, the most attractive stocks for tax-loss selling may also be the investments that are most likely to generate strong gains early in the next year.
With insiders continuing to buy shares, and larger players pushing out WYY's products faster than it can keep up with, 2015 looks to be a banner year for the company as revenues continue to soar and as WYY transitions into a profitable company. Looking ahead to 2015, WYY is currently trading at just over 1X sales while its peers are trading closer to 2X sales.
Disclaimer: Link
Stock Performance Tracker: Link
Disclosure: The author is long WYY.
The author wrote this article themselves, and it expresses their own opinions. The author is not receiving compensation for it (other than from Seeking Alpha). The author has no business relationship with any company whose stock is mentioned in this article.
Editor's Note: This article covers one or more stocks trading at less than $1 per share and/or with less than a $100 million market cap. Please be aware of the risks associated with these stocks.