The FOREX markets are quite interesting right now as traders pile onto the US$/Ruble trade and force action by Russia's central bank. With the current sanctions from the West, coupled with the financial needs of its own companies, Russia is caught in an interesting predicament. On one hand, they need to support their currency, if not to stop the decline then to at least lessen the blow, and on the other, they need to have adequate reserves on hand in order to help Russian companies refinance their debt. Word out of Russia is that the recent rate hike is not the end of the action they will take, so we would expect some news before the end of the week.
For those looking to play the Russian Ruble crisis, and Russia in general, the Market Vectors Russia ETF (NYSEARCA:RSX) is one of the more popular ETFs that traders are using to manage exposure to Russia. It can be quite volatile, with the ETF having moved around 15% from today's low to current session highs.
Chart of the Day:
The Volatility Index has moved higher in recent sessions as the market has had some major gyrations, moving up and down by triple digits almost daily and seeing reversals sometimes in the same day with price swings of 100 points or more. The chart of the iPath S&P 500 VIX Short-Term Futures ETN (NYSEARCA:VXX) below shows that volatility is indeed increasing, but has not yet reached the highs set during recent major market moves.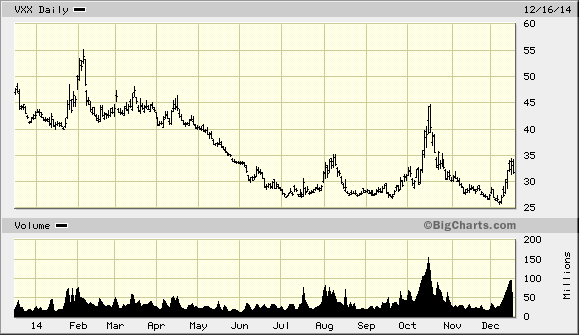 Source: Big Charts
We have economic news today, and it is as follows:
Housing Starts (8:30 a.m. EST): Est.: 1035k Act.: 1028k
Building Permits (8:30 a.m. EST): Est.: 1060k Act.: 1035k
The Asian markets are lower today:
All Ordinaries - down 0.65%
Shanghai Composite - up 2.30%
Nikkei 225 - down 2.01%
NZSE 50 - down 0.06%
Seoul Composite - down 0.85%
In Europe, the markets are higher this morning:
CAC 40 - up 2.12%
DAX - up 2.39%
FTSE 100 - up 2.28%
OSE - up 0.34%
Is the Sky the Limit?
That is the question that Boeing (NYSE:BA) shareholders have to be asking themselves after the company announced after the close yesterday that it would be increasing its share buyback program by $2 billion. This move will bring the total value of the company's current buyback programs to $12 billion, or close to 14% of Boeing's outstanding shares.
Also announced was another dividend hike, this one for 25%, which will take the company's quarterly dividend from $0.73/share to $0.91/share.
Other Dividend & Buyback News
Another major US industrial is raising its dividend by 20% for the first quarter of 2015, and also announced that its results would be within the range of analysts' estimates. The company, 3M (NYSE:MMM), will pay a quarterly dividend of $1.025/share now (up from $0.855/share) and expects to meet its long-term goal of EPS growth between 9-11% through 2017.
Also raising its dividend is CVS Health (NYSE:CVS), which announced that it was boosting its dividend to $0.35/share from its current quarterly rate of $0.275/share. The 27% increase will apply to the company's first dividend paid in 2015, which will be payable on February 2 to shareholders of record on January 22. CVS' board also announced a new $10 billion buyback program which will be added to the $2.7 billion left over from last year's program. The company can now buy back up to $12.7 billion in its shares moving forward.
Russia, Oil Help Market Turn Higher
News from Russia that the country was set to do more to slow the Russian Ruble's fall appears to be the reason why markets bottomed earlier today. Oil prices hit 5 1/2-year lows before turning higher, and that price action has helped traders view Russia in a bit better light now. If the Ruble's collapse can be stopped and oil prices bottom, then Russia should be able to avoid any major issues in the near-term which could be good for worldwide markets as it lowers the risk that any major banks or hedge funds get caught on the wrong side of a trade suddenly.
Investors need to watch the US$/Russian Ruble cross and the 10-year Treasury when trying to take the market's temperature right now. So long as the Ruble can stay below the 70 cross and the 10-year above the 2% level, there remains the possibility that we see a decent rally into the year end.
Disclosure: The author has no positions in any stocks mentioned, and no plans to initiate any positions within the next 72 hours.
The author wrote this article themselves, and it expresses their own opinions. The author is not receiving compensation for it (other than from Seeking Alpha). The author has no business relationship with any company whose stock is mentioned in this article.