This year started out on a high note for 22nd Century Group (NYSEMKT:XXII). In October 2013, the company announced an agreement with British American Tobacco (BAT). The Agreement granted BAT rights to three of 22nd Century's patent families encompassing a cumulative 28 patents and patent applications in various countries/regions and an option to enter into a worldwide commercial license. At the same time, BAT made an upfront payment of $7 million to 22nd Century and agreed to pay up to an additional $7 million during the course of the research term upon the completion of certain development milestones. This represented a significant validation for the prospects of a company that booked $19 thousand in revenue for 2012. Needless to say, the stock rose significantly in the first part of the year on prospects of additional BAT milestone payments as well as anticipated commercialization of the company's products.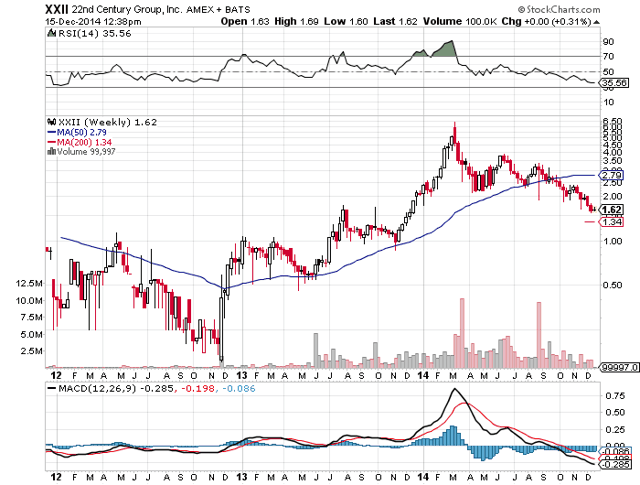 The stock has trended down much of this year due to the lack of additional milestone payments from BAT as well as delays in the company shipping product. On Tuesday, November 25th , 22nd Century Group conducted a business update call moderated by Chardan Capital Markets Senior Research Analyst James Mcllree. Henry Sicignano III, President and Chief Operating Officer of 22nd Century Group started the call by referencing two emails the company recently received. The first was from a licensed physician about what he can do to help get Magic modified risk cigarettes on the U.S. market. The second email was from a shareholder asking why with all the company has achieved over the past year, the stock price hasn't moved more. As a shareholder for the past year I sympathize greatly with the writer of the second email. Mr. Sicigano proceed to outline the company's accomplishments over 2014 as well as missteps. He concluded with a discussion of the prospects for 2015.
2014 Accomplishments
1. Closed the acquisition of NASCO Products giving 22nd Century the production facilities to manufacture their own cigarettes. Prior to this, the company utilized contract manufacturers.
2. Became a participant of the Master Settlement Agreement (MSA) with closing of NASCO acquisition allowing them to sell cigarettes in the U.S.
3. Signed a contract manufacture agreement with Smoker Friendly. Smoker Friendly will carry Red Sun in their approximately 800 stores under license in the U.S. 22nd Century will begin shipping cigarettes in January.
4. Agreement with Orion, a cigarette manufacturer based in Poland, to contract manufacture the Company's proprietary tobacco products to be distributed in the European Union. Initially, Orion will manufacture one of the company's signature products: GOLD MAGIC®, the world's lowest nicotine tobacco cigarette. The GOLD MAGIC brand contains approximately 97% less nicotine than typical 'light' cigarettes, yet look, smoke, and taste like conventional cigarettes. Product is expected to begin shipping in January 2015.
5. License with Anandia Laboratories Inc, a plant biotechnology company based in Vancouver, granting 22nd Century Group exclusive rights in the U.S. to four genes required for cannabinoid production in the cannabis plant. Technology allows the modification of cannabinoid levels in cannabis providing an exclusive competitive advantage in the burgeoning area of cannabis biotechnology.
6. Placed $10 million PIPE with Crede GC III, Ltd (Crede). Crede, a long-time shareholder of the company, has been instrumental in helping the company achieve its Asian strategic initiatives among other areas.
7. Entered into a joint venture to pursue sales in China, the world's largest market for cigarettes. There are 300 million smokers in China, 7x the U.S. market and therefore a significant future market opportunity for the company.
2014 Missteps
1. Should have done a better job of communicating the regulatory hurdles related to the launch of products. The company's plans to launch cigarette sales were delayed several times during the year. Therefore no meaningful product revenues will be achieved in 2014.
2. Should have explained better the rationale behind entry into cannabis space. While there should be a significant potential future opportunity, there will be no near term revenues associated with this. Company is looking to the future though as opposed to attempting to capitalize on any hype related to cannabis legalization (my interpretation of comments from the call).
3. Should have done a better job of explaining the departure of Joseph Pandolfino as CEO and Chairman of the Board. Mr. Pandolfino is a great entrepreneur and was instrumental in enabling the Company to create and assemble its IP portfolio. However, the strategic focus going forward is on commercializing its technology and achieving significant revenue. Mr. Henry Sicignano will head the Company as COO and President and lead it into its next growth phase. Mr. Sicignano was a key member of the team that built the American Spirit brand from $30 million to $145 million while at Santa Fe Natural Tobacco.
2015 Outlook
Next year is all about commercialization and achieving significant revenue for the Company. Management would not commit to a specific revenue forecast as so much depends on how well Red Sun and Magic are accepted in the marketplace. However, the Company is confident they will do at least $5 million in sales. Red Sun is their higher margin product and $10 million in sales for it would get the Company close to break even. BAT is in control of when milestone payments related to their agreement with the Company. So it's impossible to say whether there will be revenues related to this in 2015. Therefore shareholders should only really look to product sales for any meaningful revenue on the part of the Company. Expected shipping schedule is as early as Jan 10 for Red Sun and Jan 15 for Magic. The first quarter should give an indication of how well the market is accepting 22nd Century's products. Meaningful revenues in the 1Q15 earnings release should be an indication of possible good things to come and share price appreciation in 2015.
Note: This article is for informational purposes only and represents the opinions of the author. It should not be taken as an investment recommendation. You should do your own due diligence before making any investment decisions.
Disclosure: The author is long XXII.
The author wrote this article themselves, and it expresses their own opinions. The author is not receiving compensation for it (other than from Seeking Alpha). The author has no business relationship with any company whose stock is mentioned in this article.
Editor's Note: This article covers one or more stocks trading at less than $1 per share and/or with less than a $100 million market cap. Please be aware of the risks associated with these stocks.