Current Valuation
MusclePharm is currently trading at a fully diluted market cap of $114.75, 0.48x 2015 analyst sales estimates of $240.4 million, and 16.3x 2015 analyst earnings estimates of $0.52 per share. Based on my estimates, MusclePharm is trading at 0.43x 2015 sales of $266 million, 25.8x 2015 EPS of $0.33, and 7.3x 2016 EPS of $1.17.
Third Quarter Earnings and Sell-Off
MusclePharm (OTCQB:MSLP) reported revenues of $47.77 and earnings per share of $0.05 for the third quarter and guided for unchanged full year revenues of $185-$195 million and earnings of $0.20 to $0.25 per share, below the prior guided range of $0.45 to $0.50. The lower earnings guidance was, or at least should've been expected as MusclePharm restated their prior 10-Q lowering diluted EPS 12 cents.
The earnings restatement was due to MusclePharm holding an expected reimbursement of legal fees and expenses incurred by the company in the course of complying with the ongoing SEC investigation as an other receivable in the amount of $1,342,843. MusclePharm has insurance coverage and may end up fully recognizing the benefit once it's received by the company, but it's unclear when and how much MusclePharm will recover.
MusclePharm's earnings per share came in weaker than expected, and the quality of earnings per share was quite poor as well, which I believe has been the main driver of the sell-off. MusclePharm's operating income was $-4,537,455 or $-0.36 per share. The only reason EPS came in positive was because MusclePharm reported a bargain purchase gain of $5,264,854 from their acquisition of Biozone. $1,579,286 of this gain was a reimbursement of expenses and the conclusion of a contingent asset and liability related to one of the leased buildings that Biozone Labs operates. MusclePharm identified $7,133,000 in intangible assets as well which when combined with the net tangible assets and netted against the purchase price for Biozone, resulted in the balance bargain purchase gain of $3,685,568.
Operating expenditures came in much higher than expected at $19.45 million for the quarter and $51.45 million for the first nine months of the year. Operating expenditures are expected to be around $16.5 million for the fourth quarter, bringing FY operating expenditures to $66.95 million or 35.2% of the midpoint revenue guidance of $190 million. Some of the increased expenditures were one-time costs related to the opening of a distribution center in California and the launch three new products, two of which I discussed in my first article (Combat Crunch and Coco Protein). MusclePharm's cash position declined to $2.95 million and cash flow from operations swung from $+539,888 for the first six months of the year to -$5,545,013 for the first nine months of the year.
MusclePharm also disclosed that the SEC investigation was still ongoing as of the end of the quarter and date of the report, delaying investors' hopes of a near-term Nasdaq uplisting. Legal fees related to the ongoing SEC investigation for the first nine months of the year were $1.9 million, or about $2.53 million on an annualized basis. This represents a drag on fully diluted earnings of $0.19 and 3.8% of operating expenditures.
Investors were disappointed with total net income for the year after adjusting for the bargain purchase gain. Taking the bargain purchase gain out reduces fully diluted EPS from $0.18 to -$0.21 through the first three quarters of the year.
Were Cash Flows from Operations really that bad?
If you're quickly looking over the 10-Q or read only the headline numbers, you'd be very concerned about the negative CFO which for the first nine months was $-5,545,013 and for the last quarter was $-6,084,901. One might assume, if MSLP burned a little over $6 million in cash last quarter, how will they make it through Q4 without needing additional capital with a cash position of only $2,949,773?
Taking a closer look at the cash flows, I believe the liquidity concerns are overblown. As discussed on the conference call last quarter, which you can find here, the third quarter included some one-time costs associated with the launch of the Combat Crunch and CocoProtein products, as well as a large prepayment for sponsorship fees. MusclePharm paid down sponsorship fees in the amount of $4,405,354, which, combined with prepaid sponsorship and endorsement fees of $506,478, totals a little over $4.9 million - equivalent to the total amount owed in sponsorship fees for the entirety of 2015. MusclePharm also added to their prepaid giveaways account by $459,400 (this is likely associated with the Combat Crunch and CocoProtein launches - Pyatt mentioned on the conference call that MusclePharm had aggressive promotions at launch for these products). When MusclePharm uses the prepaid giveaways, the negative cash flow effect will be reversed (as seen in the quarter over quarter change in the prepaid assets account). Lastly, MusclePharm also paid down the Other long-term liabilities account by $293,041 bringing the long-term debt category down to only a long-term capital lease of $135,689. Adding this all together, the quarter-over-quarter change in cash flows from operations would be down to $-927,106 from the initial quarter-over-quarter change of $-6,084,901.
Not great by any stretch, but I do not believe that MusclePharm will need to raise additional capital in the fourth quarter (this was echoed on the last conference call, as mentioned below). Prepaying sponsorship fees has a negative effect on cash flows and operating expenditures in the current quarter, but will have a positive effect on 2015 earnings.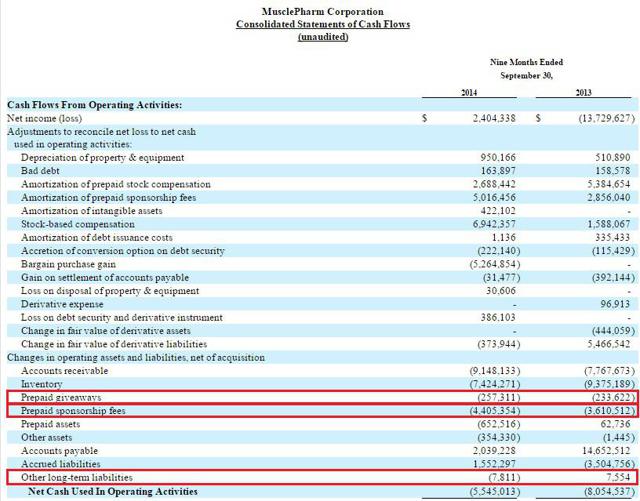 Accounts receivable and inventory increased $4,357,826 and $4,268,282 respectively, whereas accounts payable and accrued liabilities increased $4,704,208 and $477,705 respectively. While MusclePharm certainly needs to work on lowering their days sales outstanding, it's good to see accounts receivable and inventory rising faster than accounts payable and accrued liabilities, especially when considering that a substantial amount of the inventory build is likely destined for Wal-Mart (NYSE:WMT) and Sam's Clubs. Other brick & mortar and specialty retailers will also be receiving their Combat Crunch and CocoProtein in the fourth quarter (Walgreens (WAG), GNC (NYSE:GNC), Vitamin Shoppe (NYSE:VSI), so I expect to see lower inventory numbers next quarter and better cash flows.
Though cash levels are on the low side, they are not unreasonably low in my opinion. This was discussed on the conference call and Richard Estalella said there were no plans for a capital raise in the fourth quarter. If MusclePharm wasn't comfortable with their cash balance heading into the fourth quarter, they would not have purchased shares back on the open market through their buyback plan.
One disadvantage of the current low cash level is that it'll be difficult for MusclePharm to continue buying back shares, which is unfortunate considering the share price has dropped 40% from the 52-week high and is 37% below the average price they purchased back shares at on the open market last quarter.
Quarter 4 and Full Year 2015 Expectations
MusclePharm guided to implied revenues of $45.28 ($40.28 - $50.28 range given) million for the fourth quarter and implied earnings of $0.00 to $0.05. If MusclePharm hits the midpoint of this guidance, they'd grow revenues 20.78% over last year's fourth quarter and 71.4% for the full year; but it would be the lowest revenue quarter of the year.
Investors on the conference call expressed concern of slowing growth in the specialty channel (includes online and brick & mortar specialty retailers like GNC). Though growth is slowing a bit in the specialty channel, MusclePharm is still showing over 100% year over year growth in the international channel and is growing their FDM channel rapidly as well. The Biozone acquisition has also started contributing to revenue growth, adding $4.9 million in revenue last quarter. The expanded deal with GNC for a dedicated wall and doubling the stores MusclePharm is in to over 4,000 should also have a positive effect on the specialty channel into Q4 and 2015.
Though sales likely benefited from the Mr. Olympia event at the end of September in Q3, I believe MusclePharm will post revenues above the midpoint of guidance in the fourth quarter for a few important reasons.
First, the fourth quarter will be the first quarter two of MusclePharm's products (Arnold Iron Whey and Arnold Iron Pump) will be available in approximately 3,500 Wal-Mart locations. Additionally, Arnold Iron Whey will be available in all 642 Sam's Club locations. Though sales will likely take some time to ramp, this should still have a positive impact on fourth quarter results. Looking past the fourth quarter and into 2015, if MusclePharm can sell half the volume as it is in Costco (Costco was selling about $800-$900 per store per week according to the 2013 Q4 conference call) in Wal-Mart, this would bring additional revenue of $77,350,000 to Wal-Mart and $50,277,500 to MusclePharm assuming a wholesale price at 65% of the retail price. Using the same assumptions for Sam's Club, MusclePharm's revenue would increase by $9,222,330. MusclePharm's gross margins may take a hit, as Wal-Mart is well-known for being aggressive in pricing but this deal should be a long term positive for MusclePharm as they continue to build their brand with the mainstream consumer.
Adding these two revenue numbers to MusclePharm's expected 2014 revenue of $190 million yields about $249.5 million, about $9 million above analysts estimates for 2015 revenue. Assuming modest growth in other channels, brick & mortar, and sales from new product categories, it's easy to see how MusclePharm could achieve higher than expected revenues next year.
Second, the third quarter only included one full month of Combat Crunch sales and to only two customers-bodybuilding.com and an international customer. The fourth quarter will include sales to brick & mortar locations including GNCs and Vitamin Shoppes, as well as other online specialty retailers.
Brad Pyatt mentioned on the conference call that MusclePharm is working with large retailers (including Costco) on getting these two products in their stores, as well as expanding into some convenience store chains. Expanding in the convenience store arena opens up an additional channel for MusclePharm that both of the aforementioned products are well suited for.
Third, MusclePharm announced an expanded relationship with GNC in July to double the number of stores carrying their products to 4,000 and getting a dedicated wall for their brand. Sales should start ramping up in the fourth quarter and will have an even more positive effect in 2015.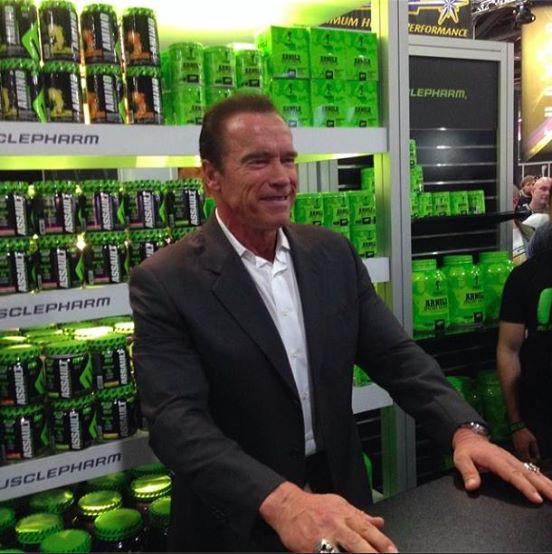 Arnold Schwarzenegger at a GNC
Could MusclePharm be the next Schiff Nutrition?
On the third quarter conference call, when attempting to give investors of an idea of MusclePharm's potential earnings and target operating metrics, Pyatt said, "So long-term if you want to look at a model that's very successful and that's been received by the street very well is the Schiff Nutrition model and we believe we can match them on their operations, but beat them on their growth and their top line."
Schiff Nutrition was founded in 1940 by Joe Weider, went public in 1997, and was acquired by Reckitt Benckiser in 2012. Investors could've purchased shares of Schiff Nutrition for as low as $9.24 a share in January 2012 and achieved a 355% return within the year when Reckitt Benckiser agreed to acquire the company for $42 a share in cash ($1.4 Billion), outbidding Bayer's $1.1 Billion bid. When the offer was announced, it was worth about 28x EBITDA and 3.5x expected FY sales ($385 million).
In Schiff's last reported 10-K, it had $258.9 million in sales with gross margins of 46.1%, operating expenditures of 36.3% (inflated due to the one-time costs associated with the acquisitions of Airborne and probiotics), and operating income of 9.8%; up from sales of $213.6 million, gross margins of 38%, operating expenditures of 28.5% and operating income of 9.5% the prior year. If MusclePharm is successful in expanding into the higher margin liquids segment, I believe it'll be able to achieve similar and possibly even better operating metrics than Schiff.
In a survey compiled by Bloomberg of 13 deals similar to Schiff over the past decade, the median EBITDA for acquired companies was 18. MusclePharm is currently trading at 7.5x expected 2014 EBITDA and at an EV/EBITDA multiple of 7.83. If MusclePharm was acquired at the median EBITDA multiple, the acquirer would pay $275.4 million or $20.40 per share, over 100% upside from current levels. I believe this is very conservative given MusclePharm's historical revenue growth rates and potential blockbuster products in the pipeline.
If MusclePharm was acquired at the same EBITDA multiple as Schiff Nutrition was, the acquisition price would be $428.4 million or $31.73 per share. If MusclePharm was bought out at 3.5x FY 2014 sales estimates of $190 million, the purchase price would be $665 million or $49.26 per share. With cheap financing available, a low enterprise value and global M&A deals at the highest level in seven years. I believe many healthcare consumer focused companies may be interested in acquiring MusclePharm.
The Energy Shot Opportunity
Five Hour Energy is largely credited with creating the energy shot market and has continued to maintain a stranglehold on the market with about 90% market share in 2013. In 2011, they hit $1 Billion in retail sales, with rumored revenue and net income to the company at $600-$700 million $300 million respectively. The net margins five hour energy has been able to accomplish are incredibly impressive. Monster (NASDAQ:MNST) has also been able to accomplish high net margins, earning $286.2 million in net income on $1.7 Billion in sales in 2011.
Though it may be difficult for MusclePharm to gain meaningful share in the energy shot market, even modest revenues at similar net margins to Five Hour Energy and Monster would provide a significant boost to MusclePharm's EPS.
Insider Buying Continues
Three executives have purchased shares following the precipitous fall of MSLP shares after the third quarter earnings call. On 11/20/14, the first day he was eligible to purchase shares following the conference call, CEO Brad Pyatt continued his buying spree of MSLP shares adding 9,900 shares for $99,886. COO James Greenwell bought 1,000 shares for $9,900, and Independent Director Andrew Lupo purchased 2,200 shares for $22,222. The following day, Mr. Lupo added his position buying 16,010 shares valued at $170,038. This brings the total number of insiders buying since last November to eight. I view this as a continued vote of confidence in the business and believe insiders will continue to pick up shares before MusclePharm finally uplists to the Nasdaq or is acquired.
Putting Things in Perspective
There's no doubt that MusclePharm's third quarter results left much to be desired, but I believe the stock is deeply oversold at current levels (as reflected by the RSI of 19.1 as of 12/11/14) and represents a great opportunity to add to or initiate a position.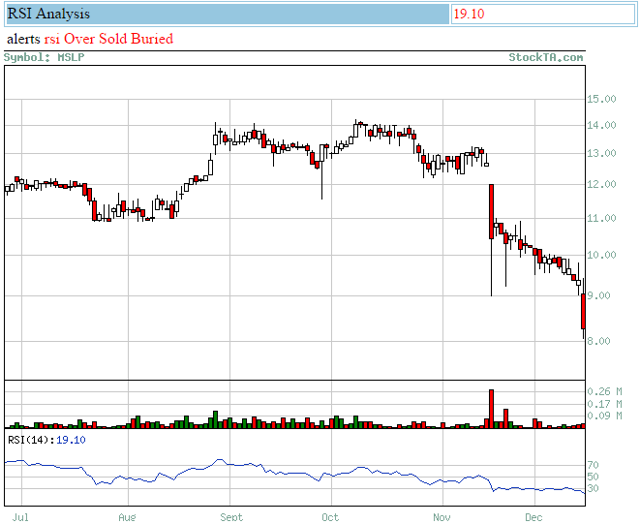 The sell-off following the weak earnings report led to significant volatility in MusclePharm's share price. The illiquidity common in the OTC market was reflected in the spread between the bid and ask, as it reached as high as $0.88 during the trading session. I watched shares sell-off sharply following the conference call as bids were beaten down to $9.00 per share with the ask at $9.88 before shares ended up closing the day at $10.42.
Since the week following the third quarter results, volume has been about half the average of the past three months - at an average of 18,928 shares traded per day vs the three month average volume of 37,291. On Monday December 10th, volume of 7,740 took the price down from $9.90 a share to $9.65 a share. This represents only ~$75,000 in trading volume. Typically, low volume moves in either direction are not necessarily indicative of anything good or bad going on with a company, while heavy volume moves typically are (though this is certainly debatable).
One of the biggest risks I mentioned in my prior article and that any investor in MusclePharm should be aware of, is the history of dilution at the company. For 2014, MusclePharm guided for 13.5 million in fully diluted shares and at the end of the third quarter, was still on track to maintain this share count. It's important to note that this guidance was given prior to MusclePharm signing Tiger Woods as an endorser and granting him about 450,000 shares. If MusclePharm didn't sign Tiger Woods, they would've actually come in with a fully diluted share count below their guidance at 13.05 million shares.
Though executives are still making a lot of money, I believe they are now better incentivized through their restricted stock plan. In conjunction with the shareholders annual meeting, the Board of Directors granted 1,230,000 restricted shares on October 1, 2014 to certain executives and other employees. The shares vest as follows: 60% on December 31, 2016, 20% on December 31 2017, and 20% on December 31, 2018. Personally, I am glad the vesting schedule is structured the way it is, as I believe the company should operate, plan, and invest with a long-term mindset.
Updated Valuation
My updated model reflects more conservative assumptions including lower revenue growth, higher operating expenditures, and slower gross margin increases. I've also slightly lowered the discount and terminal growth rates, as well as the total expected shares outstanding due to what I perceive as a lower risk of future dilutive financing. These assumptions will be updated when there is more visibility on the timing and roll-out of MusclePharm's Amino1 RTD and energy drink product.
As discussed earlier, legal expenses related to the SEC investigation currently represent a drag on fully diluted EPS of $0.19. If the investigation is concluded without a fine, operating expenditures will be slightly lower and MusclePharm may also have their legal expenses reimbursed through their insurance coverage.
Base Case: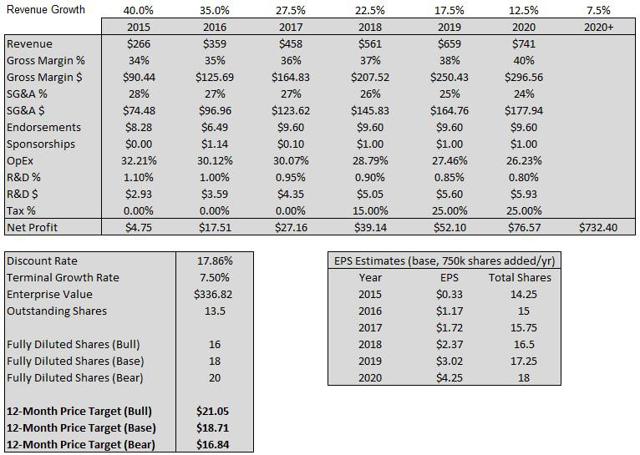 I believe MusclePharm will be conservative with their 2015 guidance and expect it to be close to or below current analyst expectations of revenue of $240.4 million and EPS of $0.52. I've also created separate models for bull and bear cases which result in price targets of $39.12 and $5.88 respectively, indicating potential upside of 360% and potential downside of 31%.
Assumptions in the bull case include: successful expansion of MusclePharm's liquids category (higher revenue growth rate), faster gross margin ramp, and slightly lower SG&A.
Bull Case: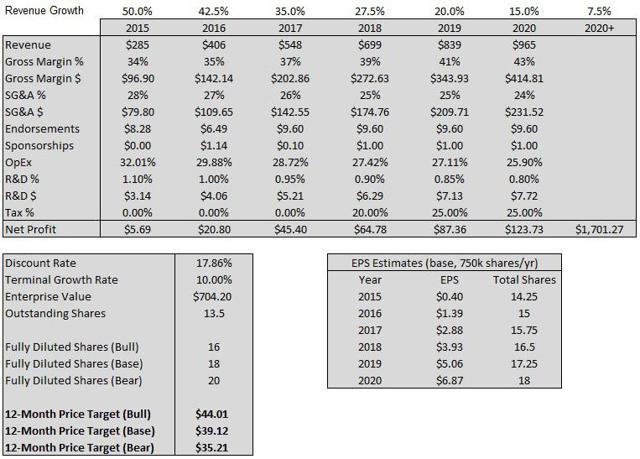 The assumptions in the bear case include: slower revenue growth, higher SG&A, and slower gross margin ramp.
Bear Case: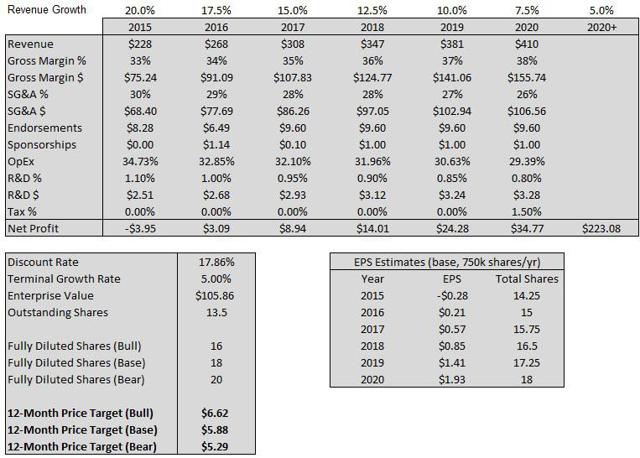 I encourage investors to use their own assumptions for revenue growth, gross margins, OpEx and expected share counts and recommend erring on the conservative side.
Conclusion
The third quarter market overreaction has created a tremendous buying opportunity for investors with a long term mindset. Liquidity concerns are overblown and cash flows from operations are better than they appear on the surface. If MusclePharm is acquired at a similar price as Schiff Nutrition was, investors could be looking at substantial upside. Insiders continue to be bullish on MusclePharm's long term prospects and purchased shares on the open market following the drop in share price after the third quarter earnings were released.
Though results from last quarter were undoubtedly disappointing, it's important to note that MusclePharm's management has continued to address investor's concerns and work on reducing dilutive financings. At the beginning of the year MusclePharm guided for 13.5 million shares outstanding and is currently still on track to hit this goal, despite an unexpected additional ~450,000 shares issued to sign Tiger Woods on as an endorser (which I think many investors can agree that this will be a positive for MusclePharm in the long run). Incentives for the executive management team are also better aligned with shareholders which I believe will ultimately result in MusclePharm reaching its intrinsic value.
Disclosure: The author is long MSLP.
The author wrote this article themselves, and it expresses their own opinions. The author is not receiving compensation for it (other than from Seeking Alpha). The author has no business relationship with any company whose stock is mentioned in this article.
Editor's Note: This article discusses one or more securities that do not trade on a major U.S. exchange. Please be aware of the risks associated with these stocks.