There may be more to the oil price war than meets the eye. Analysts who have studied the retail food industry understand the dynamics of price wars - when there's more supply than demand in a community retailers will reduce profit margins by competing on price in order to hold on to market share. Many currently believe this is what is driving down the price of oil, as OPEC refuses to reduce production hoping that non-OPEC (shale oil in the U.S. market) production will drop as prices fall below their breakeven levels.
For food retailers, it is more often a cyclical decline in demand that reduces consumption (due to recession for instance) that ignites the price war.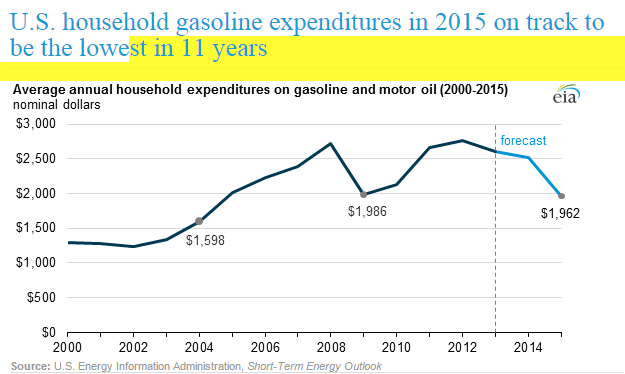 Although global economic growth has not been stellar, there's no question that the world's largest consumer of oil, the United States, has been gathering strength for some time now. One might expect that there would be plenty of demand to absorb the growing domestic oil production and imports. However beginning in 2012 annual household expenditures began to rollover.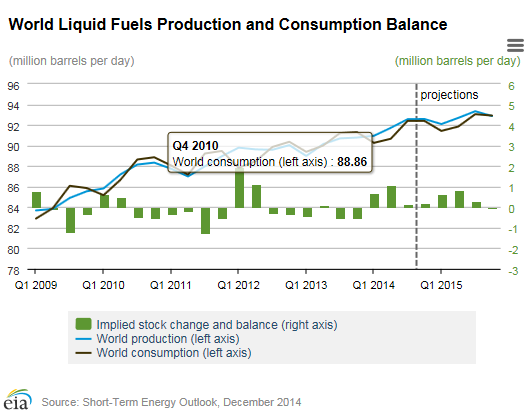 Is it possible that consumer behavior is changing in the U.S. and other more developed countries? After all, the wealthiest and largest consumer markets in the world (U.S., Japan, Germany) also have populations that are aging rapidly. If an older population tends to consume less fuel, perhaps the Energy Information Administration's projections of rising demand later in 2015 and beyond might prove ambitious. We may be at the cusp of an extended period of lower energy demand and prices.
According to the CIA, the estimated median age in Germany and Japan is 46.1 years; in fact most European countries are estimated to have a median age now of over 40. The median age in the U.S. is likely below 40 (comparable to China) but is getting older fairly quickly. In 1930 the percentage of Americans over the age of 65 was 5.4%. As you can see from the chart (U.S. Census Bureau) that percent grew to 13.0% in 2010 and based my own back-of-the-envelope estimate for 2014 (using Census Bureau numbers) is already 14.2% just a few years later.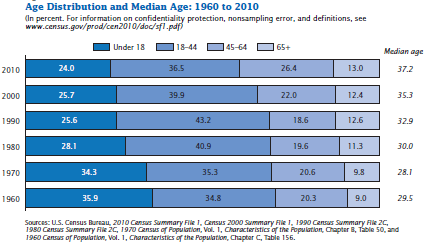 I haven't seen many studies documenting how individual expenditures on fuel change over the course of a lifetime, but the following graph from a German study may give us a hint.
The authors discovered that above the age of 50 years or so, expenditures by German consumers on fuel declines quite rapidly.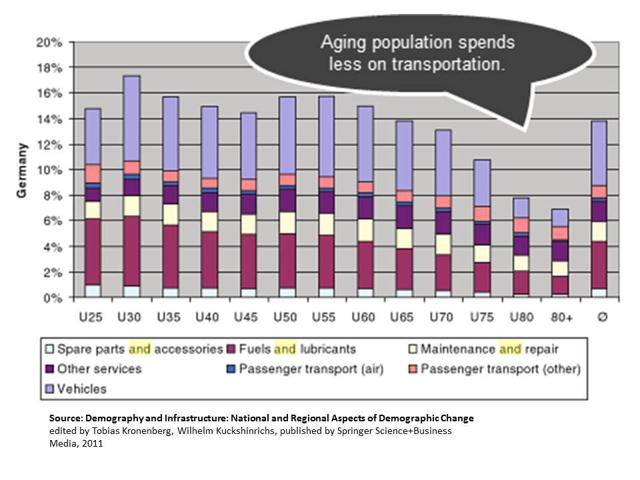 Assuming we consumers do use less fuel as we get older, the future of oil prices might turn out to be surprising.
As we witness in the food retailing industry over and over again, pricing pressure diminishes because supply is cut back (store closures, consolidation) and demand improves. No doubt there will be production cuts in the oil industry and there is already evidence that lower oil prices are inspiring consumers to use more fuel. But a secular shift in oil consumption may impose a ceiling on the industry's rebound potential.
The consumption of richer countries will not bounce back as aggressively as expected, if at all, and it could take a long time for economic growth in the poorer (and younger) developing countries to take up the slack.
A by-product of this structural change in global energy use is misguided government policies. A longer term decline in the relative price of energy looks deflationary, but is really a boost to global productivity. Attempts to use monetary policy to meet central bank inflation targets are bound to create unpredictable and potentially damaging distortions. Declining oil prices are good and not really deflationary - but rather redistribute wealth from former beneficiaries of high prices to consumers. Misinterpreting this dynamic as deflationary and then creating systemic price inflation to combat it is simply wrong.
We will see a better demand/supply balance in due course, and a bottoming in the price of oil. When it seems closer then certainly there will be a bounce back in the shares of energy companies. But the really big winners will be sectors that have had their growth inhibited by lofty oil prices for more than a decade. The turbulence in U.S. and global stock markets are a reflection of this new reality - creating huge opportunities for investors.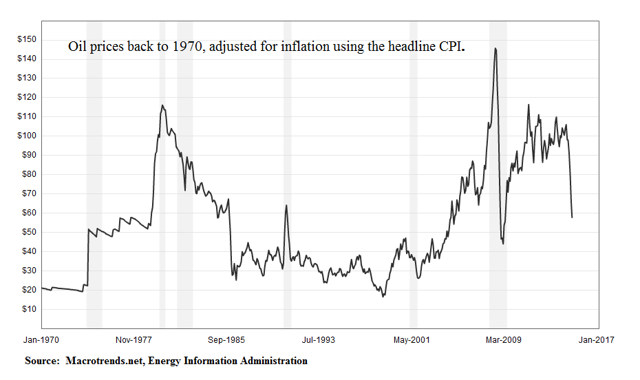 Disclosure: The author has no positions in any stocks mentioned, and no plans to initiate any positions within the next 72 hours.
The author wrote this article themselves, and it expresses their own opinions. The author is not receiving compensation for it (other than from Seeking Alpha). The author has no business relationship with any company whose stock is mentioned in this article.