It's hard to find stocks that have double digit projections for both sales and earnings but Fossil (NASDAQ:FOSL) has that plus a 100% Barchart technical buy signal. A few years ago there were predictions that youth were not buying watches because they used their cell phones as time pieces. Someone forgot that a lot of watches are not time pieces but are jewelry accessories, and Fossil fills that niche. I'm sold on the recent price momentum.
Click to enlarge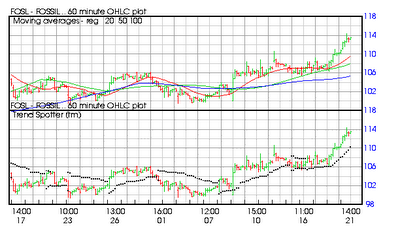 Fossil designs, develops, markets and distributes fashion watches and other accessories principally under the Fossil brand name. In addition, Fossil markets lower priced watches under the Relic brand name. The company designs, manufactures and markets a line of limited edition watches bearing the trademarks and logos of various entities, as well as contracts with retailers and other customers for the manufacture of watches for sale under private label. Some of the private label customers are Armani, Burberry and DKNY.
Factors to consider
Barchart technical indicators:
100% Barchart technical buy signals
Trend Spotter buy signal
Above it's 20, 50 and 100 day moving averages
11 new highs and up 10.03% in the last month
Relative Strength Index 71.14% and climbing
Trades around 113.42 with a 50 day moving average of 100.41
The company has seen the average price of a watch rise by some of the high ended partnerships it has with Armani, Burberry and DKNY. Although sales in Europe have been flat, increases in the U.S. and Asian markets have more than made up the difference.
Wall Street brokerage analysts have given four strong buy, two buy and three hold recommendations to their clients.
Sales are projected to increase by 24.40% this year and another 15.90% next year.
Earnings are estimated to increase this year and next year by 21.80% in both years and continue by 19.83% annually for the next five years.
General investor sentiment:
On Motley Fool the 675 readers expressing an opinion voted 91% for the stock to beat the market.
CAPS members voted 429 to 52.
The more experienced All Stars vote 187 to 7 for the same result.
Summary: Watches are still in as fashion jewelry - not as time pieces - and Fossil fills that niche nicely, Higher per watch prices through partnerships and increased consumer buying in Asia make the double digit growth of both sales and earnings possible. Investors should see an 8%-9% annual total return over the next five years.
Disclosure: I have no positions in any stocks mentioned, and no plans to initiate any positions within the next 72 hours.