Coca-Cola (NYSE:KO) has long been one of my core portfolio holdings. I am a big fan of both the stock and its long dividend-growth track record. However, I will not hide its rather lackluster performance. YTD, shares of Coca-Cola are down 1%, compared to a 9% gain for the broader markets. For 2015, things are not looking much better as Coca-Cola's guidance points toward more weakness.
2015 Guidance: The strong dollar is a major headwind
Look through Coca-Cola's 2014 and 2015 guidance and the related slides, we are getting a picture of a company facing major headwinds.
For its FY 2014, Coca-Cola is expecting comparable currency neutral EPS growth of 4% to 5%, and a currency headwind of 7%. For Q4 2014, the company is expecting "slightly positive" comparable currency neutral EPS growth. In other words, Coca-Cola will not be seeing any real EPS growth in 2014.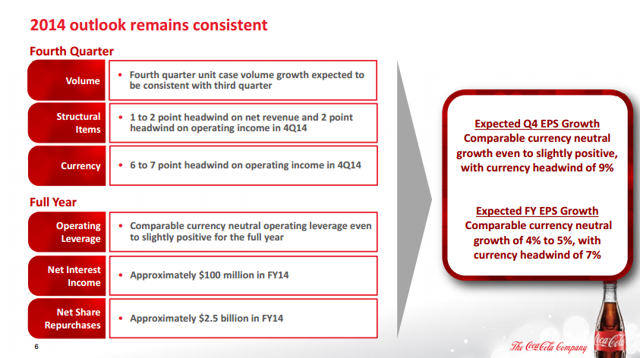 Currency headwinds are an odd thing. The factors for them are numerous. However, they can be boiled down basically to overseas weakness and a strong US dollar. Look at any major currency chart and you will see the dollar gaining strength. YTD, the dollar has gained double-digits versus the yen and the euro, and posted a modest gain versus the pound. Versus other weaker currencies, such as the Mexican peso, Russian ruble, etc, these gains are more dramatic.
In addition, interest rates remain low in the US, but are even lower in other countries. Earning a 2% yield for a USD 10-year bond is quite attractive versus 0.35% for the Yen and 0.60% for the German bund.
However, the strong dollar is much more of an indictment on global growth than proof of underlying strength in the US economy. US GDP is growing, but not by much. Furthermore, with the Fed seemingly itching to raise rates, anything can happen on this front.
As for 2015, Coca-Cola's outlook is not much better. Due to the above mentioned currency trends, the company is expecting a 3% headwind for net revenues and a 5 to 6% headwind for its PBT (profit before tax). In addition, due to various restructuring costs [refranchising efforts, Venezuela, Monster Beverage (NASDAQ:MNST) transaction], Coca-Cola's comparable currency neutral EPS growth is expected to be flat compared to 2014. In other words, pretty much no EPS growth.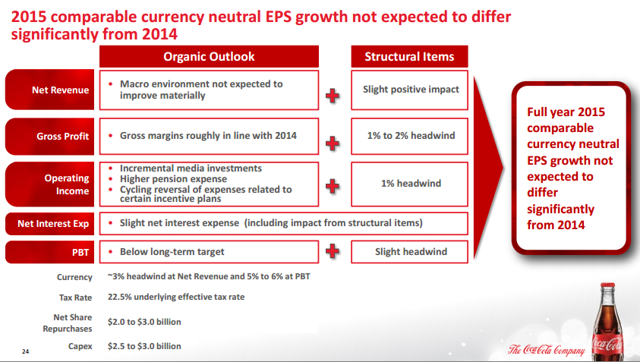 Dividend and payout ratio
Lastly, let us look at Coca-Cola's one saving grace -- its outsized dividend.
The company has a long history of dividend-growth with 52 consecutive annual dividend increases. In 2014, Coca-Cola raised its dividend by 9%, from $0.28 to $0.305 per quarter, or from $1.12 to $1.22 per share.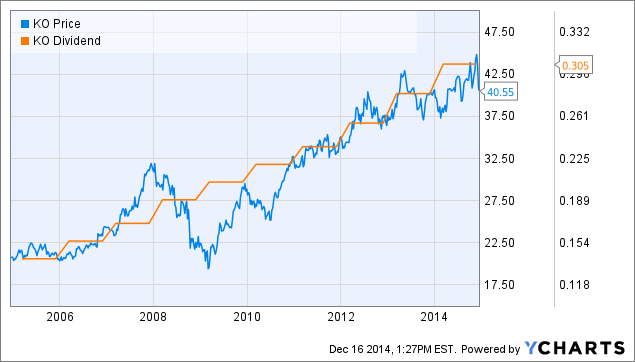 KO data by YCharts
Based on its history, I expect Coca-Cola to increase its dividend sometime in mid Q1 2015. However, this increase could be on the low-end of many investor's expectations.
As to my reasoning, the payout, based on TTM EPS, has been creeping up higher, now sitting at around 64%. Based on its FCF, Coca-Cola's payout ratio is around 62%. Both of these metrics are above the long-term average of around 45% to 55% for EPS and 60% for FCF.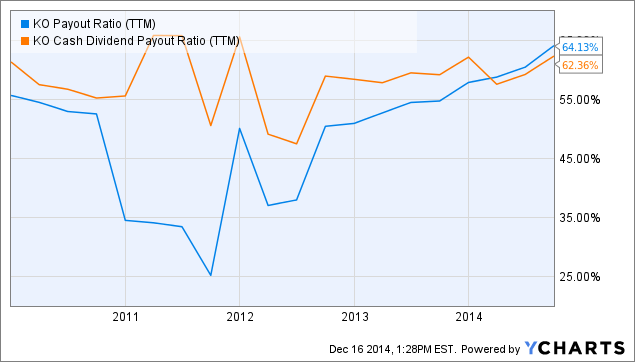 KO Payout Ratio (TTM) data by YCharts
If I were to estimate Coca-Cola's next quarterly dividend, it would be around $0.32 per share, or a 5% increase compared to the current $0.305 per share, inline with the currency neutral EPS growth. At this level, Coca-Cola's payout ratios would increase slightly (68% for EPS, 65% for FCF).
Conclusion
Weak guidance or not, Coca-Cola is a blue-chip stock and deserves a spot in most dividend-growth portfolios. The company has an extremely wide moat, impressive brand recognition, and a world-wide global footprint. For risk-averse investors, Coca-Cola remains a solid choice.
Disclaimer: The opinions in this article are for informational purposes only and should not be construed as a recommendation to buy or sell the stocks mentioned. Please do your own due diligence before making any investment decision.
Disclosure: The author is long KO.
The author wrote this article themselves, and it expresses their own opinions. The author is not receiving compensation for it (other than from Seeking Alpha). The author has no business relationship with any company whose stock is mentioned in this article.