Since its December 2010 IPO, Swift Transportation (NYSE:SWFT) went from 13 filers at the end of 2010 to 104 as of the end of Q1 2011. What's interesting is that a lot of these filers are small cap growth & value hedge funds. Given that many of these filers tend to be longer term investors and given the fact that the stock quickly rebounded to over $13 a share after a steep sell-off, Swift could represent a good long-term investment:
(Click to enlarge)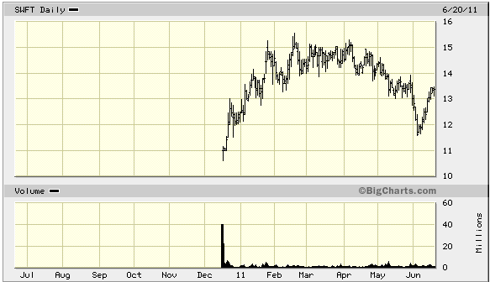 In its December IPO, Swift sold 73.3 million shares for $11 each, raising approximately $806.3 million. Just days before the offering, Barron's published a bearish article on the company (Swift Transportation IPO: Not a Swift Idea) citing its debt-laden balance sheet after its 2007 leveraged buyout. The article stated:
The Swift IPO would be a great transaction for Moyes (the fouder) because it would allow the company to sharply cut debt and improve his standing as the company's largest equity holder.

The deal, however, looks less appealing to IPO buyers who essentially will be bailing out Moyes and buying into a highly leveraged company operating in a tough industry. Trucking fans probably would do better with shares of Swift's better-financed rivals.
Nonetheless, the 13F filing for the period ended December 2010 (right after the IPO) shows a number of value-conscious funds were comfortable making a bullish bet on the Swift IPO :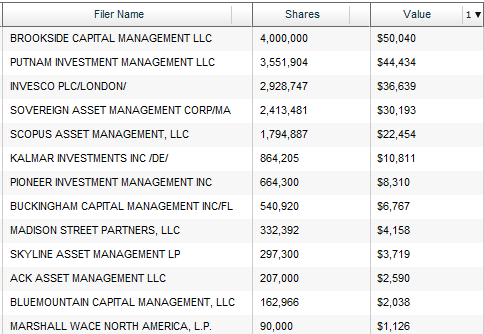 What's interesting, however, is that the Q1 2011 filing shows that alot of hedge funds have jumped on the Swift bandwagon (only the top 40 filers are shown):
Let's take a closer look at the top holders:
FMR, LLC refers to Fidelity and its related mutual funds which held about 8.4% of outstanding Swift shares.

Sankaty Advisors, LLC, is the credit affiliate of Bain Capital, LLC and held about 6.7% of outstanding shares (note: Brookside capital, the largest holder from Q4, is the equity affiliate of Bain Capital).

SAB Capital is run by Scott Alan Bommer who is known for his value-oriented, special situations investment approach. This stake is about 6.2% of shares outstanding and also represents 6.4% of all reported long positions for SAB in Q1.

Valinor (named for the land of immortal souls from the 'Lord of the Rings' books) was founded by David Gallo after he left Roberto Mignone's Bridger Management. Valinor also holds about 6% of shares outstanding which represent about a 3% position in its reported long book. Similar to Fidelity, Putnam Investment Management is a full service investment advisory offering mutual funds, 401k plans, 529 college savings plans, etc.

Vinik Asset Management was founded by Jeff Vinik in 1996 after leaving his post as manager of Fidelity's Magellan fund. It holds about 4% of outstanding shares, which represent less than 1% of its long book (Interestingly, Vinik has drastically increased its long stock positions to almost $7BN in Q1 2011 from $2.1BN at the end of 2010).

Impala Asset Management was founded by former Soros Fund Management CIO Robert Bishop, a known commodity maven. Impala owns about 3.6% of shares outstanding which represents about 2% of its long positions).
Just these five hedge funds (excluding the 13% held by Fidelity & Putnam) hold over a quarter of all outstanding shares of Swift. Looking down the list at the remaining holders reveals a number of other well-known value-oriented hedge funds.
Now let's focus on the five hedge funds listed above and see if there are any other common stocks held over the last few quarters.
As of the end of Q1 2011, there were 45 positions that were held by two or more of the five "Swift filers" that we profiled above. The table below breaks down the top 13 positions as a percentage of that filer's total reported 13F positions for every quarter going back to 2008.
For example, both Vinik Asset Management and Impala Asset Management have had a position in Apple (NASDAQ:AAPL) since 2008. Vinik started with a very small position in Q4 2008 and quickly grew it to 6.3% of its reported long positions in Q3 2009, before reducing it to 3% as of the most recent filing. Impala just initiated a position in Q4 2010 and added to it the following quarter.
For our five 'top Swift holders', SAB Capital is making the biggest bet with a 6.4% position (as a % of its reported long book) and Vinik Asset Management is making the smallest with only 0.7% wagered on the stock:
(Click to enlarge)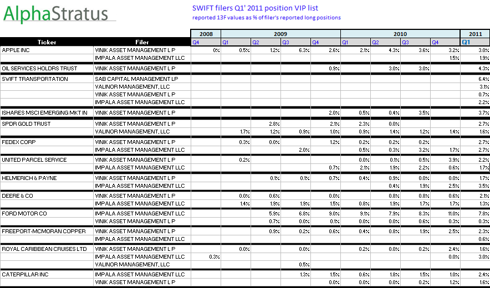 What's interesting is that of these 'top Swift holders', Vinik Asset Management and Impala seem to share a lot of the same positions occupying similar sizes in each of their portfolios. In the 10 stocks above in which Vinik and Impala both have a position, these common holdings represent 18% of Vinik's total long book and 27.1% of Impala's. The biggest divergence is Ford (NYSE:F), in which Impala has an almost 8% bet on the stock while Vinik's position is negligible.
Either way, it seems Swift may deserve a closer look by investors because the hedge fund community has certainly taken notice.
Disclosure: I have no positions in any stocks mentioned, and no plans to initiate any positions within the next 72 hours.