Goldcorp, Inc. (NYSE:GG), is engaged in the exploration, development, and production of mineral properties in the U.S., Canada, Mexico and Central and South America. It primarily explores for gold, as well as for silver, copper, zinc, and lead. The company was founded in 1954 and is headquartered in Vancouver, Canada.
The company has five operating mines and two development projects in Canada the U.S.; three operating mines and one development project in Mexico; and four operating mines and one development project in Central and South America.
Mines -- Production and Location
Location
Mines

2014 gold production

Estimated

Troy Oz

Production

in TPD

Reserve P1+ P2

in Troy oz

Canada & USA
Red Lake
440k to 480k
3,100

2.55M

12 years-Life

Éléonore

40k to 60k 2014E

575k-625k by 2018

7,000

4.03M

Started in October 2014

Porcupine
290K to 305K
11,000

3.01M

13 years-Life

Musselwhite
230k to 240k
4,500

1.85M

13 years-Life

Wharf
60k to 65k
7,800

0.56M

7-years Life

Development Projects
Cochenour (Red Lake)
225k to 250k
1,500
-
Dee JV South Arturo [GG/ABX]
In progress
-
-
Mexico
Peñasquitos
530k to 560k
130,000

reserve N/A

13-year Life

Los Filos
330k to 345k
70,000

7.95M gold and 54.52M Silver

14-year Life

El sauzal
100k to 105k
6,000

0.15M

4-year Life

Development Project
Cermino Rojo
Completion Q1 2016
-

1.63M gold

32.07M silver

Central & South America
Marlin
175k to 185k
6,000

0.65M gold

30.09M silver

5-year Life

Alumbrera [37.5% JV with Xstrata and Yamana]
125k to 130k
N/A
Gold/copper

Pueblo Viejo

[GG 40% ABX 60%]

405k to 420k
N/A

16.15M gold

>25-years Life

Cerro Negro
130k to 180k 2014 Est. (since 7/14)
N/A
5.75M gold
San Martin
Mine closed
Retired
Development project
El Morro [70% GG, New Gold 30%]
In progress

6.7M gold

4.9 B lbs copper

[70% of basis]
Quick Financial Snapshot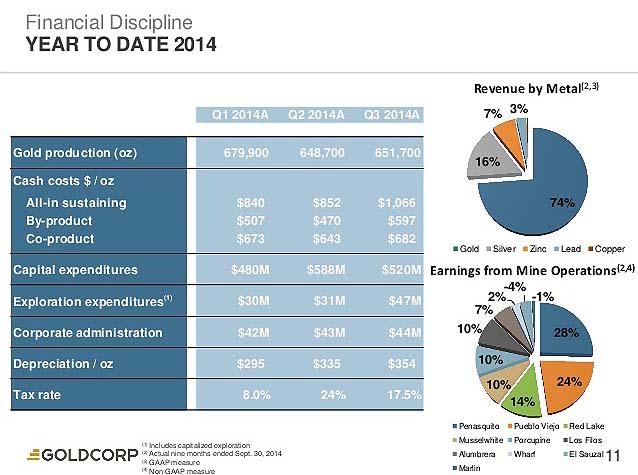 Source: Goldcorp's November presentation.
Production and Financial Comparison With Other Gold Miners
To correctly evaluate Goldcorp's financial and production strength among its peers, I decided to compare the company with three other well-known gold miners that I studied recently:
Barrick Gold (NYSE:ABX) [December instalog here]
Agnico Eagle (NYSE:AEM) [December article published here]
Iamgold (NYSE:IAG) [December article published here]
Financial and Production Snapshot
Gold miner ticker

Gold Production

2014 E. in M t Oz

Earnings per share 2015 Est. (1)

$

AISC

$/ t Oz

Revenue

2014 Est.

$ Million

Cash on hand (End of Q3)

$ Million

Long-term Debt

$ Million

(see chart below)

ABX
6.25
0.72
880-920
10,000-11,000
2,600-2,700
13,100
AEM

1.4 (2014)

1.6 (2015)

0.95
990
1,900
163

800

(Net debt position1,200)

GG
2.95-3.10
0.75
950-1,000
2,650
430
2,900
IAG
0.825
0.07
1,115
1,250
834.5*
641.3
* After payment of $500 million from Nobiec sale.
(1) My own estimate excluding one-time and special items.
YTD Chart comparison (Including gold price.)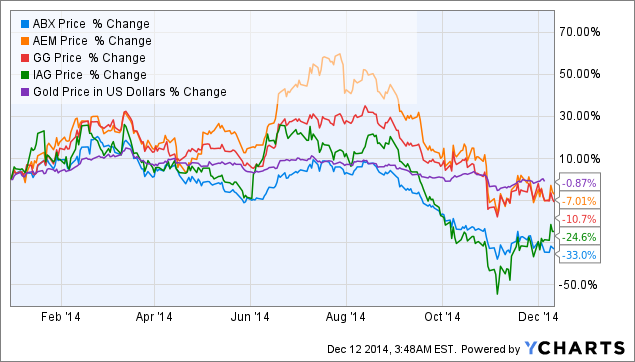 ABX data by YCharts
Commentary
I decided to look again at the gold sector recently because I believe gold prices are about to bottom out, and may slowly recover after 2015. As we can see in the chart above, gold has remained relatively stable during 2014, trading in a tight range between $1,130/oz and $1,350/oz, which suggests a slow rebound in the near future.
I support this thesis using multiple analyses and studies written recently about the gold forecast in 2015. One analyst in particular, Thomson Reuters GMFS, perfectly described the situation for next year:
But with central banks in emerging economies 'continu[ing] a sustained strong buying policy,' GFMS also forecasts global gold mining output will peak and then plateau from 2014. Coupled with a likely return of inflation concerns, this should see 'the fundamental position' of the gold market's supply and demand balance 'start to tighten during 2015 as underlying demand strengthens, taking the market into a deficit. The price is therefore expected to bottom out during 2015 before embarking on a gradual bull market.'
Thus, the time to look in-depth at the gold miners has arrived again. This is the right time to decide which company might be the best investment to profit from an eventual rebound of the gold price in the second half of 2015. Why could Goldcorp be considered as a good choice, compared to its peers?
1. Importance of the all-in sustaining cost (AISC)
AISC is a very good indicator of the company strength and efficiency because it summarizes the real cost paid by the company to produce and sell gold. Basically, an AISC approaching $1,150/oz is an indicator of production weakness or a signal of some unforeseen problems, indicating that the mine is definitely not profitable. Furthermore, given gold prices projected next year to be $1,200/$1,250 per troy ounce, an AISC above $1,150/troy oz would signify an automatic operating loss or a break-even situation.
Iamgold is a laggard among the other three with an AISC of $1,115/troy oz. Before 2012, this value was not really decisive, because gold was trading above $1,700/oz; however, this situation has now changed drastically. Goldcorp has an AISC under 1,000/oz for 2014, which is attractive.
2. Importance of a safe and high dividend during consolidation
Goldcorp has the best dividend per annum compared to its peers, with a solid 3.2%. The dividend is around 37% of the company's operating cash flow in 2014, compared to barely 10% for ABX and AEM. In its latest presentation, GG provided this interesting chart: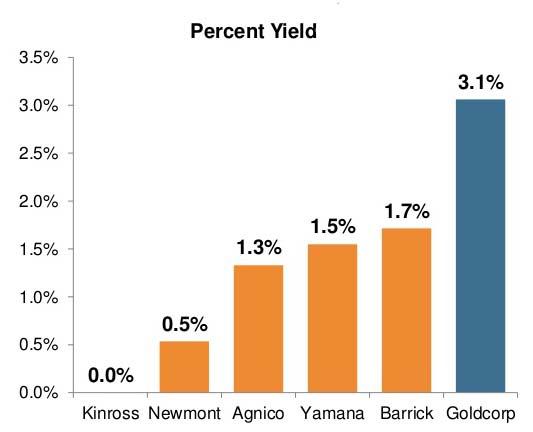 Assuming a gold price relatively stable at above $1,250/oz in 2015, the dividend seems secure a priori, and is a definitive non-negligible advantage from a long investor's perspective.
3. Forward P/E ratio
GG has a forward P/E ratio around 25, which is acceptable but not as strong as Barrick Gold's. We will have to look at the entire 2014 results, and early 2015, to get a complete financial picture of the company and make up our mind about the perfect candidate. Cochenour, Cerro Negro, Peñasquitos and Éléonore will have a positive effect on this particular ratio in 2015 and after. We can anticipate a significant revenue stream coming from these new operations, which will impact future earnings positively.
Russel Ball, EVP of capital management, said in the third-quarter conference call:
It was a busy quarter for the projects team, with the key milestone of first gold having been achieved in Cerro Negro and Éléonore.
4. Negative: Few technical problems encountered recently
The closure of the El sauzal mine is a definitive setback. The company estimated the cost around 60K oz in 2014 production, which forced GG to revise down the production for 2014. There also was the earlier shutdown at Los Filos, the disruption at the Alumbrera (to a minor degree), and the issue regarding the Cerro Negro operations -- the company has experienced difficulty in recruiting qualified miners for the mine and it may still affect productivity in 2015.
COO George Burns said during the conference call:
El Sauzal remained a focus following the suspension of operations due to an instability of the Trini pit high wall. For safety reason, we have made the decision to accelerate our closure plan from the first quarter of 2015 to the fourth quarter of this year with an estimated loss of about 60,000 ounces of gold production in 2014.

Due to the challenges with the high wallet El Sauzal and the earlier shutdown at Los Filos, we expect to come in at the low end of our guidance of between 2.95 million and 3.1 million gold ounces.
Conclusion
Goldcorp is a well-known Canadian gold producer, with encouraging growth potential in 2015, assuming a supportive price of gold above $1,250/oz. The company is not without weakness, but the situation seems manageable and does not threaten the company's overall survival. Moreover, Goldcorp presents an exciting prospect with its two new producing mines, Cerro Negro and Éléonore.
CEO Charles Jeannes said during the last conference call:
But I have to start with the fact that we've commenced production at two new outstanding gold mines in just the last three months. Production commenced at both Cerro Negro and Éléonore on schedule and on budget, and both are ramping up towards commercial production largely as planned.
It has never been easy to pick a gold miner. Deciding which company is better positioned for a decent profit depends on multiple factors and is often a particular personal choice. However, I believe GG presents a compelling argument with a decent balance sheet and good growth potential, which will strengthen if gold prices start to trend up in 2015 as expected. For all the reasons indicated above, GG deserves to be evaluated seriously as a potential long-term investment.
Disclosure: The author has no positions in any stocks mentioned, and no plans to initiate any positions within the next 72 hours.
The author wrote this article themselves, and it expresses their own opinions. The author is not receiving compensation for it (other than from Seeking Alpha). The author has no business relationship with any company whose stock is mentioned in this article.