On Friday, oil prices tumbled to under $60 a barrel, their lowest levels in more than five years as International Energy Agency gave a grim forecast of further downward pressure on prices. That is bad news for most of the exploration and production companies, but even worse for Goodrich Petroleum (NYSEMKT:GDP).
The Houston, Texas based Goodrich Petroleum is a small oil and gas producer, valued at nearly $175 million, which operates primarily in the Tuscaloosa Marine Shale (TMS), Eagle Ford Shale and the Haynesville Shale formations in Louisiana, Mississippi and Texas. The company owns more than 300,000 net acres at TMS, around 76,000 net acres at Haynesville and 30,000 net acres at Eagle Ford.
In an environment of depressed natural gas prices over the last couple of years, Goodrich has been focusing on developing its oil rich properties. Last year, the company spent 43% of its capital expenditure on Eagle Ford, 42% on TMS, and 15% on Haynesville Shale. The TMS and Eagle Ford are liquid rich properties, with former holding up to 4 million barrels of oil equivalents of proven reserves while the latter has 12 million barrels of oil equivalents.
Consequently, the company was able to more than double its liquids production between 2011 and 2013. This year, Goodrich has focused on developing TMS, which will drive its liquids production growth. For 2014, Goodrich has allocated between 70% and 80% of its capital expenditure for TMS.
Further, as compared to last year, the company has almost doubled the size of its capital expenditure for TMS in 2014 while Eagle Ford spending would drop by around 43%.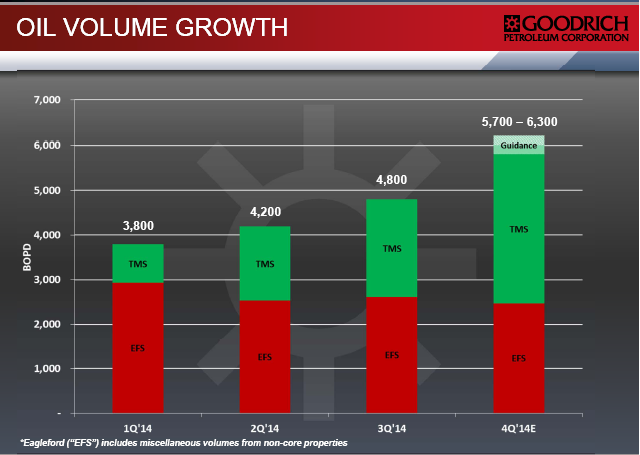 Source: Goodrich Petroleum presentation
Tuscaloosa Marine Shale
Goodrich's properties at TMS represent an integral part of its portfolio. While the size of its proven reserves in this region is just one-third as much as Eagle Ford, TMS has significantly greater future prospects. The total size of the potential resource at TMS (or 3P reserves) is estimated to be around 736 million barrels of oil equivalents, which represents 52% of the company's total resource potential and about 12 times greater than what Eagle Ford could hold.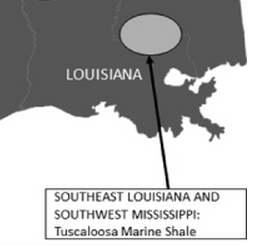 Source: Goodrich Petroleum SEC Filing FY2013.
Moreover, TMS is also touted as the last major shale oil play in the U.S. The region, which matches Eagle Ford's geological age, could hold as much as 7 billion barrels of oil reserves. Besides Goodrich, Halcon Resources (NYSE:HK) is another oil and gas producer that is betting on the future of TMS.
Unlike Halcon Resources that does not generate any meaningful quantities of oil from TMS and gets most of its output from North Dakota's Bakken formation, Goodrich relies heavily on this region.
Goodrich did not reveal the exact contribution of TMS to the company's total output in its third quarter press release. However, in its quarterly filing with the Securities and Exchange Commission, the company did say that its output from TMS represented around 20% of the company's total equivalent gas production (in terms of thousand cubic feet equivalents) and 45% of its total oil production.
One of The Least Economical Plays
That said, TMS is an early stage play whose geology, as well as the related application of drilling technologies, is not fully understood. As such, it is a difficult area to drill for oil and gas. Some of the other operators, such as Devon Energy (NYSE:DVN) have already left the region after failing to exploit its resources within reasonable costs.
Moreover, an environment of lower crude prices also limits the appeal of investing in a region that isn't known for its attractive economics.
According to a report by Tudor, Pickering, Holt & Co., some parts of Eagle Ford would remain economically feasible to develop even if WTI crude prices dropped to $40 a barrel, or even lower. TMS, on the other hand, requires crude prices to remain between $70 and $90 a barrel to justify drilling operations.
A recent research by Bloomberg also shows that TMS produces some of the most expensive oil in the U.S. that would be unprofitable at $75 a barrel. The region needs oil prices of at least $79.52 a barrel to break even.
Halcon Resources has already said that it would scale back its operations in the region, although the company still thinks that TMS could be a gusher in the long term. When oil prices were trending over $80 a barrel, Halcon said that it would double the number of rigs at TMS from two in 2014 to four in 2015. However, Halcon has now decided that it will take the two rigs out from the region and focus solely on developing its other properties.
Goodrich Petroleum, on the other hand, will continue to invest hundreds of millions in TMS. In its 2015 capital expenditure budget announced on Wednesday, the company said that it would lower its spending by 45% from the current year to between $150 million and $200 million in 2015. Around 95% of this will go towards TMS where, the company says, "costs are coming down and results have continued to improve."
By developing a frac design specifically for TMS, Goodrich has been able to achieve cost savings of more than $1.1 million per well.
Nonetheless, the well costs of between $10 million and $13 million for TMS are still significantly higher than some other regions, such as Eagle Ford where several operators, including Encana (NYSE:ECA) and Pioneer Natural Resources (NYSE:PXD), have drilled wells for less than $8 million. Even Goodrich's well costs at Eagle Ford are between $7 million and $9 million.
Financial Strength
It also doesn't help that Goodrich suffers from a weak balance sheet. As per its last quarterly results, the company's long-term debt stands at more than $564 million, more than three times as large as its market cap and 2.6 times bigger than the company's total shareholders equity.
Further, Goodrich hasn't been profitable, with a loss of $3.37 a share in the first nine months of this year, compared to a loss of $2.26 a share in the corresponding period last year.
With recurring losses and having to develop a challenging terrain, it isn't surprising that the company's cash outflows as capital expenditures exceed its cash inflows from operations. In the first nine months of this year, Goodrich's net cash inflows from operating activities came in at $95.2 million while it spent more than $238 million as capital expenditure. The company has been selling its non-core assets to fill this gap.
Next year, despite lowering its capital expenditure, Goodrich will remain free cash flow negative. Analysts have said that the company will likely use its revolver credit facility to fill the funding gap, but in this case, the company would have used up more than 60% of its revolver by the end of 2015. That would put Goodrich in a very difficult position. Moreover, if WTI prices remain around $65 a barrel in 2016, then Goodrich will have no other option besides raising additional capital, and that might not be a lucrative prospect for a struggling company.
The aforementioned circumstances have forced Goodrich to consider the sale of its Eagle Ford assets. By selling these assets, analysts estimate that the company could fetch between $250 million to $300 million, which would significantly bolster its balance sheet and reduce the need to draw from the revolver credit facility or raise additional capital.
It would also ease up some of the cash flows as the company would no longer be required to spend its capital on these properties, albeit this impact won't be significant since the company has planned to invest less than 5% of its 2015 budget on Eagle Ford.
On the flip side, these assets were responsible for 28% of the company's total production and 53% of its total oil production. A sale of some or part of this acreage would adversely impact its production as well as its cash flows from operations - which, as mentioned earlier, weren't impressive to begin with. Either way, it's bad news for Goodrich Petroleum.
Conclusion
As I mentioned in my previous article, the plummeting oil prices have given the investors an opportunity to separate high-quality names, that can survive or even grow, in a down market, from the low-quality ones.
With high production cost, a history of losses and a weak balance sheet, Goodrich Petroleum now stands on the wrong side of this separation.
The company's shares have dropped by around 77% over the last three months, currently hovering around $4.18, and can go lower on the back of lower production and another round of losses during a down market. The company's price-to-book ratio is at 0.85, higher than the industry's average of 0.63, as per data compiled by Thomson Reuters, which indicates that there is room for further downside.
Therefore, I believe that investors are better off staying on the sidelines.
Disclosure: The author has no positions in any stocks mentioned, and no plans to initiate any positions within the next 72 hours.
The author wrote this article themselves, and it expresses their own opinions. The author is not receiving compensation for it (other than from Seeking Alpha). The author has no business relationship with any company whose stock is mentioned in this article.