JA Solar (NASDAQ:JASO) is a China-based solar company at the forefront of the solar revolution. Despite being a relatively young player in the solar industry, JA Solar has risen quickly to become one of the world's premier solar companies. It is one of the industry leaders in solar cell manufacturing, and currently boasts one of the most recognizable solar brands. JA Solar will continue to stand out because of its emphasis on efficiency, its vertically integrated model, and its strong balance sheet.
History of JA Solar's Cell and Module Capacity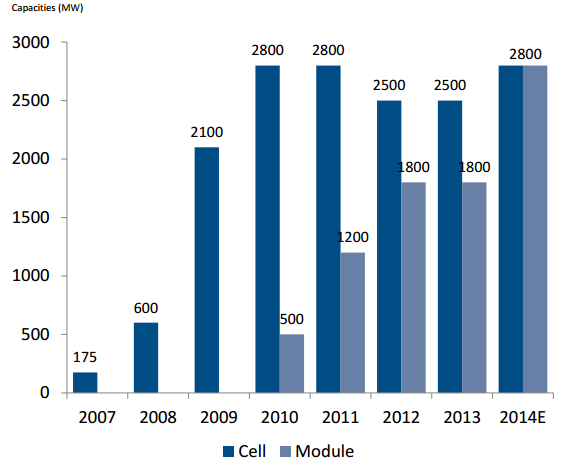 Source: investors.jasolar.com.
Efficiency
JA Solar is unlike most of its Chinese solar peers. While the Chinese solar industry is characterized by lower-efficiency commodity solar panels, JA Solar manufactures some of the highest efficiency panels in the world. Not only are JA Solar's panels superior to those of its Chinese counterparts, but it is even competitive with SunPower's (NASDAQ:SPWR) panels, which have the highest efficiency panels in the world.
JA Solar currently produces solar panels with efficiencies of around 17%, but with the company starting to manufacture its highly anticipated 20.4% efficient PERCIUM solar cells, the company's total efficiency rating will likely jump to 18%-19%. With the PERCIUM product mix, the company is now closing in on SunPower's 20.5% efficient panels.
The primary reason for JA Solar's success on the efficiency front is the company's dedication to research and development. In fact, the company leads the industry in high-efficiency wafer research, among many other things. Despite JA Solar's lofty position as one of the industry leaders in efficiency, the company is not resting on its laurels, and will continue its intense focus on innovation.
Efficiency will be key to solar's future success, and current trends are only reinforcing this notion. SolarCity's (SCTY) decision to enter the high-efficiency panel manufacturing game, despite being a pure play installer, serves to highlight the industry's evolution from commodity panels to more high efficiency panels. Luckily, JA Solar has caught on to this trend early, and has built up a sizable lead over its competitors.
Vertical Integration
Vertical integration is becoming ever more important solar industry. While pure plays have dominated the industry early on, most of the industry leaders today are vertically integrated in some form. JA Solar is exceptional in this regard as it employs a "selectively optimized vertically integrated model."
JA Solar has an extremely ground-up production approach, from producing its own polysilicon wafers to solar cells, PV modules, and finally its own projects. The company also puts a heavy emphasis on the quality of its production parts, with some of the most world's most advanced polysilicon wafers and solar cells. The company, for instance, was the first to develop quasi-mono wafers, and it boasts some of the highest-performing mono and multi-crystalline solar cells.
On top of its integrated manufacturing, JA Solar also has a flourishing downstream business. In fact, the company is expected to complete 200MW worth of projects in 2014, and has 400MW+ in its pipeline. The company is also testing the waters of the distributed generation solar segment, and already has many pilot projects with various partners. Granted, these installation numbers are not comparable to a company like Yingli Green Energy (NYSE:YGE), but they are still extremely impressive considering the relative youth of the company (JA Solar was founded in 2005).
Breakdown of JA Solar's Project Pipeline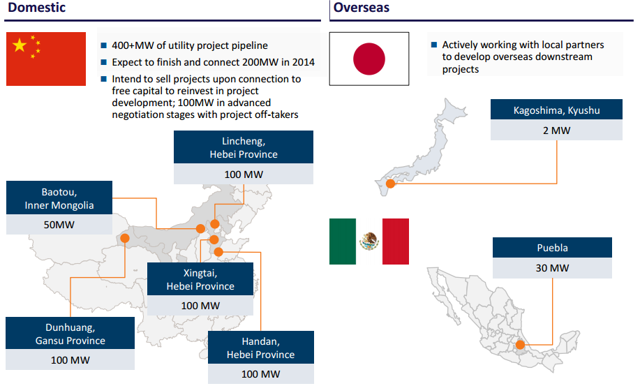 Source: investors.jasolar.com.
Balance Sheet and Financials
JA Solar has one of the healthiest financials in the solar industry. The company has assets of over $1B, and cash of up to $279.5M. In addition, the company ranks highly among its peers in terms of debt price-to-book ratios, putting itself in a much better position moving forward.
The company has also been consistently improving its quarterly performance. Its cell and module shipment revenues, for instance, have steadily increased every quarter to a net revenue of $492.2M in Q3, signifying a 24.7% quarterly increase and a 71.8% YoY increase. JA Solar's improving margins are perhaps even more impressive, showing margins of 15% in the third quarter. Although this was a decrease of 20 basis points from the previous quarter, it is still up 370 basis points YoY.
The company currently has a market capitalization of 408.96M, putting it league with the other leading Chinese solar companies. This is a great time to invest in solar given the largely unjustified solar downturn over the past few months, and JA Solar in particular offers great potential upside. The company is well-positioned in the solar industry, and has a very compelling value proposition.
Risks
The solar industry is notoriously volatile, as it has historically relied on subsidies and other uncontrollable factors. This dynamic is slowly starting to change, though, as solar is becoming increasingly cost-competitive with fossil-fuel based sources of energy. Due to the ever-decreasing cost curve of solar, the industry will be able to stand on its own quicker than most realize.
Another major unknown risk for JA Solar is how the U.S. and China tariff wars will play out. 2014 has not been a good year for solar in this respect, as the Department of Commerce put up another round of heavy sanctions (or, more precisely, closed the loopholes of previous sanctions) on Chinese solar companies. This has hugely impacted JA Solar's business prospects in the U.S., but the company has rebounded nicely. As trade wars are largely played out in the government arena, only time will tell how this will ultimately turn out.
Conclusion
JA Solar certainly stand out from its Chinese competitors in terms of innovation, and even has an edge on most U.S. solar companies in this regard. What is perhaps most impressive about the company is how it has managed to climb to the top of a notoriously brutal industry in such a short period of time. The solar industry is at a tipping point, and JA Solar is primed to take full advantage of the solar boom.
Disclosure: The author is long SCTY.
The author wrote this article themselves, and it expresses their own opinions. The author is not receiving compensation for it (other than from Seeking Alpha). The author has no business relationship with any company whose stock is mentioned in this article.