These days, markets move instantly when news hits the wires. Armies of analysts, traders and portfolio managers are following this news up to the second. It is difficult for an individual to compete. But the fact that capital markets are ultra-competitive doesn't mean that individual investors cannot generate strong long-term returns from equity markets-provided they employ the right strategy and have the constitution not to unload their stocks during equity market downturns.
Back to the title of this article: the better question to ask would have been "Which Types of Stocks Should You Own in 2015?" And the answer to this question would be the same answer that (for us) it is every year: value stocks and small-cap stocks, both here in the U.S. and overseas.
It is drilled into many investors' heads that it is very difficult to beat the broad market over a long period of time. However, there are two sub-segments of the market that, in plain sight, have beaten the broad market indexes both in the U.S. and overseas by a wide margin over the long run: value stocks and small-cap stocks.
The chart below, which encompasses 86 years of U.S. stock market return data from 1927 - 2013, tells a simply astonishing story about the very strong influence of the value and small-cap factors in future returns. In fact, it could well be the single most important chart for investors to understand. We encourage readers to take a very hard look at these data.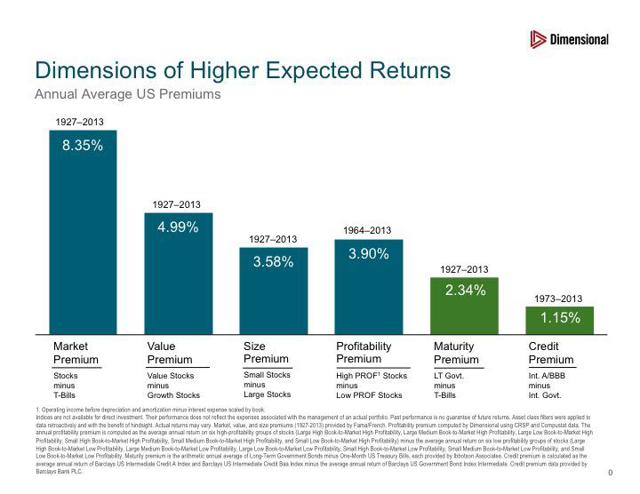 The Value Premium bar (second from left) compares the annual returns of value stocks versus growth stocks. (Value stocks are stocks that are cheap relative to their book value. Growth stocks are expensive relative to their book value). The annual performance disparity between these two segments of the market is remarkable.
The Size Premium bar chart (third from left) tells the same sort of story. It demonstrates that company size (market capitalization) is a very strong factor in the future returns of a given stock. Simply put, small stocks have beaten large stocks over time -- by a lot. Incidentally, this is also true in international developed markets (e.g. Japan, Europe) and in emerging markets as well.
I will address the Profitability Premium (fourth from the left) in a future article.
Now, knowing what these data are telling us, there is simply no good reason not to implement an investment strategy that takes explicit advantage of the value and small-cap premiums. We do so for our clients by building our Orion Portfolios from low-cost, tax-efficient Dimensional Funds. Dimensional Fund Advisors (DFA) is a research pioneer in the investment field and has created a very successful line-up of funds to take advantage of the empirical evidence that value and small-cap stocks have delivered superior investment performance.
Investors who do not have access to Dimensional Funds can find some substitute funds in the ETF world to get their value and small-cap exposure. For example, the Vanguard Small Cap Value EFT (NYSEARCA:VBR) offers good exposure to U.S. small cap value stocks, while the iShares Russell 1000 Value ETF (NYSEARCA:IWD) could be a stand-in holding for large-cap value stocks. For international developed market exposure, the iShares International Select Dividend ETF (BATS:IDV) is a good proxy for the international value segment.
Does the strategy of investing in value and small-cap stocks work every year? No. In fact, sometimes value stocks and small-caps have underperformed the broad market for years at a time -- before they came roaring back.
In our experience, changing to an evidence-based strategy (such as investing in value and small-cap stocks) can be calming and tremendous liberating for an investor. Gone is the need to follow individual companies or having to pick the next hot sector or fund manager. An investment methodology backed by evidence built up over 86 years can help an investor to be more comfortable and confident in his or her strategy. An understanding of and confidence in the seaworthiness of an investment strategy is critical, because it can help a long-term investor avoid making the worst possible mistake: selling in panic during a market rout.
For 2015, our answer to the question posed in the title of this article is pretty cut and dried. For our clients and for ourselves, we will be investing in value and small-cap stocks.
About the Author:
Peter C. Thoms, CFA, is the founder and managing member of Orion Capital Management LLC, an independent Registered Investment Advisor based in Coronado, California. The firm manages assets for individuals, families, trusts, corporate pension plans and non-profit organizations.
Disclosure: This document is for informational purposes only. Nothing in this report is to be construed as a specific investment recommendation. This document does not constitute the provision of investment advice, which is only provided by Orion Capital Management LLC under a written investment advisory agreement and only
Disclosure: The author has no positions in any stocks mentioned, and no plans to initiate any positions within the next 72 hours.
The author wrote this article themselves, and it expresses their own opinions. The author is not receiving compensation for it. The author has no business relationship with any company whose stock is mentioned in this article.
Additional disclosure: The author is long multiple funds from Dimensional Fund Advisors.