Apple (NASDAQ:AAPL) surprised the investor community in October with record breaking sales of the Macintosh computer line. At 5.52 million units, and $6.6 billion in revenue, what had been a declining business, suddenly shot forward.
In a previous article, I explained how the iPhone may bring in as much as $50 billion this quarter. Here I examine what is likely for the Mac, both in this quarter and the future.

Source: Apple.com
History
Apple launched the original Macintosh Computer in 1984 with much fanfare. The graphical user interface (GUI) was revolutionary, especially in comparison to the DOS operating system of the IBM (NYSE:IBM) PC and "clones."
As history would have it, for a variety of reasons the Mac lost ground to the PC surge to the point of near extinction. Macs claimed only a small portion of even the U.S. market, and miniscule market share worldwide. In the enterprise, usage was almost nonexistent, except for strong support in graphics departments.
Computers in the early days were expensive, originally over $2,000, later still in the $1,500 and above range. In today's dollars that would be well over $2,000. This was a significant investment for the consumer with little real need or even use for a computer. Then came the internet. People had more reason to buy and (as we all know) prices dropped.
Business had standardized on the clones. Consumers followed by buying what they knew and that also was the "WinTel" PC.
The introduction of the iMac in 1998, however, began to bring Macs back. Still, while they brought Apple back to profitability, in terms of market share they were hardly even marginal.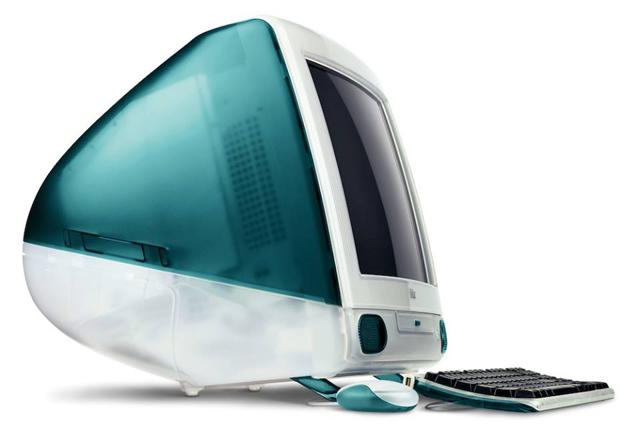 [Original iMac 1998 - "Nafija55" by Nafija.shabani - Own work. Licensed under CC BY-SA 3.0 via Wikimedia Commons ]
Apple remained a little known brand among most people, business and consumers alike.
And then came the iPod. At first they were a novelty, but eventually a whole generation grew up glued to the music devices. As people experienced the new Apple device, they began to understand the concept of simplicity of design and ease of use that aficionados of the Mac had been proclaiming for years. Mac sales began to grow under this "halo effect." In Q1-02 Mac sales were 646,000 units, down from a Q1-2000 peak of 1.4 million. This was when the iPod was introduced.
Two years later, in the fiscal Q4-04 quarter, iPods sold over 2 million and Macs were up to just 836,000. But from here Macs began to grow steadily and relentlessly to hit a peak of 5.2 million units in FQ1-12, before retracting for two years as the economy and the iPad bit into sales of all PCs.
This was a growth of 6x in eight years under the influence of the iPod, iPhone and iPad.
This would be notable, except in comparison to the explosive growth of the trio of iDevices.
If 12 years ago someone suggested Apple would sell over 5 million Macs, they would have been thought foolish.
Currently
In the last quarter, FQ4-14, Apple sold a new record of 5.52 million Mac PCs, led by the MacBook laptops and the iMac all-in-one models.
In spite of two years of decline in PC sales, the Mac line has outperformed the PC market in general for more than eight years, slowly picking up market share. It now ranks number three in sales in the U.S. and globally is just slightly behind fifth place Asus (5.8 million), according to Gartner.
Outlook FQ1
The 5.52 million Macs sold last quarter was a 21% increase in the number of units (18% revenue growth) compared to the same quarter a year ago. I see no reason why this should not continue. It is in line with growth the previous year (19%).
So, in the year ago FQ1 Apple sold 4.837 million Macs (revenue $6.395 billion). If we add 21% growth in units then we have 5.85 million units. While I think it likely that the ASP (average selling price) may recover a bit due to the new 5k iMac, let's keep revenue at last quarter's 18%.
Q1

Units

Revenue

Number (millions)

increase (yoy)

Billions

increase (yoy)

2013

4.261

- 22%

$5.519

-16%

2014

4.837

19%

$6.395

16%

2015 (estimate)

5.9

21%

$7.6

18%

Future
The growth there is driven by several things, and these affect both the present quarter and the year to come:
Recovering economy
Lower gas prices
Lower Mac prices
Cannibalization by tablets leveling off
Enterprise is now more open to Macs
The economy is improving, if slowly. The unemployment rate is down significantly, and consumer sentiment is high.
The University of Michigan and Thomson Reuters consumer sentiment gauge rose to a preliminary reading of 93.8 from 88.8 in November, to mark the best reading since January 2007. [MarketWatch - Dec. 12, 2014]
For the consumer, and to some extent businesses, the drop in gas and fuel oil prices has put up to $200 per month into a family's pockets - or even more - as outlined here.
All these add up to greater purchases overall, and tech toys in particular. They also allow a lot of people to "move up" in a purchase. If you just saved $20 on a fill up, then it is easy to think "Sure, I can buy that upgrade for $100."
This year, the base price for the MacBook Air has dropped $100 to $899, making it more affordable to many consumers. The price for the base MacBook Pro 13" was also lowered by $100 to $1,099. Finally, Apple also introduced a new 21.5-inch iMac starting at $1,099. All these reductions increase sales, but tend to also bring down the ASP, which explains why the percentage revenue increases are not keeping up with the percentage unit increases.
Point four is also leading to more sales of PCs overall. When the iPad was announced, its growth was phenomenal, even faster than that of the iPhone. Now a lot of people are realizing that as much as they may like a tablet, they still need their PC and now it is time to upgrade. After trying an iPad, however, many more will be thinking of moving to a Mac.
In the enterprise, Macs are being accepted much more than before, and so as businesses enter upgrade cycles many times they will move to Macs. While many companies only purchase a Mac if the employee requests one, others have moved wholesale. Google (NASDAQ:GOOG) (NASDAQ:GOOGL) has moved to Mac or Linux only, and Cisco (NASDAQ:CSCO) has also integrated huge numbers of Macs. With Microsoft (NASDAQ:MSFT) dropping support for Windows XP, many businesses will need to buy replacement hardware. Inevitably, some will take the opportunity to switch to Macs.
Looking forward, there is also the partnership with IBM. While focused on mobile apps and support, this will undoubtedly also be a huge boon for the Mac as explained in detail in an earlier post. The value of this should not be underestimated. Apple is essentially getting some thousands of salespeople with deep ties in the largest enterprises. When people become aware of the deep integration between their iPhone or iPad and a Mac (read about the new Continuity features), I believe it will further drive adoption of the Mac. This will be particularly powerful for those enterprise customers who buy into the IBM MobileFirst apps.
James Kendrick wrote an interesting post for ZDNet: Handoff and Continuity: Compelling reasons for small business to go all Apple. I think that this will apply at least as much in many large enterprise scenarios as well.
To my mind, it is no coincidence that Continuity and the MobileFirst partnership are happening at the same time.
Long Term
Long-term growth for the Macintosh computer line is very positive - assuming no relapse into global recession or any other catastrophic event - fueled by the five drivers noted above.
Mid to late next year, Apple is likely to overtake Asus as the number five global supplier of traditional PCs, and possibly pass Acer group in 2016.
This growth rate will continue into 2016 spurred by the growing middle class in BIC countries (BRIC minus Russia), and even more by enterprise purchases. I can envision that Macs may ultimately achieve a global share of sales of 10-12%. That would be 28-36 million units in 2018, compared to just under 19 million this year (fiscal).
In an earlier post I argued that a new, low-cost Mac aimed at the business user and based on Apple's A-series chips might show up as early as next year. If this were to happen, I believe growth would be even faster, although ASPs would fall significantly. Still, Apple would be able to retain their high margins with the new products and strong differentiation from the existing line would limit cannibalization. That could catapult Apple to 15% market share, or up to 45 million units per year.

Summary
I forecast about 5.9 million Macs will be sold this quarter (FQ1-2015) earning revenue of $7.6 billion. I believe this is a slightly conservative estimate.
Furthermore, I believe that in the year to come, Mac sales will continue to grow each quarter, at a rate of 18-22% yoy, and that some quarters may see as much as 25% growth.
2016 and on should show continued Mac growth as it expands into new consumer markets overseas and garners greater enterprise penetration.
Disclosure: The author is long AAPL.
The author wrote this article themselves, and it expresses their own opinions. The author is not receiving compensation for it (other than from Seeking Alpha). The author has no business relationship with any company whose stock is mentioned in this article.