Market Mumbo Jumbo
The market moved higher Tuesday and pushed a few of the sector ETFs near a short-term overbought extreme.
According to Jason Goepfert of Sentimentrader, "Tuesdays are good 'bottoming' days, and June is a good bottoming month. The 14th and 15th trading days of the month are also higher-probability days for a low." Moreover, the week after June option expiration has been negative 72 percent of the time since the inception of the S&P 500 futures. Every one of the past 6 years has been negative during this week.
As the market moves ever closer to a short-term overbought I expect another test of the recent lows in SPY. A gap higher at the open in SPY and I will most likely take the first position of the month in the High-Probability, Mean-Reversion Options strategy. Long overdue, but again, I never force a trade – I always allow the trade to come to me.
Also, I did not place a credit spread today so stay tuned because tomorrow will be the day. Again, stay tuned.
Options Indicator – Overbought – Oversold
Several of the ETFs I follow in the High-Probability, Mean-Reversion strategy have pushed into a short-term oversold state including The United States Natural Gas ETF, LP (UNG), WisdomTree India Earnings ETF (EPI) and iShares MSCI All Peru Capped Index ETF (EPU). If all goes well tomorrow, we could see a trade in one of the aforementioned ETFs or potentially one of the major market benchmarks.
You can see all of the performance results for the High-Probability, Mean-Reversion strategy here.
Daily Options Links of Interest
Summary
Same message: Not much has changed over the past few weeks - range-bound trading persists. It appears we could see the markets move sideways for a few more months. Are the summer doldrums already upon us? How long can SPY stay in this range of roughly $126 to $137? The question is, while I continue trading extremes in the HPMR strategy , how can I take advantage of the range bound movement at the same time. You guessed it – a credit spread!
(Click chart to expand)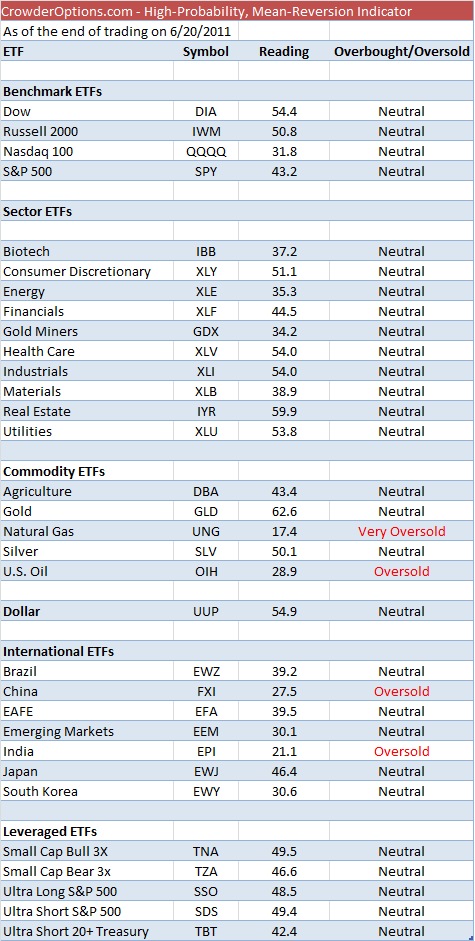 High-Probability, Mean-Reversion Options Indicator
Disclosure: I have no positions in any stocks mentioned, but may initiate a short position in QQQ, SPY, IWM over the next 72 hours.