I have researched many of the publicly-traded and non-traded Net Lease REITs and found many of them to be excellent alternative investment products for a SWAN ("sleep well at night") asset allocation strategy. Several of my previous Seeking Alpha articles, including those on realty income and on federal realty, were centered on Benjamin Graham's "margin of safety" principles. In addition, I wrote a net lease article late last year, "Single Tenant Net Lease Investments: The SWAN Strategy." In that article, I provided some fundamental principles for net lease investing. As I wrote in that article:
The SWAN investor is seeking a fundamentally safe investment strategy where principal preservation and sustainable income (and growth) are a must. Essentially, this investor is seeking a bond-type investment in a real estate wrapper.
Indeed, there are many publicly-traded (and non-traded) REITs that can be considered relatively safe investment platforms with focused property sector attributes. However, the net lease REITs have provided reliable and consistent rental revenue due to "bond-like" lease structures. Chris Macke, senior real estate strategist at CoStar Group, adds that, "Much like the Warren Buffett approach, net lease investments' approach to reducing risk is to have fewer tenants enabling greater knowledge of each tenant and their management."
I consider the net lease sector to be an excellent SWAN (sleep well at night) strategy and W. P. Carey & Co., LLC (NYSE:WPC) is uniquely positioned as an impressive investment model with a foundation supported by asset preservation, sustainability, and growth.
The Black SWAN
W. P. Carey is considered more of a "hybrid" real estate investment vehicle, as it combines a uniquely successful advisory platform (for supplying net lease capital) and a global net lease investment fund (for acquiring net lease assets). The primary focus for the company is to finance sale-leaseback opportunities and to provide companies with capital to invest in growth or balance sheet efficiencies, while delivering its tenants with improved operating returns. As a global net lease pioneer, W. P. Carey was founded in 1973 by William Polk Carey, who recognized the inherent value of diversified net lease investment partnerships. Here is a time line of significant W. P. Carey events:
[Click all to enlarge]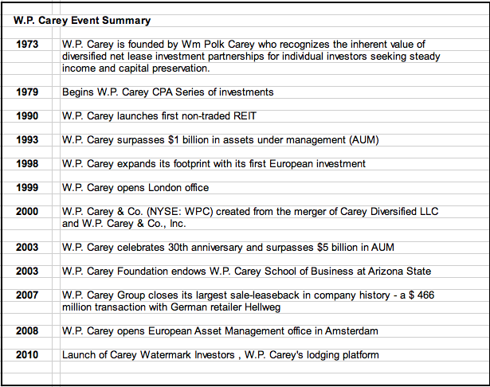 Source of all illustrations: wpcarey.com
As a global net lease REIT, W. P. Carey has provided "SWAN" investors with a constant net lease source of income for almost 40 years. The globally diverse asset portfolio, combined with its sustainably innovative operating platform, has made W. P. Carey one of the safest and reliable real estate investment platforms in the world.
W. P. Carey's global revenue platform is divided into two buckets. The first is its management/advisory services model. In 2010, W. P. Carey's net lease advisory platform generated around $68.663 million (or 52.47% of its AFFFO) with over $8.8 billion in net-leased-assets under management. The second bucket is the net lease real estate owned model, which represents around $1.9 billion in market capitalization and provided around $62.207 million (or 47.53 % of AFFO) in 2010 AFFO. The combined net lease platforms total around $10.7 billion as of March 31. Both revenue platforms are directly related to the innovative net lease and sale-leaseback strategies deployed on behalf of W. P. Carey to acquire properties from major global companies that want to focus on their own operations rather than owning real estate. The long term (15-20-year) leases provide the company and investors with sustainable cash flow along with rising dividends.
In addition, the investment advisory platform extended its product offerings in 2010 by the addition of its strategically aligned lodging model. Carey Watermark Investors has commenced product and investment offerings focused on quality, densely populated (high barrier to enter) markets. This well-thought-out new investment category will further diversify the capital opportunities within the sale-leaseback product mix. Here is a graph illustrating W. P. Carey Group's total assets under ownership and management: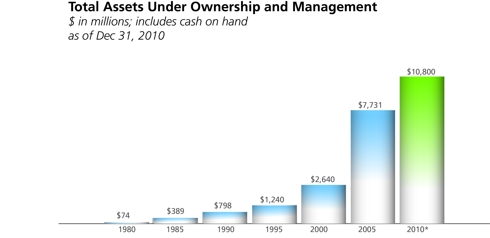 Margin of Safety Characteristics
With a globally safe net lease model, W. P. Carey provides its investors with a steady income stream through good times and bad. By broadening its geographic footprint, W. P. Carey recently expanded into China and its international reach now extends into 17 countries. This broad-based investment strategy has enhanced its "margin of safety" by diversifying tenant portfolios by industry, geography and property type. At the end of 2010, W. P. Carey Group had more than 280 tenant obligors from across a broad spectrum of industries, who lease from more than 950 properties in 42 states and 17 countries. Here is an illustration of the company's diverse industry operations: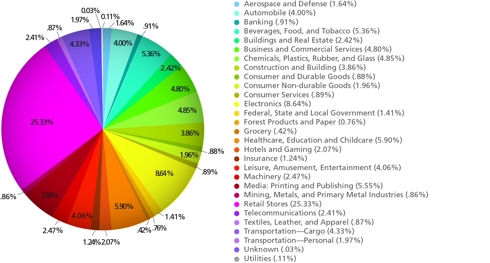 Capital and fundraising are extremely important to establishing a healthy "margin of safety" model. During 2010, W. P. Carey completed more than $1 billion in transactions and achieved record fundraising of nearly $600 million. The company's global risk-management-driven investment strategy has proven to be extremely effective, as the latest results reflect.
Results
2010 represented continued stability in the revenue stream. Adjusted funds from operations (AFFO) rose to $130.9 million ($3.27 per diluted share) in 2010 from $122.9 million ($3.09 per diluted share) in 2009. In addition, the Black Swan's quarterly distribution increased 7% to $0.55 per share, making the new dividend 6%. This was the 41st consecutive distribution increase. Clearly the sustainability of the net-leased income platform has demonstrated that W. P. Carey is an unmatched and rare bird soaring miles above its peer group. Here is an illustration of W. P. Carey's dividend track record including the recently increased dividend payout, as of June 2011: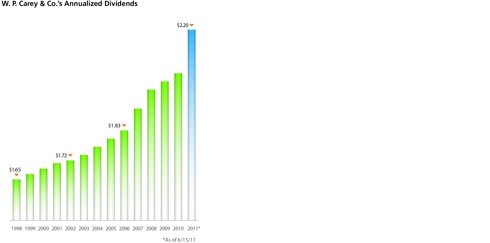 In addition, here are some other notable 2010 company highlights: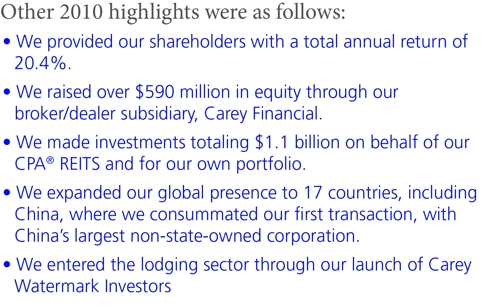 As stated by the company's chairman, W. P. Carey:
I believe that the best and most accurate metric for evaluating an investment in W. P. Carey is cumulative total shareholder returns, and as the chart below shows, $100 invested on December 31, 2005 with dividends reinvested, would have appreciated in five years to $177 if the money had been put into W. P. Carey Co. common stock, compared with $116 for the FTSE NAREIT Equity REITs Index and $112 for the S&P 500 Index. Those returns equate to a 3.2% average annual increase for the NAREIT Index, 2.4% for the S&P and 15.5% for W. P. Carey.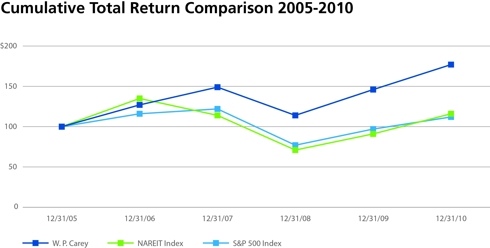 Carey adds:
These returns demonstrate our success in fulfilling our most important corporate mission: Investing for the long run. Our aim is to help our investors build and maintain lifestyles, and have the resources they need to meet their obligations and achieve their dreams, without constant worry about where the income to fund will come.
Summary
Over the past 18 months, a record volume of capital has rushed into high-quality commercial real estate and that has resulted in a dramatic re-compression of yields. Macke with CoStar remarks, "Net lease investing can be attractive in a volatile environment like today so long as rent escalations are part of the lease structure. Otherwise future inflation could quickly erode anticipated returns."
And to that point, the long-term supply and demand outlook for quality net lease assets and a low-interest rate environment support an exceptionally strong case that a balanced portfolio should include diversified net lease assets with an established "margin of safety." In addition, as bond yields remain low, an income investor should consider increasing his or her net-lease allocations to hedge against inflation and provide for a yield-enhanced "bond replacement" strategy.
W. P. Carey is an excellent "bond replacement" alternative and the company is deserving of its Black SWAN status. The company's track record for dividend sustainability (now paying a current dividend of 6%) is unmatched. The senior management and investment committee (an independent team) are exceptional. The global tenant pool and diversified geographic footprint are deep and broad-based. Indeed, a net lease investment platform does provide a distinct margin of safety element and W. P. Carey is continuing to execute the model on all levels. Relative to the approximate peer group, W. P. Carey is in a class of its own and the 38-year-old "Black SWAN" should continue to live up to its iconic reputation as a unique "sleep well at night" investment alternative.
Closest Peer Analysis and NAREIT Equity and Subsector Data, using market close date of June 20: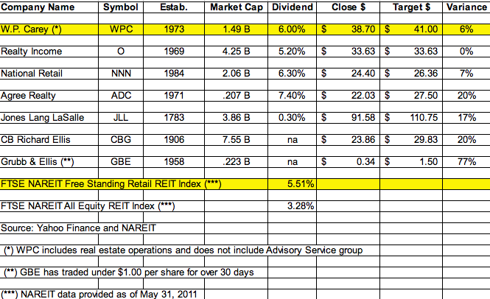 Disclosure: I have no positions in any stocks mentioned, and no plans to initiate any positions within the next 72 hours.