On Dec. 9, "off-price retail stores" chain Burlington Stores (NYSE: BURL) came out with its Q3 2014 earnings announcement and 10-Q. The company performed well so far on the top line and profitability front. However, not everything is well with the company. Let's take a look to see what's going with Burlington Stores.
Excellent top and bottom line expansion
Burlington Stores saw its year-to-date sales increase 7.6%. Comparable store sales at its established stores grew 4.2% year-over-year. Moreover, the company opened 18 stores year-over-year. Excellent management execution and a desirable product assortment contributed to the revenue increase. Burlington Stores also saw its year-to-date net loss shrink 39% compared to the same time last year. Expense controls and a decrease in interest expense due to long-term debt refinancing contributed to the shrinkage in net loss.
Free cash flow deficit expanded
While Burlington Stores did well with its top and bottom lines, it was a different matter with its free cash flow. Burlington Stores free cash flow deficit expanded a whopping 95%, going to negative $76 million from a negative $39 million the same time last year. A 35% increase in capital expenditures contributed heavily to the free cash flow expansion. Hopefully, the holiday season will make this retailer free cash flow positive for the year.
What's the long-term picture?
These figures are pretty consistent with its long-term fundamental performance. Revenue and net income expanded 13% and 37% over the past year and a half while free cash flow declined 71% during that time.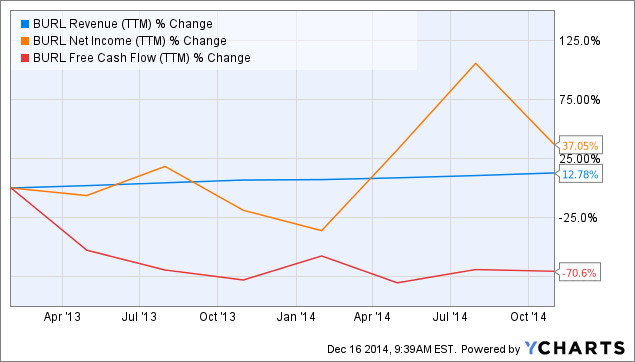 BURL Revenue (NYSE:TTM) data by YCharts
However, sometimes it's about playing the expectation game. Burlington stores gave its shareholders an 87% total return vs. 20% for the S&P 500 over the past year and a quarter (see chart below).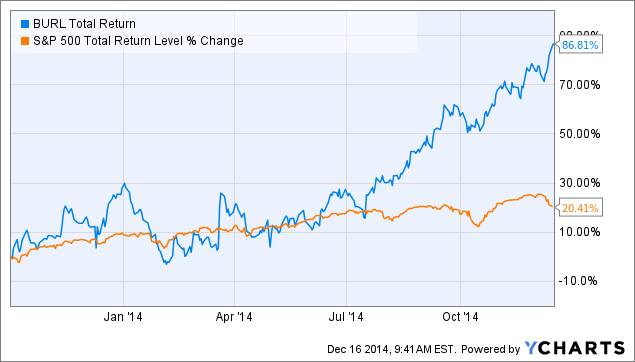 BURL Total Return Price data by YCharts
Balance sheet is overleveraged
Long-term debt creates interest which chokes out profitability and cash flow. One of the biggest reasons that the company turned a net loss this year is its massive amount of interest expense. Burlington Stores possesses so much debt that it registers a stockholder's deficit, which means its overall liabilities exceed its assets. However, the company is making strides by reducing long-term debt 5% since the same time last year. Refinancing reduced interest expense a great deal. Burlington Stores operating income did exceed interest expense by 11 times vs. only 7 the same time last year. The rule of thumb for safety lies at 5 times or more.
The company possesses cash amounting to $29 million on its balance sheet date. I prefer companies with cash amounting to 20% or more of stockholder's equity. Since the company has no stockholder's equity this ratio is incalculable for Burlington Stores.
Looking ahead
Burlington Stores operates in a highly competitive environment. If the subpar fundamental performance continues then shareholder return may suffer. According to Morningstar this company trades at P/E ratio of 95 vs. 19 for the S&P 500 making it highly overvalued. Right now your investment funds are best served elsewhere.
Disclosure: The author has no positions in any stocks mentioned, and no plans to initiate any positions within the next 72 hours.
The author wrote this article themselves, and it expresses their own opinions. The author is not receiving compensation for it (other than from Seeking Alpha). The author has no business relationship with any company whose stock is mentioned in this article.