By Stuart McPhee
Gold for Wednesday, December 17, 2014
The last week has seen gold ease lower away from the resistance level at $1240 back down to find support at $1220 however in the last 48 hours it has fallen sharply back through the key $1200 level where it is now meeting resistance. Gold enjoyed a solid surge higher up from the key $1200 level to a new six week high just shy of a previous resistance level at $1240 earlier last week. Gold has had a fascination with the $1200 level over the last month which has seen it trade either side of this level, and sure enough, it has returned back there again. During the second half of November gold made repeated runs at the resistance level at $1200 failing every time, before finally breaking through strongly. Since that time it has returned to back above $1220 before easing lower. Throughout the first half of November gold enjoyed a strong resurgence back to the key $1200 level where it has met stiff resistance up until recently.
Throughout the second half of October gold fell very strongly and resumed the medium term down trend falling from above $1250 back down through the key $1240 level, down below $1200 to a multi year low near $1130. It spent a few days consolidating around $1160 after the strong fall which has allowed it to rally higher in the last couple of weeks. Earlier in October gold ran into the previous key level at $1240, however it also managed to surge higher to a five week high at $1255. In late August gold enjoyed a resurgence as it moved strongly higher off the support level at $1275, however it then ran into resistance at $1290. In the week prior, gold had been falling lower back towards the medium term support level at $1290 however to finish out last week it fell sharply down to the previous key level at $1275.
During the second half of June, gold steadily moved higher but showed numerous incidents of indecision with its multiple doji candlestick patterns on the daily chart, around $1320 and $1330. At the beginning of June, gold did very well to repair some damage and return to the key $1275 level, then it has continued the momentum pushing a higher to its recent four month high. After moving so little for an extended period, gold dropped sharply back in May from above the well established support level at $1275 as it completely shattered this level falling to a four month low around $1240. It remained around support at $1240 for several days before its strong rally higher. It pushed down towards $1280 before sling shotting back and also had an excursion above $1300 for a short period before moving quickly back to the $1293 area again.
Gold jumped as much as 2 percent on Tuesday after its biggest one-day drop this year, as the dollar slid and investors sought safe havens as oil plunged and an emergency rate hike by Russia failed to stabilize the ruble. The dollar index fell 0.7 percent, its biggest one-day drop since mid-October, as turmoil in global foreign exchange markets drove investors to the safety of the yen and the Swiss franc. Spot gold was last up 0.9 percent at $1,202 an ounce, off a high of $1,221.40 and recovering after a 2.5 percent plunge in the previous session. U.S. gold futures for December delivery pared earlier gains and was last down 0.3 percent at $1,204 an ounce. Risk aversion is lifting gold, with oil reaching new lows and geopolitical tensions ratcheting up with the slide in the rouble and aggressive action by the Russian central bank to counter this, Mitsubishi analyst Jonathan Butler said.
(Daily chart / 4 hourly chart below)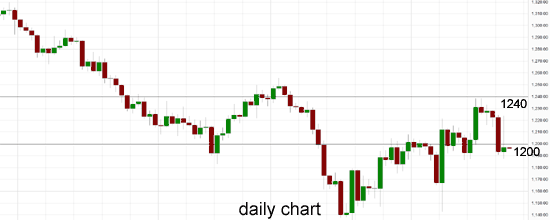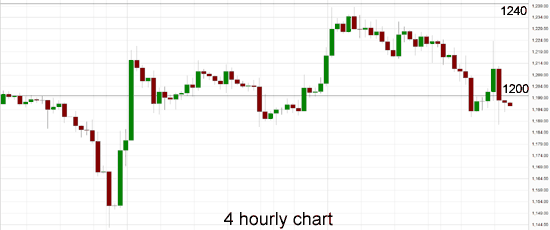 Gold December 16 at 22:30 GMT 1195.5 H: 1223.7 L: 1187.5
Gold Technical
| | | | | | |
| --- | --- | --- | --- | --- | --- |
| S3 | S2 | S1 | R1 | R2 | R3 |
| 1200 | 1130 | - | 1240 | 1255 | - |
During the early hours of the Asian trading session on Wednesday, gold is trying to claw its way back to the key $1200 level after dropping sharply back down to $1190. Current range: trading above $1195.
Further levels in both directions:
• Below: 1200 and 1130.
• Above: 1240 and 1255.
OANDA's Open Position Ratios
(Shows the ratio of long vs. short positions held for gold among all OANDA clients. The left percentage (blue) shows long positions; the right percentage (orange) shows short positions.)
The long position ratio for gold has moved back up above 60% again as gold has dropped sharply. The trader sentiment is ever so slightly in favour of long positions.
Economic Releases
21:45 (Tue) NZ GDP (Q3)
00:00 AU Internet Skilled Vacancies (Nov)
09:30 UK Average Earnings (incl. bonus) (Oct)
09:30 UK Claimant Count Change (Nov)
09:30 UK Claimant Count Rate (Nov)
09:30 UK ILO Unemployment Rate (Oct)
09:30 UK BoE MPC minutes released
10:00 EU HICP (Nov)
10:00 EU Labour Cost Index (Q3)
13:30 CA Wholesale Sales (Oct)
13:30 US CPI (Nov)
19:00 US FOMC - Fed Funds Rate
19:00 US Fed Summary of Economic Projections Released
19:30 US Fed's Yellen holds press conference following FOMC rate decision
EU ECB Governing Council hold non-rate setting meeting
* All release times are GMT