Darden Restaurants (NYSE:DRI), the $7.7B owner of Bahama Breeze, Eddie V's, LongHorn Steakhouse, Olive Garden, Seasons 52, The Capital Grille, and Yard House, released second quarter 2015 results on December 16th. EPS came in at $0.28 per share vs. consensus Wall Street estimate of $0.27 per share ($0.15 per share in Q2 2014) and revenue rose 4.9% to $1.56B vs. the $1.55B estimate. They reported a net loss of $32.8M vs. a profit of $19.8M in the year ago quarter (EPS was -$0.24 per share on a GAAP basis).
Company owned restaurants increased 53 to 1,520 from Q2 2014 excluding Red Lobster. The seafood chain restaurant was sold for $2.1B to PE firm Golden Gate Capital earlier this year. Olive Garden and LongHorn Steakhouse make the vast majority of the company at 838 and 472 locations, respectively. However, comp growth of +5.0% for The Capital Grille, +4.9% for Eddie V's, and +3.7% for Yard House posted the best performances of Darden's various brands. LongHorn had decent Q2 comps of +2.6%, but Olive Garden's quarterly growth of just +0.5% was an improvement, but still so-so given that it accounts for more than half of the company (-1.3% in the year ago quarter). Other weak spots were comps of +1.2% for Seasons 52 and -0.6% for Bahama Breeze (combined 78 total locations). The takeout business for Olive Darden is a small, but growing one at 15% on a year over year basis. They saw 30,000+ online orders per week on average (takeout accounts for 8.6% of sales).
Year to date the company has shrunk long-term debt to $1.47B from $2.48B. At the same time total assets have declined more than $1.3B to $5.88B from the sale of Red Lobster and the cash proceeds to reduce liabilities. Cash and cash equivalents went from $98.3M at the start of the fiscal year to $157.5M and inventories dipped $3.3M to $193.5M. Total costs and expenses remain on the rise and in the first two quarters of the fiscal year jumped to $3.25B from $2.97B.
Valuation
Shares of Darden trade at a P/E ratio of 25.12x (FY15 estimates) with -3.4% EPS growth. Along with the Q2 results the company revised their FY15 EPS guidance to $2.25-$2.30 from $2.22-$2.30 per share vs. the $2.26 per share estimate. Due to the Red Lobster sale revenues are expected to fall 23.7% in the current fiscal year, but rise 2.7% in FY16 to $6.87B. Earnings growth is likely to come back to Darden in FY16 at nearly 9%, or $2.47 per share.
Of the 21 Wall Street analysts that cover DRI shares only 6 have buy ratings. There are also 2 sell ratings and 13 hold ratings. The day prior to the Q2 earnings release Telsey Advisory Group upgraded the stock to market perform from underperform. They raised their price target to $54 from $45 (still below the current share price). Piper Jaffray is one of the more bearish firms covering Darden. On October 13th, they downgraded the stock to neutral from overweight and lowered their price target to $50 from $55.
Since the latest short interest update, more than 1.7M shares have been covered. However, as a percentage of the float it still remains high at 7.59%. Taking into account the average daily volume it would take 6.6 days to cover these bearish positions.
Technical Analysis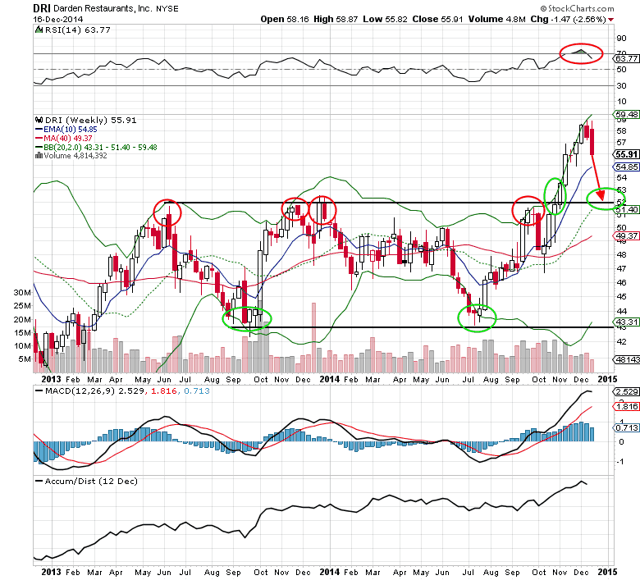 Looking at the two-year weekly chart above we can see DRI shares were stuck in the $43-$52 range for more than a year up until the breakout in early November. In just six weeks the stock rallied $6 to nearly $59, pushing RSI into overbought territory for the first time in more than two years. A completion of the measured move would be at $61 ($52-$43=$9+$52=$61), but momentum has started to wane. The reward/risk ratio of putting new money to work following the post-earnings pop is at an unfavorable 1:1.
Since the completion of the sale of Red Lobster, Darden Restaurants' shares have soared nearly 30% in just five months. They received $1.6B in cash after taxes and transaction fees, $1B of which was used to pay down debts. The rest was used to help fund a $500M share repurchase program and maintain the $0.55 per share quarterly dividend. In second quarter they bought back 8.6M shares and completed the program earlier this month with the final 1.3M shares, ending what was a major driver of the recent stock performance. Negative store traffic flows from the company's two largest brands, Olive Garden and LongHorn Steakhouse, in the quarter (only Olive Garden's October traffic was positive) combined with an expensive P/E ratio are reasons to avoid stepping into the stock right now. Darden does have a 3.93% yield going for them, but as noted the stock could retest the $52 level (prior resistance becomes current support in technical analysis) in the intermediate-term and the lack of buybacks now could make that a reality soon. Starboard Value (largest single position and owner of 11.6M+ shares) has created value for shareholders by pushing for cost cutting, the sale of Red Lobster, and replacing the board of directors this year. However, it's not enough to justify paying more than 23x FY16 earnings on single digit growth. The transition to an everyday value menu at Olive Garden is a start to reaching customers, but now they need to start executing (by sales and traffic growth) in the quarters ahead to back up the current earnings multiple. One area to watch for is in the "to-go" part of the business for Olive Garden, which has seen an average check 30%+ higher than dine-in orders. The greater emphasis of takeout at Olive Garden could be pushed at the company's other brands.
Disclosure: The author has no positions in any stocks mentioned, and no plans to initiate any positions within the next 72 hours.
The author wrote this article themselves, and it expresses their own opinions. The author is not receiving compensation for it (other than from Seeking Alpha). The author has no business relationship with any company whose stock is mentioned in this article.