The U.S. dollar benefited as its housing market has recovered over the last year, improving investor sentiment. PowerShares DB US Dollar Index Bullish (NYSEARCA:UUP) is up nearly 8.5% since July, as is seen in the chart below.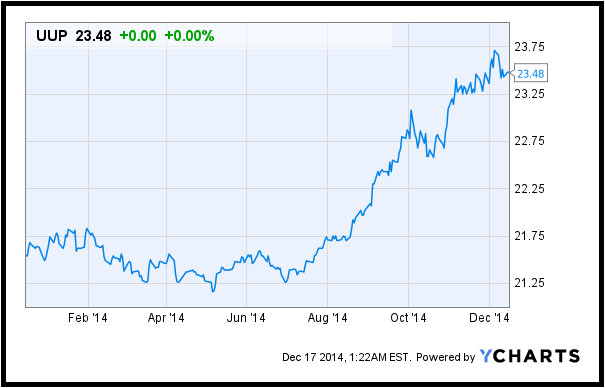 This week has been littered with U.S. housing data, which have mostly shown strength in the sector. While U.S. housing starts missed estimates in November, the overall trend remains higher. On Tuesday, the starts figure came in at 1,028,000, below last month's figure of a revised 1,045,000, as well as missing estimates for 1,040,000. The figure strengthened over the last five years, after the housing crisis, as is seen in the chart below. Although the figure did miss estimates, analysts see more growth in the housing market over the next few years.
"It is hard to complain about the housing sector. The U.S. economy is on an accelerating growth path that should continue for quite some time. We don't need a robust housing market to drive growth," economist Joel Naroff said in a report by Reuters.
Meanwhile, many also believe the slow, but improving pace of youth employment and home buying will accelerate the overall housing market in the future.
"A very slow pace of household formation also is a challenge. High unemployment among young adults is forcing many to either continue living at home with their parents or share quarters with friends or relatives. Household formation is currently running at about 500,000 a year, far below the more than 1 million mark that would signal a robust housing market.

But with job growth accelerating, wages are expected to pick up next year and pull in first-time buyers, especially young people, into the housing market, providing a tailwind for the economy," according to a separate report by Reuters.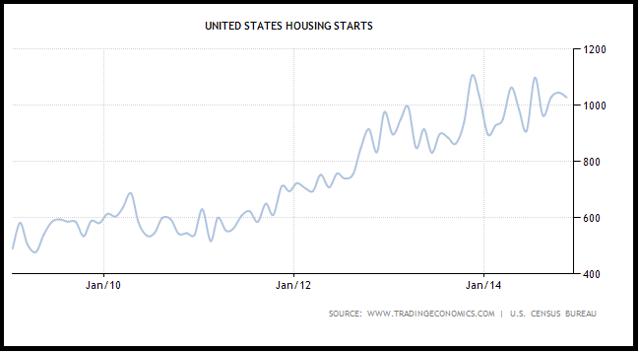 Data provided by Trading Economics
Similarly, confidence among homebuilders is growing, leading to brighter expectations for the future of the U.S. housing market. In December, the NAHB Housing Market Index showed a reading of 57, below the previous month's reading of 58, as well as missing estimates for 58. A reading above 50 signals a "favorable" attitude among homebuilders. Like the housing starts figure though, the confidence figure missed estimates, but remains near five-year highs.
Since 2012, the NAHB index has moved strongly higher, from a reading near 20, to now close to 60, as is seen in the chart below. Moreover, analyst see improved housing conditions across most regional markets.
"The reading marks the sixth consecutive month above 50. Members in many markets across the country have seen their businesses improve over the course of the year, and we expect builders to remain confident in 2015," NAHB Chairman Kevin Kelly said in a report by Reuters.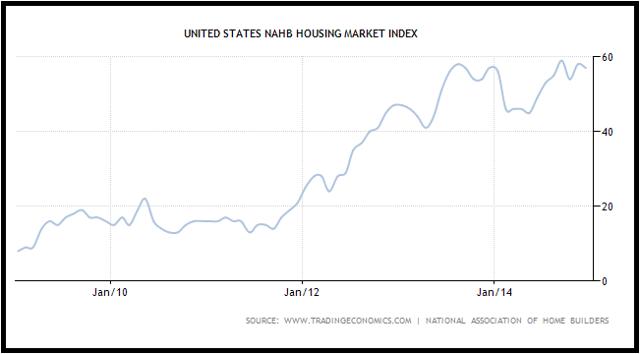 Data provided by Trading Economics
Lastly, falling interest rates have led to low mortgage rates, also contributing to growing momentum in housing market data. In the most recent week, the 30-year mortgage rate came in at 4.11%. Since mid-2013, the mortgage rate has fallen from 4.75%, to just above 4% now, as is seen in the chart below. With low inflation pressures, and Treasury bonds continuing to be bought up by market participants, interest rates are likely to stay low for the foreseeable future. This should lead to low mortgage rates, reducing the cost of home buying.
Improving housing starts and homebuilder confidence continue to fuel optimistic views of the U.S. housing market. Alongside low mortgage rates, and a strengthening underlying economy, the housing market should gain further traction in 2015. As this remains the case, the U.S. dollar should benefit over the coming year.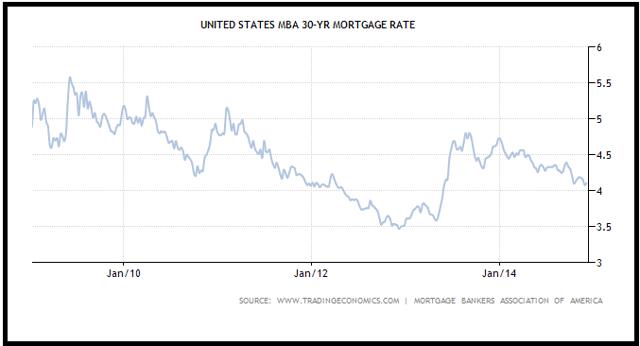 Data provided by Trading Economics
Disclosure: The author has no positions in any stocks mentioned, and no plans to initiate any positions within the next 72 hours.
The author wrote this article themselves, and it expresses their own opinions. The author is not receiving compensation for it (other than from Seeking Alpha). The author has no business relationship with any company whose stock is mentioned in this article.