During the last couple of weeks, a diversified set of economic news and events saw the light of the day. I selected the following:
Mario Draghi announced an unconventional Quantitative Easing (QE) for the EU. After five years of struggle, the ECB seems to finally have the authority to adopt Sovereign Bond buying. One should be reminded that all of the European bail-outs were based on the idea that sovereign bond buying was out of the equation. Therefore, the recent plot twist is clearly another U turn in the European politics.
The Oil price took a plunge and everyone is worried about what will happen to the economy. The effects are not clear: Low energy prices are always great for long term economic growth. On the short term, however, oil related companies and renewable energy companies are going to suffer and might even be contagious to other sectors.
Commodities prices are also plunging: agricultural and basic materials prices have fell significantly. Resources (Source: CNBC).
The Making of a Rationale:
Emerging Markets
The price plunges in oil, basic materials and commodities will push emergent markets into deep trouble. Those countries based their economic policies on high commodity prices and a big chunk of the recent growth was based on debt. For that matter, just look at Brazil and the high level of public spending on sports events. Many emergent countries will see their economies stalling and a public debt crisis is a likely event in the years to come. Additionally, the fact that many emergent countries use the US Dollar to issue debt in the international markets might create another problem, since emergent currencies are expected to lose value against the USD. Therefore, stocks and currencies in emerging markets should suffer next year.
Industrialized World
In Europe, lower energy prices and an unconventional QE might bring unexpected gains in the stock market. If you look to the US implementation of the QE you will see that economic growth didn't start overnight but stock market gains lagged approximately one quarter after the implementation, as you can see in Graph 1 and 2.
Graph 1 - Federal Reserve QE (Source: Business Insider)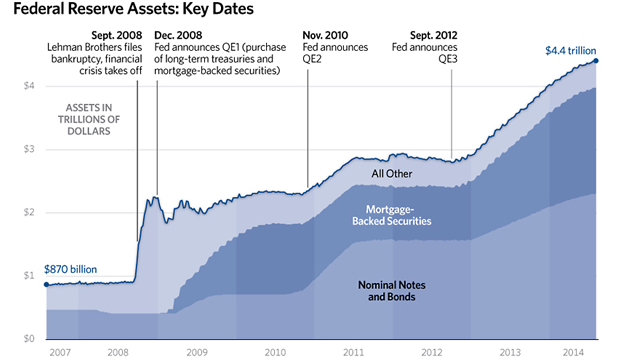 Graph 2 - S&P 500 evolution during the QE (Source: Google Finance)

Therefore, European stock markets might provide a positive surprise during 2015 if an unconventional QE is implemented. Obviously, with the printing machine working, the Euro will not perform so well.
The United States will most likely keep its ascending trajectory. The country had the best timing of any country in implementing the QE strategy. That allowed the US economy to survive, and at the same time provided the opportunity for resurgence in US industry. Obviously, a stronger USD will again be an incentive to move production overseas, but that won't happen overnight. For a long time I've been arguing favorably on a bet in the US economy and holders of USD will surely know what I am talking about. The shale industry might turn out to be a negative on the whole picture probably leading to a consolidation movement in the sector. Probably, Shale will be a good sector to keep under watch looking for undervalued companies.
The Renewable Energy and Shale Oil Industries
Both industries were counting on higher oil prices to get their fair share of returns and a significantly lower oil price might push them into the red. Probably, this will lead to consolidation opening an acquisitions season in the sector. In my opinion, this should be a sector to keep under watch in the following 6 to 12 months, since there might be opportunities to buy assets at deep discount.
Conclusion
I have just laid-out a simplistic scenario on a very complex reality. However, I believe some of the dynamics that I've pointed are now too evident to be ignored. Some companies will lose significantly in the stock market. High profile companies like Tesla (NASDAQ:TSLA), Exxon (NYSE:XOM), Alcoa (NYSE:AA), among other might suffer the impact of the plunge in energy and raw materials prices. The Tesla case is even more interesting since the lower cost on fuel might translate in a lower demand for Electric Vehicles (NYSE:EV). On the other hand, producers of consumer goods like P&G (NYSE:PG), among others might benefit from lower raw materials costs. In Europe, solid banks and established companies might benefit from lower energy costs and the money streaming announced by Draghi.
Additionally, convulsions bring a negative momentum to the market that spreads to almost every stock. Therefore, bear markets carry with them the opportunity window to buy a position in excellent companies during fire sales. So be alert for opportunities in solid companies in mature markets and avoid emerging markets and commodity sectors for now. This will be the year of the old players.
Some final remarks are needed. A full recovery in commodities could invert the whole rationale on emerging markets. Additionally, another fail by Draghi to fulfil his promises on the QE will most likely end on another lost year for European markets. Finally, I might be overlooking the impact of a shale oil crisis in the US economy in which case things would be a lot worse for US markets.
Disclosure: The author has no positions in any stocks mentioned, and no plans to initiate any positions within the next 72 hours.
The author wrote this article themselves, and it expresses their own opinions. The author is not receiving compensation for it (other than from Seeking Alpha). The author has no business relationship with any company whose stock is mentioned in this article.