India's current account deficit widened to $10.1 billion in the second quarter of fiscal 2015 due to rise in gold imports and deceleration in exports. India's current account deficit is 2.1% of GDP, within RBI's comfort zone. Recently, the RBI eased restriction on gold imports by removing the 80:20 norm, which required 20% of the gold imports to be exported. This will reduce gold prices as importers will reduce premium on imported gold. Indian gold demand is expected to increase marginally from 825 tonnes in 2014 to 850 tonnes in 2015.
Oil will provide relief
Brent crude oil prices have fallen below $60 a barrel and may touch $40 a barrel. Crude oil comprises one-third of India's imports. The fall in crude oil prices will help India to reduce its import bill from $101 billion in fiscal 2015 to $85 billion in fiscal 2016. We expect India's current account deficit to improve in fiscal 2014 and in fiscal 2015.
The Indian government's fiscal deficit target is 4.1% of GDP for fiscal 2015, 3.6% of GDP for fiscal 2016, and 3% of GDP for fiscal 2017. India's fiscal deficit between April and October has already reached 90% of the fiscal 2015 target. The Indian government doesn't plan to completely transfer the benefits of lower crude oil prices to the Indian consumer. Last month, the Indian government raised factory gate duties on petrol and diesel, which will fetch $1.6 billion in fiscal 2015 and $5 billion in fiscal 2016. Curtailing oil subsidies and high taxes will fetch $12 billion to the Indian government in fiscal 2016. The finance ministry officials have proposed to levy 5% import duty on crude oil, which will fetch additional $4 billion. The Indian government is taking the right steps to control fiscal deficit.
Inflation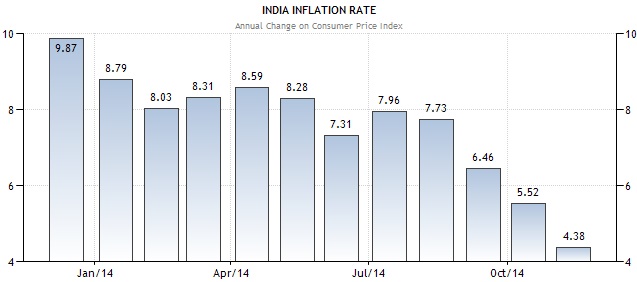 Source: Tradingeconomics.com
Inflation has fallen sharply since July due to declining crude oil prices. In November, the CPI inflation rate was 4.38% in November, while the WPI inflation touched zero. The Indian government adjusts fuel prices according to international crude oil prices. Currently, inflation is within the RBI's comfort zone of 6%. Lower fuel prices will help in reducing inflation. The RBI may cut interest rates next year if inflation heads downwards in the next few months. The Indian economy is expected to grow between 5.4% and 5.9% in the current fiscal. A rate cut next year would boost India's GDP in fiscal 2016.
Final Thoughts

Source: Yahoo Finance
The Indian Rupee depreciated to 63.96 against the U.S. dollar ahead of the Fed meet on the interest rate hike decision. We remain neutral on the Indian Rupee and expect it to recover as the economic fundamentals remain strong.
Disclosure: The author has no positions in any stocks mentioned, and no plans to initiate any positions within the next 72 hours.
The author wrote this article themselves, and it expresses their own opinions. The author is not receiving compensation for it (other than from Seeking Alpha). The author has no business relationship with any company whose stock is mentioned in this article.
Additional disclosure: This article is for information purpose only. We do not have any positions in Indian Rupee future contracts.