The plunge in oil prices dominates the headlines these days. Year to date, the price for West Texas Intermediate Crude is down over 40%.
Oil stocks have not been spared. Year to date SPY is up nearly 10% while XLE is down 15%. It's the widest spread this year. It's also a sharp reversal from June. At that time XLE was up 16% for the year versus 8% for SPY.
The decline may not be done with, but it's time to start looking at oil names. I wanted to find a safe long-term play. Meaning, one of the larger players with a strong financial position and history of paying dividends.
I started by screening for U.S. companies with a market capitalization over $50 billion in the energy sector. Then I looked at the 10 year overall ranking and the annual rating for each company and kept only the companies with good rankings or better. I ended up with five names which you can see below.

It's worth noting CNOOC (NYSE:CEO) and Gazprom (OTCPK:OGZPY) would have made the list if I had included international companies. They may be worth a look for the enterprising investor.
Now that I have my top five ranked stocks to choose from I wanted to narrow down the list. I did so by looking at the financial health of each company. I want a company that can survive and keep paying dividends even in a low oil price environment.
The table below shows the financial health ranking for all five companies. The financial health ranking is comprised of 19 different liquidity and solvency metrics. The table shows the rankings for liquidity and solvency separately as well.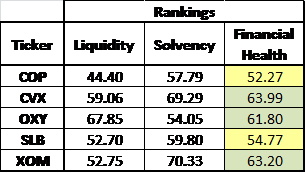 After seeing the financial health scores I took ConocoPhillips (NYSE:COP) and Schlumberger (NYSE:SLB) off this list. It's not a knock on either company, but as you can see their scores are average versus good for the other companies.
That leaves Chevron (NYSE:CVX), Occidental Petroleum (NYSE:OXY), and Exxon Mobil (NYSE:XOM). I took the screening process a step further to see if one company stood out from the rest. I looked at the 10 year rankings for EPS growth, return on invested capital, and management rate of return.
Management rate of return is a neat metric that measures management's effectiveness in utilizing assets to generate a profit. It's a good measure to look at for asset intensive companies.
You can see a summary of the metrics in the table below.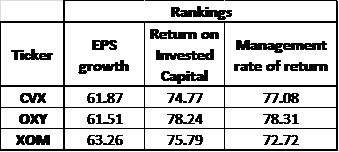 All three companies earn rankings of good or better for the metrics of EPS growth, return on invested capital, and management rate of return. So all three companies stay on the list. At the same time, no one company stands out.
Being that I want to find a dividend paying company it makes sense to look at the current payout ratio. The payout ratio can give us an idea of how much room a company has for future dividend growth. It can also show us the cushion we may have should earnings decline. The payout ratios for CVX, OXY, and XOM are 37.9%, 38.2%, and 34.0%, respectively. Again, no clear winner. But you have to like the payout ratios for these companies. They have room to grow the dividend and/or handle a drop in earnings and still be able to pay the dividend.
It's a tie between CVX, OXY, and XOM. All three are in a strong financial position and have long histories of paying and raising their dividends.
From a valuation standpoint all three are cheap. The price to book for all three companies are at decade lows. The price to book ratios for CVX, OXY, and XOM are 1.24, 1.32 and 2.03, respectively. If history repeats, then it's reasonable the price to book ratios could rise to 2.5, 2.5, and 3.5, respectively, in line with past performance.
That implies future prices of $206 for Chevron, $141 for Occidental Petroleum, and $149 for Exxon Mobil. Combined with the healthy, safe dividends, all three are worth consideration for your portfolio at these prices.
Disclosure: The author has no positions in any stocks mentioned, and no plans to initiate any positions within the next 72 hours. The author wrote this article themselves, and it expresses their own opinions. The author is not receiving compensation for it (other than from Seeking Alpha). The author has no business relationship with any company whose stock is mentioned in this article.
Editor's Note: This article discusses one or more securities that do not trade on a major U.S. exchange. Please be aware of the risks associated with these stocks.