Dear Readers,
Now that Tesla Motors' (NASDAQ:TSLA) stock is getting trashed, some quotes from Warren Buffett came to mind:
The best thing that happens to us is when a great company gets into temporary trouble... We want to buy them when they're on the operating table.
Also:
Whether we're talking about socks or stocks, I like buying quality merchandise when it is marked down.
Or even:
It's far better to buy a wonderful company at a fair price than a fair company at a wonderful price.
But what are the ingredients of a "great", "quality", "wonderful" business?
Once again, we can draw upon the Master:
We like a business with enduring competitive advantages that is run by able and owner-oriented people. When these attributes exist, and when we can make purchases at sensible prices, it is hard to go wrong.
And even more spot on:
The key to investing is not assessing how much an industry is going to affect society, or how much it will grow, but rather determining the competitive advantage of any given company and, above all, the durability of that advantage. The products or services that have wide, sustainable moats around them are the ones that deliver rewards to investors.
Many thanks, Warren.
His words could not be better suited to the case of Tesla Motors. More often than not, investors get distracted by otherwise interesting topics such as the likely impact of BEVs and energy storage on American society and forget that, as investors, it is the durability of Tesla's competitive advantage that we should be focusing upon.
Dissecting Tesla Motors' moat, stone by stone, and assessing its endurance against potential attacks, is exactly what I am going to be doing in a serial of articles that starts today. So if you have an interest on the topic, tune in and buckle up that we go!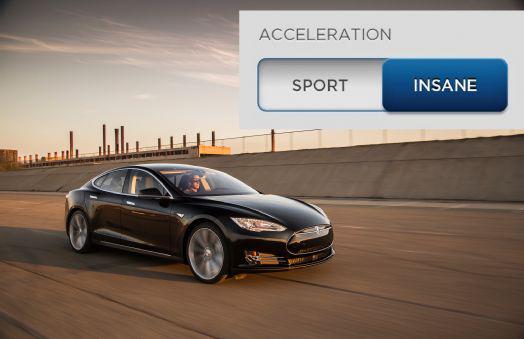 Source: Tesla Motors - Model S P85D Promo.
BEV-Intrinsic and Tesla-Exclusive competitive advantages
The Model S is an outstanding car. It offers several remarkable advantages over competing ICE luxury sedans. But as investors, we need to acknowledge that although Tesla managers and engineers deserve full credit for their vision and all they have achieved so far, many of the advantages of the Model S are intrinsic to battery electric vehicles in general, and as a result are available to any automaker with enough capital, expertise and determination to design and market a BEV from the ground up. We all know that the Model S is efficient, is quiet and has demonic acceleration. But we also know that BEVs are intrinsically more efficient, quiet and fast-accelerating than their ICE counterparts, and so the relevant question is how much of all this is intrinsic to BEVs, and how much is exclusive of Tesla products and is likely to remain so in the years to come. It is the latter (exclusive) virtues, not the former (shared) ones, that constitute an enduring competitive advantage.
But Tesla Motors' competitive advantage comes in many shapes and sizes. For simplicity, I have classified these advantages in three categories, and it is upon each of them that we will be focusing in three upcoming sequels to this introductory article.
Technical factors.
Business factors.
Human factor.
Technical factors
During a presentation to Stanford students in September 2013, Tesla co-founder and CTO JB Straubel explained that the four core technical innovations that drive value for Tesla are i) energy storage; ii) power electronics; iii) torque control, pedal feel and SW integration; and iv) charging convenience and speed.
To these four, and in the light of recent trends in the auto industry, we need to add a fifth: v) automation and connectivity. This includes both autopilot functionalities and Internet applications such as smart navigation or over-the-air SW updates.
A common misconception among investors is to reduce Tesla competitive advantages to "energy storage". For example, while it is true that the main reason why the Model S has a range of 265 miles is Tesla's superior energy storage solution, there are many other technical factors that play a decisive role. The Model S has the lowest drag coefficient of any production car. It sports an innovative structural design and makes extensive use of aluminum to minimize weight. Advanced power electronics and torque control algorithms are also instrumental to high efficiencies and extended range.
The first sequel to this article will look in more detail into each of the five realms of technical innovation driving Tesla's value.
Business factors
The mission of Tesla Motors is "to accelerate the advent of sustainable transport by bringing compelling mass market electric cars to market as soon as possible".
To achieve this mission, Tesla is not merely producing vehicles; it is creating an ecosystem. This ecosystem encompasses all stages of customer experience, from a broad network of stores, galleries and service centers, all the way down to the supercharging network and the Tesla cloud platform, whose potential will be only gradually revealed as more and more drivers join the community.
The value and strength of the Tesla ecosystem will be the subject of the second article.
Human factors
Companies are much more than linear mechanisms converting capital into products. Companies are made of people. Directors, managers and employees are all people, starting from the board of directors and the CEO, going through the engineers and all the way down to the janitor. Customers and suppliers are also people. Policymakers and regulators are people as well. And until AI starts meddling with the markets, even investors are people.
Such a basic observation, and yet most investors go through life without using this fact to their financial advantage.
As a foretaste of the third sequel, another quote from Warren Buffet, here speaking about the intangible value of See's candies, one of the first businesses he acquired for his Berkshire Hathaway Corporation (NYSE:BRK.A) (NYSE:BRK.B) via Blue Chip Stamps back in 1972.
It was a combination of intangible assets, particularly a pervasive favorable reputation with consumers based upon countless pleasant experience they have had with both products and personnel. Such a reputation creates a consumer franchise that allows the value of the product to the purchaser, rather than its production cost, to be the major determinant of the selling price.
The human factor is tightly related to goodwill and intangibles. It includes customer-side aspects such as consumer franchise, brand and reputation. But it may also involve employees, suppliers and regulators.
Take the case of employees, for instance. Reputation and a strong sense of mission are imperative to attract and retain the best engineers and managers. But it is superb engineers and managers that create that reputation and strong sense of mission in the first place. There you have it, a feedback loop.
The human factor is so subtle, yet so fundamental to competitive advantage, precisely because it is given to feedback loops. And in Tesla Motors there are feedback loops on all sides, as we shall see soon.
Wrapping up
The recent TSLA sell-off might be providing us with the opportunity to "buy a wonderful company at a fair price".
From the investor's perspective, a company is wonderful if it has an enduring competitive advantage.
The competitive advantage of Tesla Motors is owed to technical, business and human factors.
Three sequels to this article will look in greater detail into each of the three cores of Tesla's enduring competitive advantage.
This will help us determine i) whether Tesla is a wonderful company and ii) whether current market price is fair in the light of its competitive advantages.
Readers are encouraged to comment on additional competitive advantages that may have been overlooked in this introduction, so that we can include their dissection in the upcoming articles.
Disclosure: The author is long TSLA.
The author wrote this article themselves, and it expresses their own opinions. The author is not receiving compensation for it (other than from Seeking Alpha). The author has no business relationship with any company whose stock is mentioned in this article.