Sabra Capital Partners, LLC holds a sizeable position in Adcare Health Systems (ADK) and believes it is a top ten shareholder based on publicly available data. We plan to continue building our position pending incremental steps by management to unlock shareholder value as it completes its transition to a property holding company, effectively creating a REIT, which will occur in the first quarter of 2015. During this transition, which was initiated in the summer of 2014, the stock has been unfairly punished due to a lack of news flow and a history of poor execution by the prior management. With new CEO Bill McBride at the helm, who has extensive experience operating and selling other publicly traded REITs, along with the transition to a propco being completed, Adcare represents a "must own" vehicle with near-term catalysts and limited risk. In the next 30-60 days, Adcare will initiate an attractive, recurring quarterly dividend, which will provide downside protection. The company will focus on increasing its payout via accretive acquisitions of private facilities while simultaneously remaining dedicated to selling itself to a larger REIT as an ultimate exit strategy. At its current share price of $3.70, ADK is trading at an implied cap rate of 9.75% versus publicly traded peers at ~6.00%. This discount to peers is unwarranted and will likely collapse as investors begin to appreciate the company's highly dependable, strong free cash flow ("FCF") provided by the rental stream from its valuable real estate assets. Unlike its publicly traded peers, Adcare benefits from being a nimble operator whereby small acquisitions provide a meaningful impact to its dividend and share price. Moreover, Adcare has an enviable low-cost capital structure with a blended interest rate of ~5%. As such, applying a 7.5% cap rate (which is still 150 basis points wider than comps) yields a price target of $6.50 per share. As the company pursues accretive acquisitions, we believe the stock price will approach $8.00 per share, greater than a 100% return from today's level. Similar to other fellow large holders, we encourage the company's Board of Directors to evaluate its options along the way and pursue the best course of action to maximize value for its shareholders. Our long thesis can be summarized as follows:
Significant Real Estate Holdings:
As of September 30, 2014, Adcare owned and managed 37 facilities consisting of 34 skilled nursing facilities, two assisted living facilities and one independent living facility totaling 4,201 beds. Importantly, the company owns and operates 25 of those facilities comprising greater than 3,200 beds according to our discussions with management. In the company's recently filed 10-Q for the third quarter of 2014, it provided a facility composition breakout below:
Number of Facilities

State

Number of
Operational
Beds/Units

Owned

VIE

Leased

Managed
for
Third
Parties

Total

Alabama

304

2

-

-

-

2

Arkansas

1,041

10

-

-

-

10

Georgia

1,588

4

-

6

1

11

Missouri

80

-

-

1

-

1

North Carolina

106

1

-

-

-

1

Ohio

705

4

-

1

3

8

Oklahoma

197

2

-

-

-

2

South Carolina

180

2

-

-

-

2

Total

4,201

25

-

8

4

37

Facility Type

Skilled Nursing

4,006

23

-

8

3

34

Assisted Living

112

2

-

-

-

2

Independent Living

83

-

-

-

1

1

Total

4,201

25

-

8

4

37
Prior Acquisitions:
As detailed below, Adcare acquired 23 facilities in a two-year span and plans to reinitiate an aggressive growth strategy of purchasing various skilled nursing facilities in the near future. The depth and fragmented nature of the industry provides numerous acquisition opportunities. Given the inefficiencies most small private operators encounter, single assets generally sell at cap rates of 10%. Adcare's acquisition effort was previously led by Chris Brogdon, the company's Vice-Chairman and largest shareholder. The company consistently spent around $50,000 per bed. Going forward, Adcare's acquisitions will be spearheaded by its recently appointed CEO, Bill McBride, who has a distinguished track record of leading and growing Health Care REITs. As demonstrated later in our analysis, this price discipline offers an extraordinary arbitrage opportunity in the public markets. Interestingly, as Adcare expands its footprint and facilities through targeted purchases, the more valuable it will become to larger strategic REITs, resulting in a tighter cap rate for its ultimate sale.
Acquisitions ($ in 000's)

Date

Facility

Price

Beds

Cost/Bed

12/31/2010

Mountain Trace

$6,170

120

$51.4

4/29/2011

Southland Care Center

$6,850

126

$54.4

4/29/2011

Autumn Breeze Healthcare Center

$5,900

109

$54.1

5/31/2011

College Park Healthcare Center

$5,250

100

$52.5

9/1/2011

Homestead Manor Nursing Home

94

9/1/2011

River Valley Health & Rehab

117

9/1/2011

Benton Manor

95

9/1/2011

Heritage Park Nursing Center (1)

$19,449

110

$46.8

9/1/2011

Rose Nursing (2)

$490

90

$5.4

11/30/2011

Stone County Nursing & Rehab

97

11/30/2011

Stone County (Assisted Living Facility)

$4,250

32

$32.9

1/1/2012

Eaglewood Care Center

113

1/1/2012

Eaglewood Village (Assisted Living Facility)

$12,412

80

$64.3

4/1/2012

Little Rock Health

154

4/1/2012

Northridge

140

4/1/2012

Woodland Hills

$27,231

140

$62.7

4/30/2012

Abington Place

$3,581

120

$29.8

7/2/2012

Glenvue Nursing Home

$8,240

160

$51.5

7/3/2012

Quail Creek Health & Rehab

$6,200

118

$52.5

8/17/2012

Companions Specialized Care Center

$5,866

121

$48.5

12/31/2012

Sumter Valley Nursing & Rehab

$5,550

96

$57.8

12/31/2012

Georgetown Healthcare & Rehab

$4,200

84

$50.0

12/31/2012

Northwest Nursing Center

$3,000

88

$34.1

Total (3)

$124,149

2,414

$51.4

(1) The acquisition price includes a non-operating home office property

(2) Assumed the role of tenant and operator with a lease expiration of September 30, 2014

(3) Excludes the Rose Nursing Facility
Source: Company Filings and Sabra Capital Research
Financing Structure:
Adcare's fragmented and convoluted financing structure is comprehensively detailed in its 10-K filing for 2014. Although it creates a more complex balance sheet and slightly higher interest rates, it provides isolation for a building which deteriorates significantly in value. In particular, there are limited cross-collateral or cross-defaults to impact other facilities. As of September 30, 2014, Adcare's total debt obligations amounted to $150mm excluding its convertible debt issuances. The company's convertible debt issues total $14mm with $6.5mm convertible at $4.50 per share and due April 30, 2015 and $7.5mm convertible at $3.97 per share and due July 31, 2015. The April issue is primarily held by Park City Capital which occupies a board seat at the company and Doucet Asset Management which holds the second largest equity stake in the company. Assuming the convertible notes are all converted to common stock, another 3.3mm shares of common stock will be issued bringing the total shares outstanding to 23.2mm including all vested options and warrants. The company has $21.0mm of bullet maturities due in February 2015 related to five separate properties that are expected to be refinanced with HUD financing. Over the course of the next several quarters, the company will continue to convert part of its debt to HUD financing at other facilities which is expected to provide at least $2mm in cash interest savings annually. Despite the company's seemingly high debt load, we believe this capital structure is highly favorable as it doesn't curtail the company's ability to add new properties while any organic growth will disproportionately benefit equity holders.
Predictable Free Cash Flow:
After Adcare completes its expected transition to a property holding company in the next few months, its facilities will generate targeted rental revenues in excess of $26.8mm. Management has indicated on multiple occasions that revenues should exceed its prior target and every incremental $0.5mm in rental income translates into over $0.02 per share in annual free cash flow available for dividends or acquisitions. Moreover, Adcare's leases contain customary rent escalators ranging from 2-3% or over $0.5mm annually for the duration of the initial terms. Assuming $27.8mm in pro-forma revenues, Adcare will consistently produce at least $8.7mm in FCF with little risk after deducting $2.5mm in G&A, $6.5mm in rent, $7.5mm in cash interest after achieving $2mm in savings from refinancings and excluding the converts, and $2.6mm in preferred stock dividends. Although it may take the company later in 2015 to reduce its G&A to $2.5mm and harvest $2mm in interest savings, we are highly confident the company will ultimately achieve those objectives as HUD financing is readily available for Adcare's properties and such an operation will require minimal overhead to operate. For perspective, other health care REITs such as Aviv (NYSE:AVIV), Sabra (NASDAQ:SBRA), LTC (NYSE:LTC), National Health Investors (NYSE:NHI), Healthcare Realty Trust (NYSE:HR) and Omega (NYSE:OHI) have demonstrated the ability to aggressively grow without adding incremental overhead.
The company's ongoing fixed cost structure will require virtually no capital expenditures outside of acquisitions and limited cash taxes as the company maintains over $26mm in federal net operating loss (NOL) carry forwards. These NOLs will shield Adcare from cash taxes for three years, at which point the company would convert to a REIT. Adcare's transition to a property holding company was intended to maximize the value of the company's real estate and best position the company to eventually be sold to a larger REIT. The company's new management team and board have emphasized this path as their ultimate exit. In our opinion, it's not "if" but "when." In such an event, a larger acquirer would be able to refinance Adcare's onerous 10.875% preferred security for savings of 400-500bps or over $1mm in cash interest annually. Moreover, the acquirer would be able to eliminate all $2.5mm of Adcare's G&A expenses. Aside from future reimbursement rate risk to its tenants/operators, Adcare's properties will generate steady and predictable cash flow in the coming years irrespective of the economic backdrop. Given its promising and stable outlook, Adcare's free cash flow yield of nearly 10% is highly attractive under its normalized capital structure. It's even more attractive to an acquirer given the additional savings available.
Underappreciated Assets:
At its current stock price, Adcare is valued at a cap rate of 9.75%, a level where single assets have been sold. As illustrated below for transactions announced in 2014, the best precedent transactions include Aviv's purchase of Diamond Senior Living's 28 facilities (23 SNFs) at an initial cash yield ("Cap Rate") of 8.5%, Health Care REIT's purchase of HealthLease Properties REIT's 53 facilities (29 SNFs) for a 7.0% initial cash yield and Health Care REIT's purchase of Mainstreet's portfolio of 17 facilities for a 7.5% initial cash yield. This large gap creates a temporary opportunity to exploit a market mispricing that will quickly vanish once Adcare's earnings power is better understood.
Since the company's announcement in July 2014 regarding its transition to a property holding company, its share price has eroded in the absence of positive news flow and delays in completing the leasing out of its properties. In our discussions with the company, these delays are due to the painstaking and meticulous steps taken to ensure its leases will contain the cross-collateralization and covenants that large REITs will require when looking at acquisitions. In essence, Adcare is taking the path necessary to guarantee it is "signed, sealed and delivered" when it decides to sell itself to a larger suitor. In our opinion, this will create a more robust process and a higher sale price based on recent comps and pent-up demand for valuable real estate in the current environment.
Transactions Analysis ($ in millions)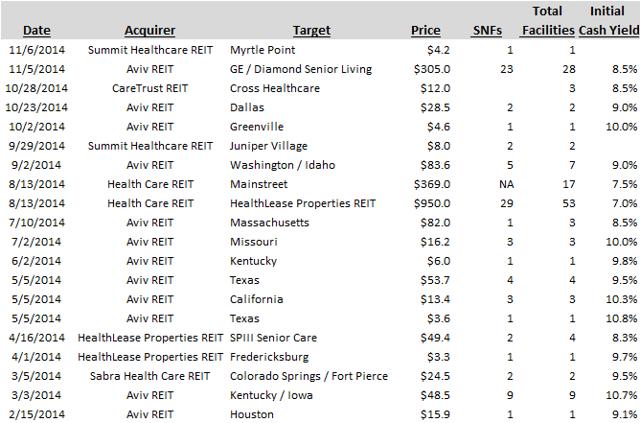 Source: Sabra Capital Research
Note: SNFs (skilled nursing facilities) include all post-acute and long-term care facilities
Comparable Company Analysis ($ in millions, except per share data)

Source: Sabra Capital Research
Note: Adcare dividend is based on annualized first quarterly dividend of $0.05 per share.
In the next 30-60 days, Adcare will be largely through its transition and in the position to declare its first quarterly common stock dividend of $0.05 per share. Going forward as the company approaches its cost reduction and interest savings goals, the company's board and management will need to weigh the benefits of paying a higher quarterly dividend or redirecting a portion of its FCF for acquisitions. With Adcare's current 37 properties generating pro-forma revenues of $27.8mm, we believe the company will be valued at a more appropriate cap rate of 7.5%, or $284mm, given its attractiveness to other REIT players. Moreover, on a stand-alone basis, Adcare could quickly grow its FCF through a few select acquisitions. After accounting for $133mm in net debt, assuming the convertible securities are converted into stock, the company projects subsequent to the unwinding of its balance sheet, Adcare's equity would equate to $151mm, or $6.50 per share. Investors should pounce on the opportunity before larger REITs close the gap. We encourage management and the Board of Directors to evaluate all alternatives given the value discrepancy that currently exists.
Upside Scenario:
After completing the transition and establishing a steady dividend, Adcare will immediately shift its focus to pursuing accretive acquisitions. Given's Adcare's size, a few acquisitions can materially increase its subsequent dividend payouts. Adcare should be able to consummate its first several acquisitions with the $11mm of projected cash on hand post-transition. As illustrated below, Adcare could conservatively finance three facilities with 110 beds each under the following assumptions: $55k per bed acquisition cost (slightly higher than its historical average) and 80% debt financing at a 4.5% rate (all in line with current HUD loans). This will translate into a $3.6mm equity check for the company, easily funded with cash on hand. In a more aggressive scenario, Adcare could buy 700 beds (~7 facilities) with a $7.7mm equity check. Assuming the company achieves a rental rate of $550/bed (similar to its other leased facilities), these transactions would be accretive to the dividend by $0.07 and $0.14 per share, respectively. The accretion would decrease to $0.05 and $0.10 per share, respectively, if Adcare chose to finance the equity check with stock at current prices. In either scenario, the financial impact of a few acquisitions on Adcare is clearly substantial. Applying a similar 7.5% cap rate to the pro-forma business would lift our target price to $7.15 per share in scenario I and $7.85 per share in scenario II. Our target price in scenario II falls to $7.20 per share if the company elects to fund its equity check for the acquisitions with new common stock. Given Adcare's ability to materially improve its dividend and ultimate exit value with a handful of acquisitions, we believe a slightly lower cap rate may be justified.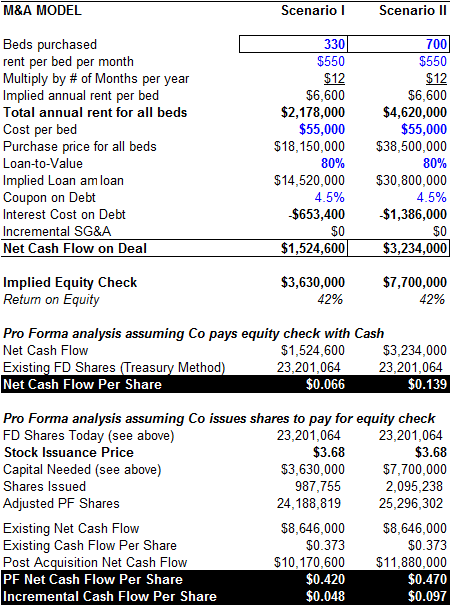 Source: Sabra Capital Research
We applaud the company's decision to convert to a property holding company in an effort to expose the underlying value of the company. We are excited about the opportunities that lie ahead to support a healthy dividend and aggressively grow future payouts. With an intrinsic value of at least $6.50 per share and limited downside from current levels, Adcare offers a compelling investment that will pay you to wait for good things to materialize. That's a win-win for investors.
Disclaimer: This is not a recommendation to buy or sell any investment.
Disclosure: The author is long ADK.
The author wrote this article themselves, and it expresses their own opinions. The author is not receiving compensation for it (other than from Seeking Alpha). The author has no business relationship with any company whose stock is mentioned in this article.
Editor's Note: This article covers one or more stocks trading at less than $1 per share and/or with less than a $100 million market cap. Please be aware of the risks associated with these stocks.