About a year ago, we penned a brief article highlighting the most obscure and potentially lucrative opportunity we had encountered in ten years of solar investing, Renewable Energy Trade Board Corp. (OTCPK:OTCPK:EBODF). In the past year, a series of value creating events have transpired fortifying our original thesis and potentially suggesting a sum-of-the-parts valuation more than 20X the current share price. While we blush simply typing "20X", we think our renewed perspective demonstrates EBODF's embarrassing undervaluation.
Before walking through the long thesis, we must caution potential investors that EBODF "went dark" with the SEC in March 2013. However, we have conducted rigorous due diligence on the ground in Asia and through the Hong Kong Stock Exchange filings of United Photovoltaics Group Ltd. (formerly Goldpoly New Energy Holdings) (686 HK) - EBODF's sister company sharing the same parent - China Merchants New Energy Group (a subsidiary of massive Chinese State-Owned-Enterprise China Merchants Group). Further reinforcing our view, EBODF has engaged in several publicly disclosed transactions which we detail below. Given tremendous unappreciated value and recent activities, we suspect EBODF will not remain "dark" for much longer.
In our original write-up, we explained our bullish stance as follows:
Simply stated, EBODF owns a sizeable stake in its sister company Goldpoly New Energy Holdings (686 HK) - the premier, Chinese solar independent power producer (IPP) listed in Hong Kong
Those shares of 686 HK alone are worth 3.7X EBODF's current market capitalization or ~$22 per share
While we believe that several other intriguing catalysts/options could drive EBODF to even greater heights, we believe that the 686 HK position alone holds tremendous value not reflected in EBODF's share price
We admit that we erred in our original thesis; we dramatically undervalued EBODF. Despite its shares languishing with the rest of solar in 2014 (coupled with remaining dark), EBODF has experienced a significant improvement its underlying fundamentals and opened the kimono even further. Without the fanfare of JKS, JASO, CSIQ, TSL, YGE, DQ, CSUN, HSOL, or SOL, EBODF is quietly concluding a very eventful year that supports a far heartier valuation:

It appears that EBODF's strategy of buying and selling solar assets, supporting 686 HK's solar portfolio expansion, and potentially launching a novel solar finance crowd-funding platform in China has progressed meaningfully in the past twelve months.
In addition, while we profess no special insight into any plans for EBODF to re-register its shares with the SEC and/or make any major public announcements, we have uncovered a few recent actions that might suggest something is brewing at EBODF. After months of dormancy, EBODF's website has been updated and suggests that EBODF controls ~200MW of Chinese solar projects (at typical selling prices in China of ~$1.60 per watt, these assets could be worth ~$330M). Also, EBODF launched an app - the world's first mobile app tracking real time solar power plant operating data. Perhaps most intriguing, EBODF has posted a job listing seeking a senior investment/finance manager; EBODF lists "knowledge about financial/capital market operations" as among the key job qualifications. Prior to this, we had not seen any other job postings for EBODF or subsidiaries in the past year.
If EBODF were to re-emerge from the capital markets abyss, it would not be unprecedented. In fact, it wouldn't be the first Chinese-related solar company to re-surface. Solar Power, Inc. (SOPW), a once left-for-dead solar EPC with the taint of bankrupt LDK Solar (OTCPK:OTCPK:LDKYQ) infecting its management and shareholder list, masterfully negotiated a series of Chinese solar project transactions over the past six or so months. In that time and over a series of capital raises, SOPW has seen its market cap leap from $10M to $1.3B and its share price jump 16-fold.
Renewed View on Valuation
As described above and in our previous article, EBODF is brimming with assets and potential catalysts. However, for the purposes of valuation, we only value to those assets that we can independently verify: the stake in 686 HK, the 13.1MW of Italian solar assets purchased in June 2014, and the 80MW of Chinese assets sold for $130M to 686 HK and China Merchants. From these assets, we deduct 100% of the liabilities from the last balance sheet filed (June 30, 2012), but we ascribe NO value for the $5 share in net cash and equivalents, the 22.9M shares of 686 HK for which we cannot fully account, $15.7M in A/R, or any other assets including sizeable NOLs.
686 HK Stake
We have verified this stake per 686 HK's 10/08/2014 Notice of Special General Meeting Filing (APPENDIX V-4)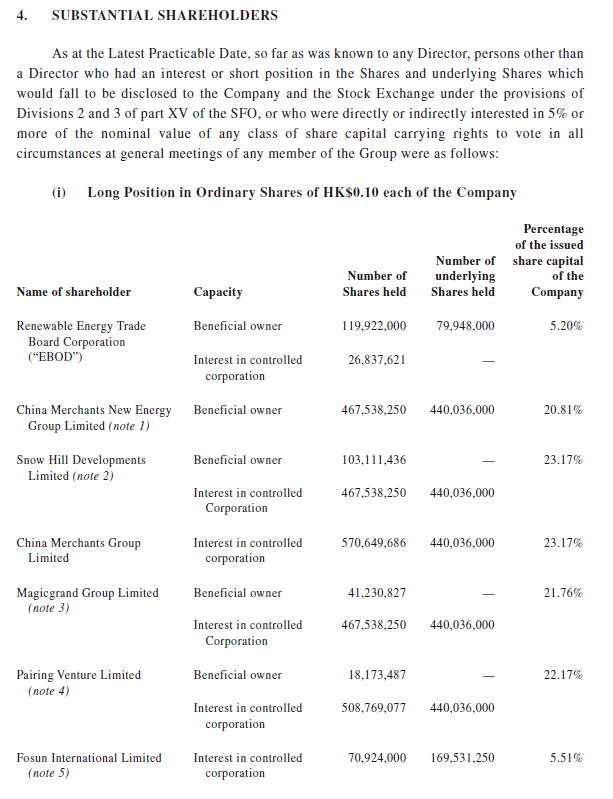 EBODF's stake, per 686 HK public filings with the HK exchange, has increased by ~24 million shares since the end of 2013 (>12% increase)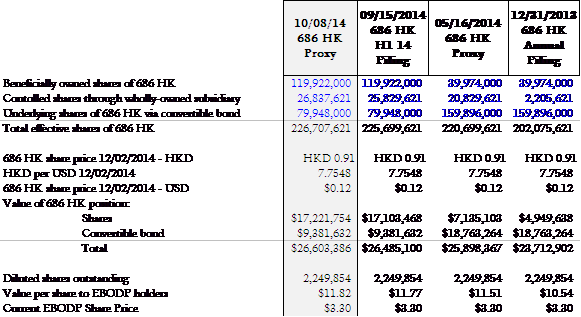 At current market prices, the 686 HK stake is worth $11.82 per share or $26.6 million versus EBODF's current market capitalization of $7.4M
Italy Solar Assets Acquired
EBODF paid ~$44M for 13.1MW of Italian solar assets in June 2014 as detailed above. For simplicity, we assume they paid fair market value for the assets of 2011 and 2012 solar feed-in tariff vintages (years when Italy offered egregiously generous 20-year subsidies for solar projects). We ascribe no upside to these assets.
China Solar Assets Sold
Also as noted above, EBODF agreed to sell 80MW of Chinese solar assets to 686 HK and another China Merchants Group subsidiary for ~$130M. We calculated the total consideration as follows:

Sum-of-the-Parts
First, we must caveat our view on valuation. EBODF suffers from several characteristics that would typically eliminate it from even being vetted in our investment process: illiquid and de-registered/dark. However, given the astonishing and verifiable value EBODF comprises, we rest easily knowing the shares are worth many multiples of the current price, but we admit that EBODF entails some unusual risks for which investors will be more than compensated in upside.
Aggregating together the three pieces above and deducting out ALL LIABILITIES from the most recent balance sheet (but ascribing NO value for any assets other than the three detailed above), we calculate fair value as: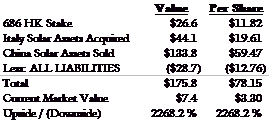 We are embarrassed even to suggest that EBODF is worth nearly $80 per share, and so we leave it to fellow investors to decide what sort of illiquidity and dark/de-registered discount to apply. Irrespective, we feel confident that any investor willing to factor in the massive reward with the atypical risk will agree that EBODF is worth potentially many multiples of its current $3.30 share price.
Disclosure: The author is long EBODF.
The author wrote this article themselves, and it expresses their own opinions. The author is not receiving compensation for it. The author has no business relationship with any company whose stock is mentioned in this article.
Additional disclosure: Esplanade Capital LLC and its affiliates own stock in Renewable Energy Trade Board Corporation and may buy or sell the stock at any time.
Editor's Note: This article covers one or more stocks trading at less than $1 per share and/or with less than a $100 million market cap. Please be aware of the risks associated with these stocks.