There's a core group of 10 major pharmaceutical companies publicly traded in the U.S., all of which have dividend yields over 3% and are within relative range of their 52 week highs. This group has been a market outperformer in calendar year 2011 thus far — given the economic uncertainty and global debt worries, this sector has been a good safety value play for many investors & traders.
The companies:
(NYSE:SNY) Sanofi-Aventis
(NYSE:PFE) Pfizer
(NYSE:ABT) Abbott Labs
(NYSE:LLY) Eli Lilly
(NYSE:AZN) AstraZeneca
(NYSE:JNJ) Johnson & Johnson
(NYSE:GSK) GlaxoSmithKline
(NYSE:BMY) Bristol-Myers Squibb
(NYSE:NVS) Novartis
(NYSE:MRK) Merck
Below is a table with some of the key fundamentals on these names. You can see the average P/E is around 10, dividend yield of 4.4%, and the group as a whole is outperforming the S&P 500 Index (SPX) (NYSEARCA:SPY) in 2011 — MRK is the only one underperforming the broad market. Profit margins and Return on Assets [ROA] are healthy in my view, but Sales Growth is varied but on average is a low 3%. This combo of strong dividends with the other fundamentals puts this group firmly in what I would call the "value" camp.
You can see that in uncertain economic times, the major pharma sector could be an attractive investment for those looking for safety yields and relatively low downside risk. Also don't forget that basically we're a "script-mad" country (and increasingly world) where more and more people are taking pharmaceuticals of one sort or another.
Pharma Fundamentals Table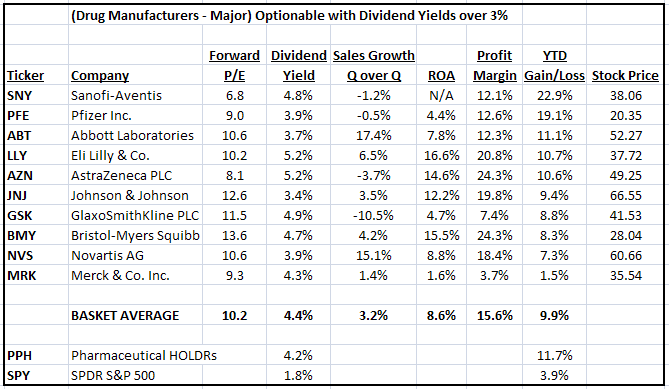 (Click to enlarge)
I previously wrote about this sector in terms of the Pharmaceutical HOLDRs Trust ETF (NYSEARCA:PPH) in April when it had broken out of it's range and was showing strong technical strength. The holdings of PPH vary from the 10 names above, but many of these stocks are in the PPH. You can also see above that the dividend yield (data from FinViz) and YTD performance are in line in terms of PPH vs this basket.
In the chart below, you can see that PPH had a nice runup after we wrote bullishly about it. It has since been pulling back in a downtrending channel, basically in line with the market. Recent strength in PPH has brought it to the top of its recent range but it hasn't shown signs that it will break out of this channel to the upside yet (potential resistance around the Middle Bands/Exponential Moving Averages and Daily Percent R hasn't cleared the key 50 mid-level yet).
Sixty six is a great entry point for PPH in my analysis, but it may not reach that low any time soon. As an alternative, I would target the 67/68 area as a good possible long entry point. 68 is a logical level, given that it is a 50% retracement of the big rally we saw that took PPH from 63 to 73 from March to May of this year.
PPH Daily Chart
Bottom Line: Fundamentals make the Major Pharma sector attractive as a value/safety play in the current environment. But the chart hasn't shown the bottom is definitively here yet. So in my analysis PPH and the basket of stock names above are likely an attractive purchase on further pullbacks, such as to the 67/68 area.
Disclosure: I have no positions in any stocks mentioned, and no plans to initiate any positions within the next 72 hours.