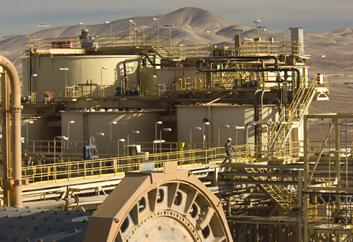 Picture: El Peñon. Yamana Home site.
Quick presentation of the Company:
Yamana Gold (NYSE:AUY) is a Canadian-based gold producer with seven operating mines located in Brazil, Argentina, Chile and Mexico.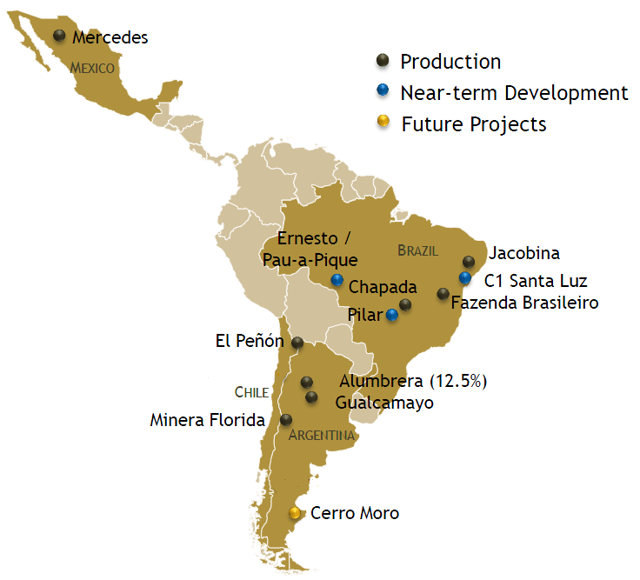 The company was formerly known as Yamana Resources Inc., and changed its name to Yamana Gold Inc., in July 2003. Yamana Gold Inc., was founded in 1980 and is headquartered in Toronto, Canada.
Recently Yamana and Agnico Eagle (NYSE:AEM) created a 50-50 joint venture to exploit the Canadian Malartic Mine.
Yamana assets and production snapshot: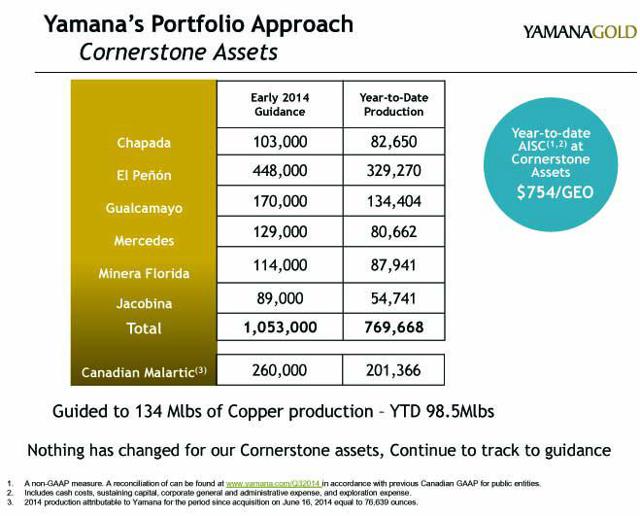 Mine details:
Mine
Metal

9-months Production 2014

Troy Oz/ M lbs (Copper)

Production

TPD

Gold grade

G/T

%

Recovery

Silver grade

G/T

Chapada
Gold
82,650
56,322
0.27
59.4
-
Copper
98.5
n/a
0.36
80.3
Gualcamayo
Gold
134,404
17,580
1.51
69.1
Canadian Malartic (50% with AEM) Started 16/06/14
Gold
76,639
26,550
0.95
89.2
Jacobina
Gold
54,741
3,910
1.74
92.0
El Peñon
Gold
329,270
4,020
6.26
93.5
210.59
Mercedes
Gold
80,662
1,850
4.92
94.5
57.77
Minera Florida
Gold
87,941
4,745
2.18
79.9
32.28
Alumbrera (12.5%)
Gold
Not a cornerstone asset
-
 
 
 
Fazenda Brasileiro
Gold (Brio Gold)
Not a cornerstone asset
-
 
 
 
Brazilian and other development projects
C1 Santa Luz
Gold (Brio Gold)
Care and maintenance
cost $2-$3 million
For sale
 
 
Ernesto
Gold
Production 20,000 Oz/Y
Break-even in Q3 2014
 
 
 
Pilar
Gold (Brio Gold)
Declared commercial on 10/1/14
Expected to break-even in 2015
 
 
 
Ernesto Pau-a-Pique
Gold
20,000 to 25,000 Oz/Y
 
For sale
 
 
Agua Riga
Gold/silver/copper/molybdenum
 
 
For sale
 
 
Cerro Moro
Gold/silver
To be developed
Will be a good producer to be added to the cornerstone assets list.
 
 
 
Two Recent significant news:
1 - Yamana on December 10, 2014, indicated that early 2015, a new subsidiary will be created:
the Company is advanced in the process of structuring its intercorporate holdings to form a new subsidiary company, Brio Gold Inc. ("Brio Gold") that will hold Fazenda Brasileiro, Pilar and C1 Santa Luz as well as some related exploration concessions, all of which are currently held as non-core assets within Yamana.
Most of these mine operations are considered secondary now, and have been impaired in the balance sheet, to reflect the current reality.
2 - December 16, Yamana announced new significant discoveries at El Peñon and Chapada.
Financial Snapshot.
| | | | | |
| --- | --- | --- | --- | --- |
|   | Q4 2014 Est. | Q3 2014 | Q2 2014 | Q1 2014 |
| Revenue in $ Million |   | 501.2 | 450.8 | 353.9 |
| Gold Production in GOE | 405,000 | 340,985 | 297,467 | 236,561 |
| Copper production in M lbs |   | 35.7 | 28.7 | 25.4 |
| Realized gold price $ |   | 1,276 | 1,292 | 1,300 |
| Net income $ Million |   | (1,023.3) | 5.1 | (29.6) |
| Earnings per share - basic |   | (1.17) | 0.01 | (0.04) |
| Earnings per share - adjusted |   | (0.01) | 0.05 | 0.02 |
| Mine operating earnings $ million |   | 77.6 | 74.8 | 33.1 |
| Adjusted operating cash flow $ million |   | 196.0 | 177.2 | 93.6 |
| AISC per GEO | 825-875 | 807 | 864 | 820 |
| Cash and Cash equivalent $ Million |   | 169.2 | 174.5 | 209.8 |
| Long-term debt $ Million |   | 1,993.2 | 1,938.4 | 1,338.9 |
| Dividend per share $ |   | 0.015 | 0.0375 | 0.0375 |
| Shares outstanding (diluted) in million |   | 882.4 | 773.6 | 753.4 |
(1) Gold equivalent ounces or GEO. This is an industry term which helps investors compare different companies' production and resources. GEO is simply the total gold, silver and other metals found in the ore, expressed as a single figure. Any non-gold ounces are converted to their equivalent value in gold using a ratio dependent on the prevailing gold price. Silver has a ratio to gold of 1:50.
Production forecast for 2015 is 1M to 1.42 M GEO at an AISC between $825 and $875/ GEO.
Commentary:
Yamana Gold is the world's 6th largest gold mining company and it has a well diversified portfolio of properties located in some of the world's most stable mining jurisdictions like Canada. These properties are providing sustainable gold production as well as substantial near-term production growth. Yamana pays a quarterly dividend of $0.015 per share quarterly or 1.55% per annum.
YTD chart: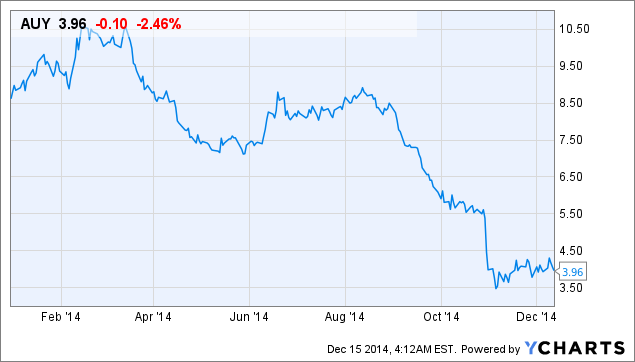 1 - Difficult time.
The company has been struggling during this deep gold correction period, and perhaps more than few other gold miners that I have followed recently. Obviously, Yamana had to deal with some specific strategic issues a while ago, and the actions taken regarding few particular assets were not effective.
The CEO Peter Marrone said in the Third-quarter conference call:
It's not easy for me to sit here and tell you that we got something wrong and that things did not go as planned on certain things, but that's what happened at C1 Santa Luz and Ernesto-Pau-a-Pique and to a lesser extent at Pilar. We know we've taken the right amount of time to evaluate these projects and this quarter we have taken the last step on these assets that now allows us to focus on further value creation from our cornerstone assets.
Hence, the company decided recently to create a subsidiary called "Brio Gold," which includes its non-core assets. It is difficult to evaluate the real future impact of this change in strategy, right now, and it will depend solely on the price of gold in 2015/2016. The impairment of those non-core assets will be probably beneficial for the balance sheet.
2 - Recent acquisition of Canadian Malartic with Agnico Eagle.
On June 16, 2014, Agnico Eagle and Yamana completed the acquisition of Osisko Mining and Canadian Malartic.
It was a deal which involved cash and also shares. I believe those shares were, in fact, the trigger for the recent slide that started early September, when gold was again weaker. It doesn't take much to start a bearish momentum and when it is started it goes a long way before dissipating.
On August 13, AEM provided a reserve update for the Canadian Malartic which was a mixed bag; released while gold was dropping from 1,300/ Oz to under $1,200/ Oz and the news of a payment of 5% to Osisko which lowered reserves by 60K Oz.
3 - AISC forecast between $825 and $875.
This is a very attractive AISC well under the industry average which is showing a particularly good efficiency.
4 - Gold forecast for 2015.
I am a firm believer that gold price found a bottom between $1,150/ Oz and $1,250/ Oz, and gold will slowly shine again starting slowly in 2015. I have explained my thinking in this recent article on Agnico Eagle.
My personal thinking is that gold will probably trend up into 2016 after a period of support around $1,200/ Oz next year. Assuming this personal thesis is true, thus it is the right time to start a gold miner long position.
Conclusion:
It is the right time to look at the gold miners for a possible investment starting early next year. Most of the companies I have followed have dropped tremendously in price, and could be considered very attractive in valuation, if the gold price outlook can turn bullish again by 2016 as I predict.
Yamana Gold has dropped over 50% and its valuation presents an attractive appeal.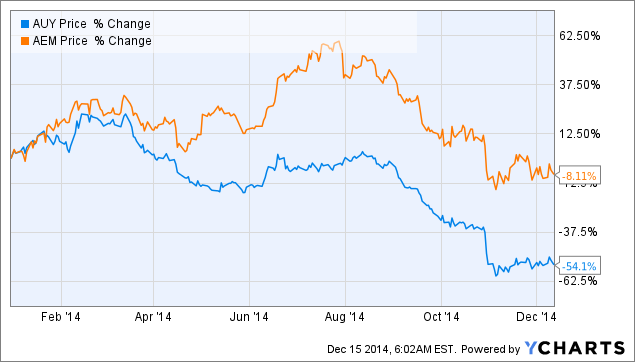 I recommend a speculative buy on AUY due to a price per share discounted, which is under $4, down 54% since January compared to only 8% for AEM; and a conservative new management strategy which will provide a good growth prospect down the road.
Disclosure: The author has no positions in any stocks mentioned, and no plans to initiate any positions within the next 72 hours.
The author wrote this article themselves, and it expresses their own opinions. The author is not receiving compensation for it (other than from Seeking Alpha). The author has no business relationship with any company whose stock is mentioned in this article.