Dick's Sporting Goods, Inc. (NYSE:DKS) operates as a sports and fitness retailer primarily in the eastern United States. The company provides hardlines, including sporting goods equipment, fitness equipment, golf equipment, and hunting and fishing gear products; apparel; and footwear products.
With the recent buyout of PetSmart (NASDAQ:PETM), analysts expect private equity activity to increase in the hardline retail segment. PETM was purchased at 9.3x LTM EBITDA, and given DKS's lower corresponding multiple, a depressed stock price, and strong FCF, I believe that BBY is positioned for a buyout.
Attractive Buyout Characteristics
DKS has strong FCF generation, even with very high capital expenditure levels. DKS's stock performance has been dismal the past 2 years, even though it is operating around all-time high EBITDA margins (~11%). The company has seen consistent growth in same stores sales, which offers a strong competitive moat (as was seen in PETM's case). SSS have been around 3% for 11 of the past 13 years. The company has been ramping up its store count, while maintaining strong profitability, and corresponding cash flow. generation. The niche market the company dominates, paired with its focus on omnichannel integration, positions the company strategically well as a hardline retailer. Also, its large fixed asset base allows for more attractive PE financing options.
Valuation
I believe that this competitive strengths are not priced in to DKS' stock price, and a buyout will be the upside scenario to rectify this mispricing. Using the 9.3x EBITDA multiple on DKS 2015E EBITDA, DKS could expect 22% upside in the next 12 months.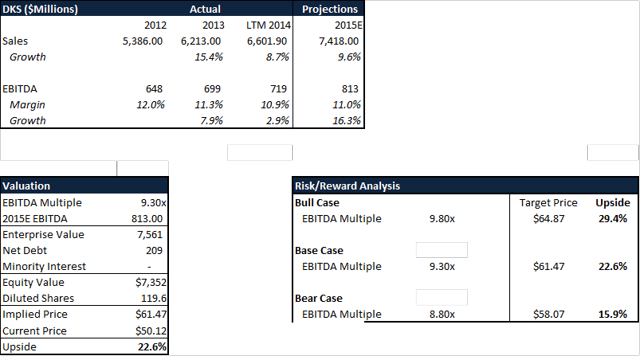 Source: S&P Capital IQ
The 9.3x multiple, which was PETM's buyout multiple, is warranted as the companies have similar EBITDA margins, and DKS has higher revenue growth. A reasonable buyout price would be at $61.50, which would offer DKS shareholders a reasonable premium, without valuation levels increasing to a frothy level. I will now analyze an LBO analysis to see if satisfactory returns can be generated at a $61.50 per share purchase price.
LBO Returns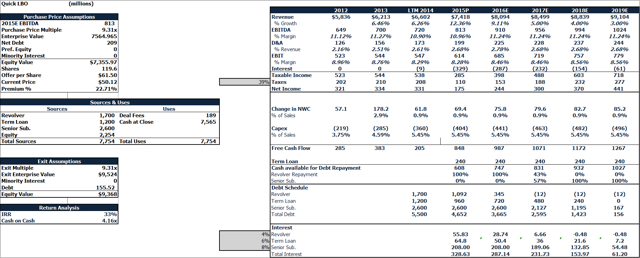 Source: S&P Capital IQ
Even at this 22% premium, DKS's strong EBITDA margins, and FCF yield 33% IRR returns, or 4.16x. The company's large asset base will make financing for the deal more attractive, and with the attractiveness of this returns, a PE buyer could even go higher in price. This analysis shows that DKS can generate strong returns for a financial buyer, increasing the likelihood of a buyout scenario.
Based on the increased PE activity in the hardline retail segment, I believe that DKS is the next buyout target, due to its attractive valuation, its ability to generate substantial returns, its FCF and EBITDA strength, and same-stores-sales competitive moat. At a reasonable $61.5 purchase price, DKS presents at least a 22% upside opportunity, with a high likelihood given the high achievable returns for a financial buyer.
Disclosure: The author has no positions in any stocks mentioned, and no plans to initiate any positions within the next 72 hours.
The author wrote this article themselves, and it expresses their own opinions. The author is not receiving compensation for it (other than from Seeking Alpha). The author has no business relationship with any company whose stock is mentioned in this article.