The focus of markets this week is squarely on the European Union, and rightly so given its massive debt struggles. As usual, posted below are charts of the CRB Raw Industrial Index and S&P GSCI Total Return Index - (click charts to enlarge).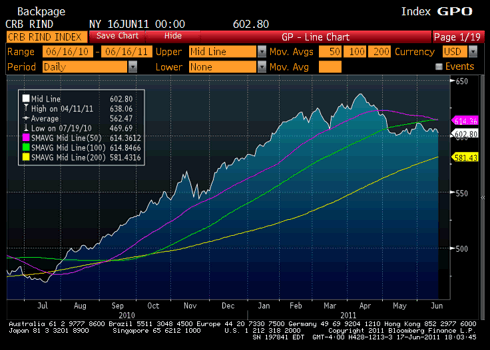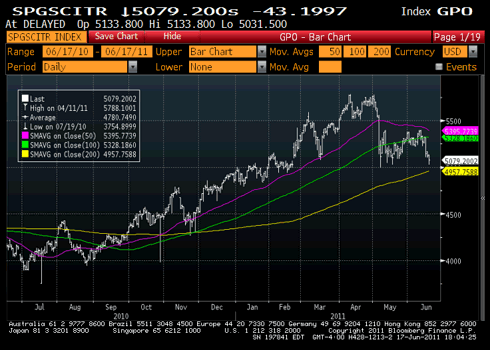 Interestingly, the GSCI Index dropped sharply this week, most likely due to significantly lower crude oil prices. However, the CRB Raw Industrial Index remained steady around the same level it has been trading since early May.
Since the GSCI Index comprises futures-traded commodities, and the CRB Raw Industrial Index mainly comprises non-tradable commodities, the CRB Index is a better gauge of true industrial demand, whereas the GSCI Index is more indicative of speculative activity. The GSCI Index dropping while the CRB Index stabilized indicates that the recent downturn in commodity prices is not indicative of a broad economic slowdown. With producers paying around the same prices for commodities, a drop-off in industrial demand has yet to be registered even though US economic data remain softer than expected.
We believe the primary culprit for weak US economic data is the supply chain disruption of the Japanese earthquake. Especially when coupled with the greater than expected 0.8% increase in leading indicators today, the US economy remains in an expansion phase rather than contraction. However, the disruption of supply chains in the auto industry, as well as technology, most likely caused much of the slowdown in manufacturing data.
The stability of the CRB Index lends further evidence to the assertion that the US economy is suffering from a temporary slowdown rather than a renewed recession. Furthermore, the recent drop in crude oil and gasoline prices (crude closed at 93 today after reaching 114 on May 2), should be accretive to the US consumer, and provided a much-needed boost in discretionary income.

Disclosure: I have no positions in any stocks mentioned, and no plans to initiate any positions within the next 72 hours.
Disclaimer: All information included herein is the opinion of the firm and should not be considered investment advice. Past performance is not necessarily indicative of future results.