Achillion Pharmaceuticals (NASDAQ:ACHN), a biopharmaceutical company specialized in developing treatments for infectious diseases, announced after-hours on Monday that it planned to sell 9M shares, with a 1.35M over-allotment option for the underwriters, in a public offering. The following day, the stock traded down just 1.31% on above average volume.
YTD Chart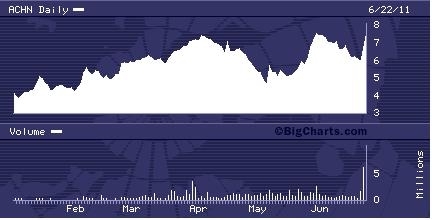 On Wednesday during pre-market trading, it was announced that the offering had increased to 9.6M shares with a 1.44M over-allotment option for the joint bookrunners, BoFa Merrill Lynch (NYSE:BAC) & Leerink Swann. The offering, which will increase the fully diluted outstanding share count by more than 15%, was priced at $5.90, nearly 2% below the previous day's close of $6.01.
Based on the above, it is hard to imagine that the stock would actually gap UP that day, but that's exactly what it did. It opened at $6.50, sold off a bit from there, and then proceeded to trade as high as $7.53 on more than 7X its average daily volume.
So why were shares of Achillion trading 25% higher on news of substantial dilution?
Over 90% of the float is already owned by institutional investors and insiders. The pending public offering will likely result in an increase to that figure. It appears as though short sellers may have piled on early in the day's trading, expecting the stock to sink on the news. When the stock showed no signs of weakness, short bettors apparently chose to cut their mounting losses and caused a stampede on their way out.
Why the increasing institutional interest?
Achillion has four product candidates in various stages of development for the treatment of chronic hepatitis C, a deadly disease that affects more than 3M people in the US and over 170M worldwide. The company is also developing antibacterial product candidates intended to treat highly resistant bacterial infections. Perhaps most importantly, the above programs are homegrown. Trial data is expected later this year and additional trial enrollment is expected in the near-term.
While the company's pipeline is promising enough to have attracted a lot of smart money over the last several quarters, I plan to wait the current action out in hope that the stock will trade down after the dust settles so that I may find an entry point a bit closer to the offering price.
Disclosure: I am long BAC.