General Electric (NYSE:GE), the largest U.S. based conglomerate, recently held its annual outlook meeting, which included the normal strategic overview and 2015 outlook. The company expects 2015 EPS to be in the range of $1.70-$1.80 versus consensus estimates of $1.79. Within the mix, GE Capital is expected to generate $0.60, down from $0.69 in 2014, with industrial in the $1.10-$1.20 range vs. $0.97-$0.98 in 2014. Part of the reason for the more bearish low-end is a slightly more subdued 2%-5% core revenue growth versus 6%-7% in 2014. This is partly due to oil & gas related weakness. The company is assuming oil price to be in the range of $60-$65 but remains confident that 2%-5% core growth includes a buffer should prices fall further.
General electric shares have lagged behind S&P and its multi-industry peers in 2014 and it would not be wrong to say that the company has lost interest of a large segment of the market. The company has made promises after promises but so far has largely been unable to deliver. This underperformance has made many investors indifferent. However, there are still things that GE can do to regain investors' confidence and interest.
Simplification Wave 2
GE remains committed to establishing a leaner cost structure. The company's SG&A reductions have driven +130bps industrial margins expansion since 2011. However, gross margins have actually declined during the same period. GE needs to assure investors how it plans to incentivize future gross margin expansion. The company is not targeting a 50bps annual improvement in gross margins. While the margins have been falling in recent years, there is room for significant improvement, as the company has made little progress in recent years on COGS-productivity metrics compared to peers.
General Electric is terming this targeted improvement in gross margins, simplification wave 2. Simplification wave 1 represented reduction in SG&A and is on track to achieve $4.0 billion in cuts. The company remains committed to establishing a leaner structure and targets to reduce SG&A as a percentage of sales to 12% by 2016 from 14% in 2014. Simplification wave 2 should be significant for margin expansion, given that COGS are 4-5X larger than SG&A. However, it is important to mention here that while these efforts are significant they only serve to offset 'mix' rather than push the industrial margin target for 2016 above 17%. To push EBIT margins higher, GE needs to show some ambition around a net increase in gross margins.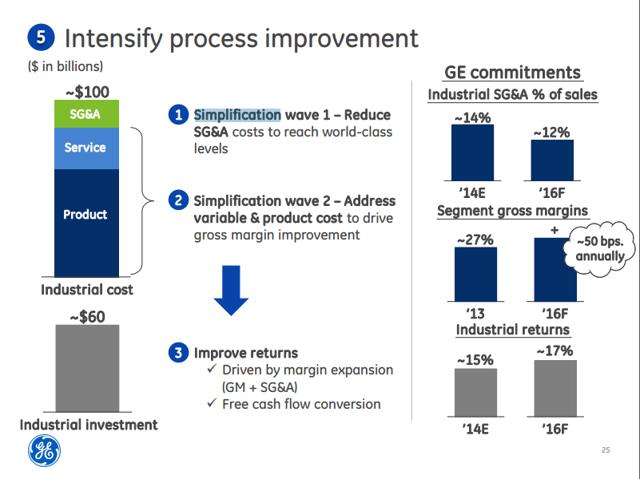 Source: GE Presentations
Oil & Gas
There for tougher times ahead for GE's oil and gas segment. The oil industry in general and GE's oil & gas segment in particular will continue to see short-term challenges with oil price decline particularly challenging for Surface & Drilling, which is 25% of GE's oil & gas segment. Similarly Subsea, which is 15% of the oil & gas segment, is also expected to see a decline in orders. The company expects oil & gas revenues to decline 0%-5% in 2015, with Surface & Drilling down 10%-15%. The rest of the oil & gas segment is expected to see some growth next year. GE sees solid activity in Turbo Machinery, M&C and Downstream markets as well as big upcoming project campaigns in Nigeria, Mozambique, Ghana and Angola.
Overall operating margins are expected to remain flat. GE had already reduced its previous medium-term margins target from high-teens to mid-teens. Now the company expects margins to be in the low teens, provided no further sharp decline in oil prices. General Electric is planning for broad backlog re-pricing risk, but believes margin pressure can be offset by supply chain and engineering initiatives.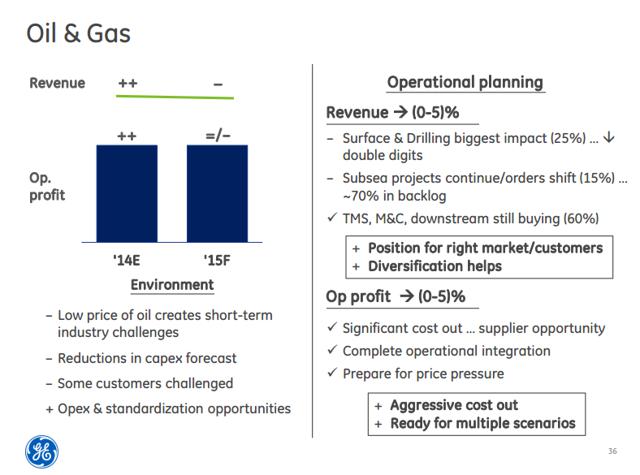 Source: GE Presentations
Portfolio Actions
Despite the dramatic drop in asset prices in the oil & gas industry, M&A is not a priority, as the company spent considerable sums on acquisitions in recent years when the prices were higher. GE is content with the current oil & gas portfolio and believes that it can gain market share organically given its huge balance sheet and conglomerate status. Immelt with his comments "less focus on portfolio and more focus on execution" effectively ruled out large acquisitions.
While it's true that the company has the ability to grow its market share organically, one of the benefits of having a diversified business model is that the company can be opportunistic, and buy assets in industries with depressed valuations. Particularly at times when pure play companies are focused on capital preservation and restructuring activities. I believe, while prices are low, GE should use its big balance sheet to grow its market share inorganically via acquisition in the oil & gas industry. Energy assets are trading at multi-year discounts and GE is missing out on a key advantage of its diversified portfolio and deep pockets.
As far as other portfolio actions are concerned, the company is expecting a mid-2015 close for Alstom deal. GE's management expects synergies to be better than previously expected and a high-teen IRR on the deal. Similarly Appliances sale is expected to close by mid next year and Synchrony split-off remains on track. Other than these portfolio actions, a significant split-up of GE continues to be highly unlikely as the company's management spent significant time at the recently held investor meeting reiterating the value and benefits of having a diversified business model which can share benefits from Technology, Services, Global Presence, and Simplification.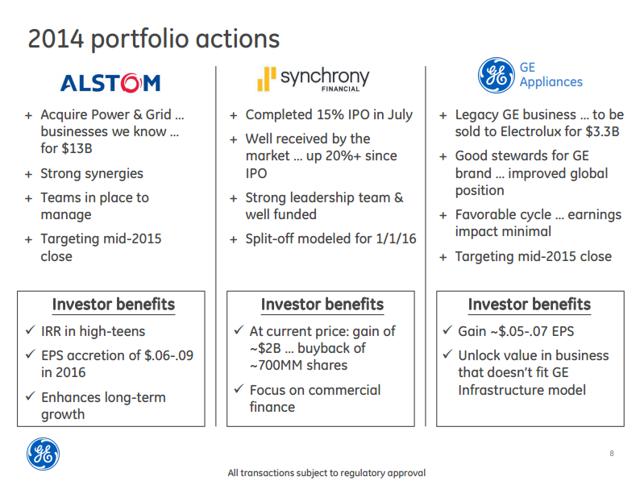 Source: GE Presentations
Conclusion
As I have mentioned in my previous articles, investors have been frustrated at GE's slow pace of execution and many have lost confidence in its ability to deliver. As Barclays quoted an investor in its recent report (published December 17, 2014), "GE is a much better company than GE used to be; GE stock now is far more interesting than GE stock of the past"; "GE vs. GE is a buy" but "Does that make GE a better stock than peers? Peers are also moving quickly and getting better and don't have a financial services sub to worry about."
While the investors' frustration is valid and it's true the company has not been able to deliver, GE seems to be moving in the right direction, albeit slowly. I believe GE needs to exit its non-captive financing businesses as the company does not have competitive advantage in this space and investors are unlikely to ever pay a premium for this segment. At the same time, I also do not agree with GE's "not a buyer policy" in the oil & gas segment. As I believe GE should take advantage of its big pocket and diversified business model and go shopping when energy assets are trading at multi-year discounts. Aside from portfolio actions, the announcement of a new COGS-reduction program is also encouraging.
As I have said in my previous articles while I acknowledge investors' concerns as valid and I agree GE's execution has not been up to expectations, the company continues to move in the right direction. The stock may continue to perform in a sluggish fashion in the near term but in the long term, the company's self-help measures should produce results. In the meantime, the company continues to offer a healthy dividend yield of 3.8%.
Disclosure: The author has no positions in any stocks mentioned, and no plans to initiate any positions within the next 72 hours.
The author wrote this article themselves, and it expresses their own opinions. The author is not receiving compensation for it (other than from Seeking Alpha). The author has no business relationship with any company whose stock is mentioned in this article.