Over the years Medifast (NYSE:MED) has had its share of headaches. Recently those headaches have started to turn into migraines. The SEC and FTC both took actions against Medifast in the past few years. The regulatory scrutiny has had a negative impact on the company's operations over the past two years. The legal issues at Medifast took place prior to more significant legal issues within the direct selling and weight loss industries. The direct selling industry is facing major headwinds as regulators have started cracking down on the proliferation of pyramid schemes posing as MLMs. Medifast has largely dodged the media scrutiny that has dogged peers like Herbalife (NYSE:HLF) and NuSkin (NYSE:NUS). This could represent a much needed growth prospect for the company. If Medifast takes the right steps in coming months, they could return to the impressive growth experienced between 2007-2011.
Medifast designs, develops and sells branded weight loss products that range from protein shakes to soups. Despite spending virtually nothing on research and development, Medifast boasts multiple clinical studies that allegedly prove the effectiveness of their weight loss plans. The dubious nature of these studies is common among MLM companies and has already landed their direct selling division in hot water with the FTC.
To sell their branded weight loss products, Medifast operates a unique business model that employs three distribution methods; multi level marketing, online retailing and traditional brick and mortar retailing. The majority of revenue (64%) comes from their MLM business, Take Shape for Life.
Through its Take Shape for Life brand Medifast has risen to prominence in the direct selling industry. Unlike many of its direct selling peers, Take Shape for Life's compensation plan bases commissions on sales to consumers, rather than sales to distributors. The compensation plan is slightly less controversial than other MLMs, which have been characterized by many as pyramid schemes. Distributors are called "health coaches." These individuals pay a nominal fee to join, then have the right to sell Medifast branded products to customers and to recruit new health coaches. Sales and new recruits began to plateau in 2013 and have deteriorated throughout 2014.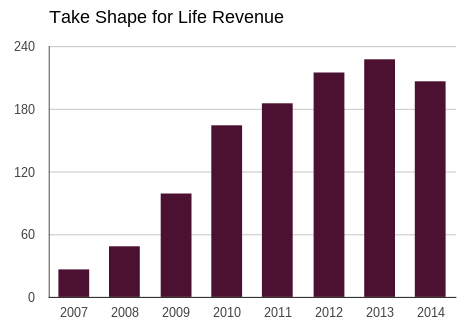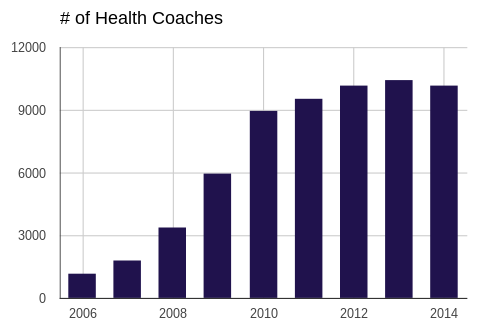 Take Shape's 10,200 health coaches at the end of Q3 2014 significantly trails other MLMs like Herbalife (550,000 US distributors) or Usana (135,000 US distributors). Recruiting new health coaches and developing them into successful sales people is key to growth. Large MLM companies in the US are having significant legal issues. Herbalife is under FTC, SEC, FBI and DOJ investigations for possibly operating a pyramid scheme. NuSkin was recently investigated for allegedly operating a pyramid scheme in China and is currently the subject of a SEC inquiry. Both companies have lost distributors in light of their issues. Recruiting distributors from troubled MLMs represents a meaningful growth prospect for Medifast's MLM business. As an example, If Take Shape health coaches could recruit just 10% of Herbalife sales leaders (52% of which will quit in 2014 anyway) it would represent a 100% increase in the number of Take Shape health coaches. Getting new coaches into the program is the first step in growing sales. Next they have to be trained. Luckily, Take Shape has a unique ability to train new recruits in a way that other MLMs do not have. In past years Medifast generated a part of its sales through physicians who sold the products in doctors' offices throughout the country. The 10k notes that approximately 20 thousand doctors have helped patients lose weight by recommending Medifast weight loss programs. This segment of the business no longer generates meaningful revenue and is no longer discussed independently in financial filings. The company has, however, maintained its relationships with many of these doctors, having them train and advise new health coaches on various health and wellness matters. Take Shape has the ability to execute the above plan, management just needs to recognize it and act.
The second largest segment of Medifast's revenue (19.8%) comes from direct sales. Most direct sales occur through the company's website. The overwhelming majority of advertising costs are associated with promoting the direct sales segment. In 2014 Medifast pulled back advertising expenses citing a desire to strengthen the bottom line over growing the top line. There is a direct correlation in advertising expenses and direct sales. Investors should expect further deterioration in 2015 as management has not shown any desire to allocate additional capital to advertisement.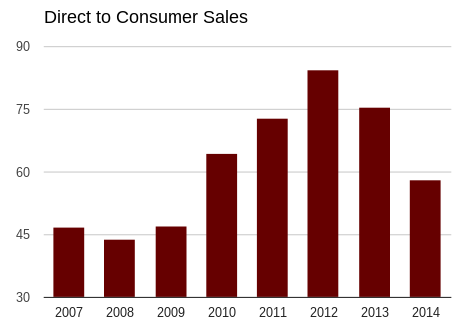 Accounting for about 14% of revenues are the weight control centers. This, in my opinion represents the best prospects for the company going forward. These centers operate similarly to Weight Watchers (NYSE:WTW) centers and Herbalife nutrition clubs. Herbalife nutrition clubs have come under significant scrutiny for alleged violations of numerous laws. All of the nutrition clubs operating under Herbalife are independently owned by its distributors and often generate slim to negative income for the owners. Weight control centers owned and franchised by Medifast, on the other hand, have often generated meaningful sales. If Herbalife is shut down by the FTC, slapped with significant sanctions or forced to change its nutrition clubs, it could represent an opportunity for Medifast to expand its weight control centers into existing Herbalife nutrition clubs. Medifast has expressed intentions to open more franchise centers which require limited capital allocations. Recruiting current Herbalife nutrition club owners to Medifast weight loss centers could significantly increase revenue. At the end of 2013 the company owned 75 centers and had 41 franchised centers. There is meaningful upside potential if Medifast can grow the number of franchised weight control centers.
Medifast's business is currently deteriorating at an alarming rate. 2014 revenue is expected to decrease by 13% yoy. EPS is estimated between $1.59 to $1.62. Analysts currently have FY14 EPS estimates at $1.72, 7% above the company's adjusted forecast. Revenue has significantly underperformed management's estimates each of the past six quarters. I believe this will be the case again in Q4, as the fourth quarter is historically the company's weakest quarter.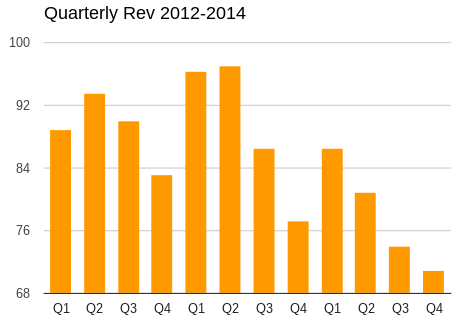 Historically, Medifast has seen Q4 revenue drop 8.8% from Q3, due to the seasonal nature of the business. For Q4 2014 the company projects a 4% drop. This figure is inconsistent with historic yoy performance and ytd performance. I estimate Q4 revenue to come in at $62.9 million, 11.4% below forecasts.
Continuing with the same reasoning I expect Q4 EPS to come in below the currently forecasted range of $0.31 to $0.34 on $3.84 million in net income. I estimate net income to be $3.42 million and Q4 EPS to be $0.28. That puts 2014 revenue at $224.3 million, 28% below the company's original forecast. Full year EPS should come in at $1.56.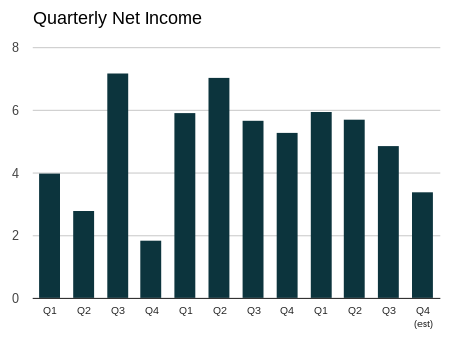 With the share price currently around $31.50, Medifast is trading at 20x 2014 earnings. Revenue has declined for the past 6 quarters and shows no signs of stopping. Medifast's growth is declining similar to many of its peers, yet its P/E is significantly higher.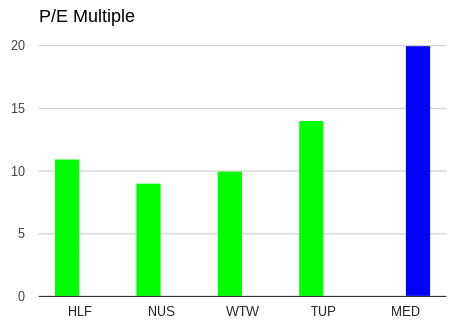 With a P/E multiple similar to peers (around 12x trailing EPS), MED's share price would be around $18, 43% below its current price.
Medifast has the potential to meaningfully turn around their highly troubled business. The company should capitalize on the difficulties facing peers by increasing recruitment efforts for new health coaches. On the same theme, they can grow their weight loss center franchise model by reaching out to those leaving other MLMs and converting former nutrition clubs to Medifast weight loss centers. In the meantime, however, Medifast's business is slowing on all cylinders. All three core segments are reporting lower yoy revenue and profits.
For the remainder of 2014 and into the first half of 2015 Medifast will likely see significant share declines. The corporate buyback may slow the decline slightly, but decreasing net income, declining revenue and a contracting multiple will all cause headaches for investors in 2015.
Disclosure: The author has no positions in any stocks mentioned, and no plans to initiate any positions within the next 72 hours.
The author wrote this article themselves, and it expresses their own opinions. The author is not receiving compensation for it (other than from Seeking Alpha). The author has no business relationship with any company whose stock is mentioned in this article.