Bill Barrett Corporation (BBG) is investing heavily in the development of the Codell and Niobrara formations, which it's targeting through the DJ Basin. Last quarter, Bill Barrett's DJ Basin production grew by 150% (includes 390 Boe/d added due to recent acquisition) to 8,268 Boe/d year-over-year (compared to 32% pro forma company-wide growth). The DJ Basin area, which includes the Wattenberg Field and the Chalk Bluffs, has been a major source of growth for BBG over the past few years. In the graph below, DJ stands for DJ Basin and UOP stands for Uinta Basin Oil Program.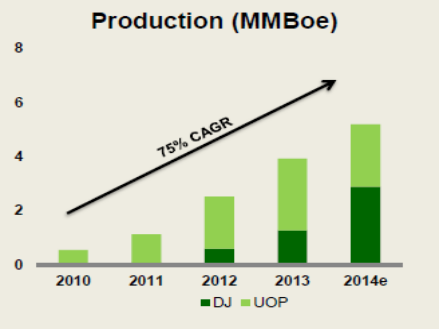 Source: Bill Barrett Corporation Presentation
Going forward, the DJ Basin will continue to become a bigger part of Bill Barrett's operations as it spends ~75% of its capex on the play this year. Over the past two years, the company has made its DJ Basin operations more efficient as it cut the average drilling time per well down to 10.1 days this year versus 17.1 days back in 2012. This helped the company reduce its average drilling cost per foot to $97 in 2014 versus $173 in 2012. Going forward, optimizing its completion techniques will continue to enhance Bill Barrett's drilling economics.
Better completion methods
To improve its fracking technique, BBG is increasing the amount of sand it uses in the fracking process. Traditional Bill Barrett has been using 9 million pounds of sand to frack its DJ Basin wells. So far, four wells have been completed with 12 million pounds of sand, and results from those wells are expected sometime in early 2015. Based on the production data from other Wattenberg producers who ran similar tests, Bill Barrett believes that this technique could increase EUR (estimated ultimate recovery) rates by as much as 50%.
Depending on the results from its test wells, the company may decide to implement this technique across more of its acreage. Adding more sand increases the cost of completion, so the production results have to make it worthwhile. Another way Bill Barrett is attempting to increase its EUR per well is by increasing the number of frac stages per well, or in other words, shortening the space between its frac stages. Early tests point towards an EUR increase of 25% when the number of frac stages was increased to 25 from 18. A higher EUR tends to translate into better returns as the incremental cost of more output is less than the additional cash flow.
Longer laterals
To continue to improve its DJ Basin program, BBG has been drilling longer laterals. The lateral is the horizontal reach of its wells, and by extending it, the company can produce wells with higher EURs. Bill Barrett's standard DJ Basin well has a 4,000 foot lateral, which management has been increasing to 7,300 feet (medium sized) and 9,300 feet for extended lateral wells. Longer laterals yield higher EUR rates and better returns, which is why two of the company's rigs in the Northern Wattenberg Field are currently drilling extended laterals.
2015 will see more extended lateral wells brought online relative to 2014. Most of these wells will be drilled in the Northern Wattenberg Field. Management noted that at $65 WTI, Bill Barrett's Northern Wattenberg XL wells generate a 30% IRR. Investors should keep in mind that crude is trading $10 below these levels.
Growing growth prospects
To implement its new drilling designs, the company needs a runway to capitalize on. At the end of 2013, BBG had 66 million Boe in proven reserves in the DJ Basin. Including risked resources, Bill Barrett sees at least 221 million Boe of recoverable resources in the play. With 844 net drilling in the DJ Basin, Bill Barrett has a drilling inventory that will last 16 years at its current pace.
Its reserve estimates were made before factoring in BBG's recent acquisitions, which include an additional 7,900 net acres in the Northern Wattenberg Field. More acreage and increased drilling activity should increase the company's proven and possible reserve base, boosting its growth prospects. Additional upside will come from Bill Barrett's downspacing efforts, and one of its rigs is currently testing out 640-acre spacing.
Hedging reduces risk
Optimizing its DJ Basin drilling program will help Bill Barrett generate stronger returns, which will help it deal with lower prices better. A strong hedging program will also enable Bill Barrett to wait out sub-$60 oil prices.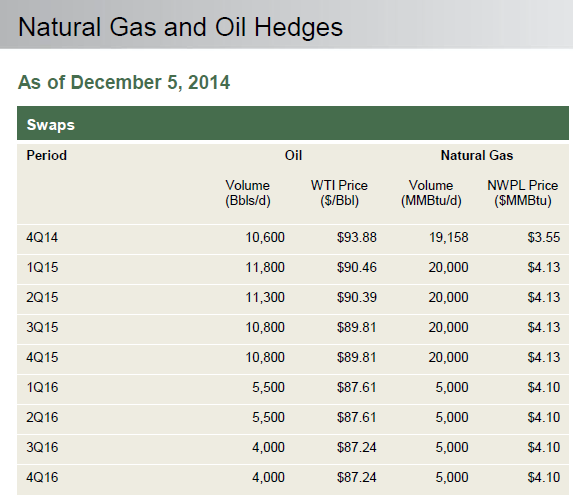 Source: Bill Barrett Presentation
At the end of the third quarter of 2014, Bill Barrett's current assets produced 15,185 Boe/d: 10,230 Bo/d, 20.1 MMcf/d of natural gas (3,345 Boe/d), and 1,610 bpd of NGLs. Its hedging program covers most of its production through the end of 2015, reducing its risk to a prolonged low price environment. The slide in crude prices has pushed oil to $56 a barrel, and there is no end to the carnage in sight.
Plenty of liquidity
Bill Barrett has a solid balance sheet that is capable of supporting its growth plan over the next few years. With $294.8 million in cash and an undrawn $375 million credit facility, the company has $643.8 million in liquidity when factoring in the $26 million letter of credit it owes. This is compared to the $565 million BBG plans to spend this year. Combined with its cash flow that is protected by its hedging program, Bill Barrett has the funds to keep growing its oil weighted output.
Through the sale of its Piceance Basin and Powder River Basin operations, the company raised $757 million that it used to reduce its net debt load from $1.1 billion to $534 million. By paying off its debt, Bill Barrett is reducing its risk as an investment by creating more sustainable operations.
There is still plenty of debt the company has to pay down. Bill Barrett has issued out $800 million in senior notes (additional $29 million in other debt), with $400 million due in 2019 and the other $400 million matures in 2022. That gives BBG four years to grow its output to levels that generate substantial levels of free cash flow before it comes time to pay off its debt.
Final thoughts
The crash in oil prices has sent the company's stock price down to $8 a share from $28 just a few months ago. This opened up a great buying opportunity to invest in the DJ Basin, which is quickly becoming more economical by the year. By the end of this year, BBG's exit production rate could grow by 38.4% (relative to its average during the third quarter) to 21,000 Boe/d according to its forecast.
Future upside will come from the Uinta Basin, which BBG is pulling back from until oil prices go back up. Bill Barrett's production mix in the Uinta Basin is 78% oil, making non-hedged returns largely dependent on oil prices. Better completion techniques, protected cash flow, and strong growth prospects in the DJ Basin makes Bill Barrett a good speculative buy in the shale space.
Disclosure: The author has no positions in any stocks mentioned, and no plans to initiate any positions within the next 72 hours.
The author wrote this article themselves, and it expresses their own opinions. The author is not receiving compensation for it (other than from Seeking Alpha). The author has no business relationship with any company whose stock is mentioned in this article.