In my last Sirius XM (NASDAQ:SIRI) article that focused on trading the stock, I highlighted the following chart: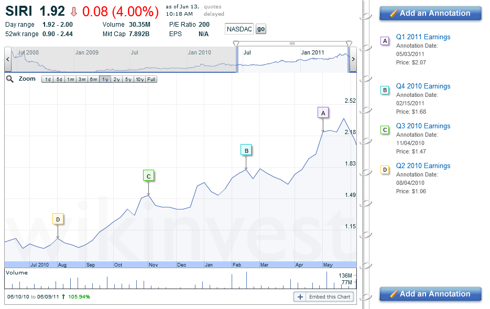 I went on to say:
Study the chart. SIRI tends to rise into earnings and fall shortly, if not immediately, thereafter. What happens between the earnings reports essentially amounts to noise. As CEO Mel Karmazin makes perfectly clear each time he performs on a Sirius XM earnings call, his company's long-term story remains intact. And the beauty of Mel Karmazin's approach? He actually tells us very little. He operates on a "need to know" basis. Come August 1st - the date of Sirius XM's Q2 2011 earnings report - I reckon Karmazin will tell investors all they need to know about SatRad 2.0, tapping into the Latino market, and efforts to make Sirius XM more of a household name, not to mention more color on the prospects of a dividend or share buyback.

Translation: Buy on the dips.

The stock will rise. it will then fall to a higher low than its last post-earnings dump.
Here we are just over a week later and SIRI trades above the $2.00 level. While it would not shock me to see it dip below that key psychological level, I reckon, barring some major micro- or macro-development, it stays safely above it.

Here's how I am playing it. For the last several weeks, I have been dollar-cost-averaging into SIRI stock. On May 31st, I overpaid and picked up some SIRI September $2.50 calls for $0.22 each. On June 6th, I averaged down by purchasing more of the same option contracts for $0.15 apiece. On June 20th, I bought more at $0.10 per contract. My cost basis stands at $0.14 per contract. Of course, I wish I would have not jumped so soon, but I don't expect perfection from myself, at this stage, on this trade.

Over the next several weeks, I intend to play any pullback - including one that takes SIRI back below $2.00 - by purchasing more of the same calls, assuming I can get them for $0.10 or less per contract. Regardless of share price movement, I will continue to dollar-cost-average into SIRI. I expect the stock to top its most recent high, achieved shortly after its last earnings call.

A look at SIRI's price history, courtesy of Yahoo! Finance, confirms this line of thinking:
| | |
| --- | --- |
| Date (Event) | SIRI Closing or High Price |
| 8/04/2010, Earnings | $1.06 (Closing price) |
| 11/04/2010 | $1.61 (Post-earnings intraday high) |
| 11/04/2010, Earnings | $1.47 (Closing price) |
| 2/14/2011 | $1.88 (Post-earnings intraday high) |
| 2/15/2011, Earnings | $1.69 (Closing price) |
| 5/3/2011 | $2.09 (Post-earnings intraday high) |
| 5/03/2011, Earnings | $2.07 (Closing price) |
| 5/11/2011 | $2.42 (Post-earnings intraday high) |
| 8/01/2011, Earnings | $?.?? (Closing price) |
Clearly, the two big questions are: Where will SIRI close on earnings day and assuming there is one, how high will the typical post-earnings run take the stock? That is anybody's guess, but if history serves as any type of predictor we might see $2.30 as the answer to the first question and $2.73 as the answer to the second question. I used averages between SIRI's last several post earnings' highs and earnings' day closing prices to generate those somewhat rough calculations.

After each of the three post-earnings' highs before the most recent one, SIRI dropped by an average of $0.12 by the market close on the day of the next earnings report. SIRI rose by an average of $0.43 from its earnings day close to its post-earnings intraday high for the last four reports. That's the back of the envelope math I used to model where the stock might go post-earnings come August.

The story on SIRI supports my bullishness. Seeking Alpha contributor Spencer Osborne wrote two articles over the last several weeks that inform my opinion. Most recently, he discussed Sirius/XM's recent deal with General Motors (NYSE:GM), noting:
Leading promos (companies like Ford, Chrysler, Mercedes and BMW) are counted at manufacture, and point of sale (companies like GM and Honda) are counted when the car is sold.

(The GM) used cars (from this recent deal) will fall into the trailing category. This means that it will take about four months from the sale of the car to potentially become a subscriber. Simply stated, a satellite radio equipped used car sold in July will be an "uncounted promotional subscriber" until October, and will only be counted at that time if the consumer keeps the service. ...

Knowing that this type of deal exists, and now understanding the timeframe that it will take to play out gives savvy investors an advantage. Currently Sirius XM's stock price is depressed. This could be a perfect opportunity to buy in. The company will now be virtually forced into raising guidance on subscriber numbers at the Q2 conference call in August. Last quarter CEO Mel Karmazin did a masterful job during the call, and the street showed appreciation in a big way. This type of deal with GM will certainly be a point of focus that the company will gladly discuss.
Prior to that, Osborne concurred with my view of Karmazin's performance on Sirius XM's Q1 2011 conference call, pointing out that the CEO "painted a win/win scenario" and noting:
Sirius XM will likely be announcing Q2 results during the first week of August. At that point it will certainly have auto sales for June and July in hand and should be able to adjust guidance at that point. It is always possible that it makes an adjustment ealier after it digests the June numbers, which should have some flavor by the third week of the month.

Given that the current guidance is good already, the fact that some metrics will get upgraded is great. If 2011 does deliver the 13 million in auto sales that is widely anticipated, we should see Sirius XM increase the subscriber number to somewhere in the neighborhood of 1.7-1.8 million sometime in the coming months. That would be impressive.
In other words, the pieces are in place for a solid Q2 2011 report as well as upward guidance for the rest of 2011. And this optimistic outlook does not even take into account almost guaranteed details on
the launch of SatRad 2.0
, which could drive not only holiday sales for Sirius XM but stronger brand recognition.
If a $2.73 (or thereabouts) post-earnings high plays itself out, the key question will be ... does SIRI then go into its typical post-earnings high pullback mode or sustain itself ahead of the next leg up to $3.00? What Karmazin tells us - and doesn't tell us - on the August 1st call could help answer that question.
Disclosure: I am long SIRI, F.