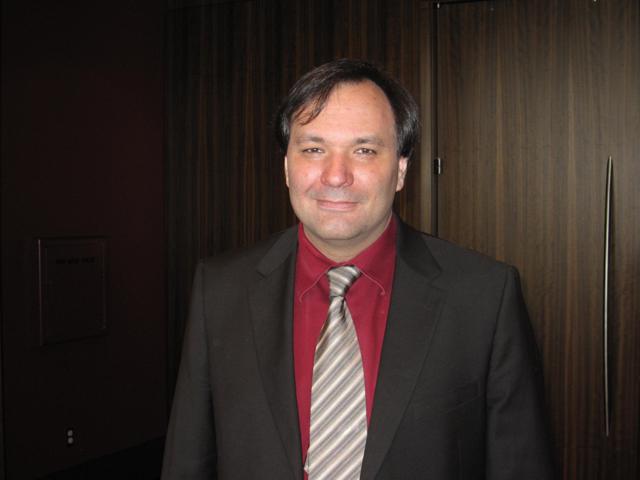 Andres Carbacho-Burgos is a senior economist at Moody's Analytics.
Harlan Levy: Why do you think the stock market is so volatile?
Andres Carbacho-Burgos: The stock market is reflecting nervousness about the slowdown in China and the increased risk in Europe, which is not making any progress.
Now there's the possibility that elections in Greece might bring in a government that might default on its government debt. That would create financial complications in the euro zone and possibly the world economy.
Q: Certainly oil is a cause for some of the stock pullback. What do you think of the oil situation?
A: From the point of view of alternative energy, it's obviously bad news in the short term, but over the long term alternative energy is at last starting to get noticed as well as non-oil forms of conventional energy.
The refusal of OPEC to cut back production in its latest meeting is indicative that it's now acting as a major player trying to defend its market share. So they're trying to prevent oil from shale, liquified natural gas, and energy renewables from grabbing a bigger sharer of the energy market than they already have.
For at least the next couple of years, we're going to see less pressure on energy prices, because most economies are not operating at full capacity and because the capacity of the energy industry has increased substantially. The biggest emblem of that is the U.S. becoming a net energy exporter.
Q: What do you predict for the U.S. economy?
A: The U.S. economy started to slow down in the first quarter but rebounded and is growing at a fairly strong pace. It is now on schedule to show the kind of strong recovery that we're predicting for 2015 and 2016.
We see that in the labor market recovery. We also predicts a strong resurgence in residential construction.
Most of the recovery in residential construction so far has been in multi-family homes, apartments, and condos. But we've had relatively little recovery in the construction of single-family homes.
If the economic recovery continues, as we believe it will, then single-family construction will also surge substantially in the next two years.
Q: What kind of growth do you see?
A: Right now we have 300,000 job growth per month, so we expect the economy to be at least as strong as that for 2015 and early 2016.
We expect U.S. Real Gross Domestic Product growth to be 2.2 percent for this year but then to be much stronger in the next two years, like 3.3 percent in 2015, and 3.5 percent in 2016.
We're also expecting the labor market to tighten. For 2014 the unemployment rate average is 6.2 percent. We expect it to reach 5 percent by the end of 2016.
That reduction in the jobless rate takes into account the increase in the labor force. We think job growth will be strong enough to account for labor force growth and the consequent reduction in the unemployment rate.
Q: What do you predict for the weak labor participation rate?
A: As the job market improves we expect an improving labor participation rate. In 2014 the rate dipped below 63 percent, so by 2016 we expect it to go back to around 63.4 percent.
Q: What is happening with consumer confidence?
A: The number increased in the latest report. It's at 93.8 in December, which is just about the highest number in eight years. If their purchases match their confidence we'll see a pretty good Christmas shopping season.
Q: What do see for retail sales?
A: In November they increased 0.7 percent from October, which was more than we expected and indicates that Black Friday sales were pretty good. But retail sales are not a leading indicator. They're more an indicator that the economy is doing well currently rather than that recovery will accelerate soon.
Q: What about the very slight increase in wages and hours? Is that more than just a hint of better times?
A: That's a good question. Average weekly earnings have been increasing at a very steady trend over the past four years, but the problem is that they haven't been increasing fast enough. They are not growing much faster than inflation. As a result median household incomes have yet to recover the purchasing power that was lost in the recession.
But that will start to pick up in the coming two years, improving median income, and also helping the housing market, which will get a needed boost. We're expecting the increasing job growth and the tightening labor market to have positive effects on wage growth.
Q: What do you think of Congress rolling back bank regulations?
A: I don't think it's going to lead to disaster in and of itself, but it is a harbinger that the memory of the financial crisis is receding, and it could mean that in Washington the financial industry and Wall Street are once again on the offensive, trying to reduce government oversight.
It's possible we could see further measures in the future reducing federal oversight of lending in mortgages and other major loans, which could sow the seeds of another financial crisis.
The current legislation is more symbolic than meaningful, but it goes in the wrong direction.
Q: What are the biggest drags on the U.S. economy?
A: In the short term we don't have any huge major drags, which is why we're doing better than most countries in Asia and Europe.
The only major drag so far is government spending, not so much the federal government, but spending by state and local governments, which is very subdued and still smaller than it needs to be to help push a major economic recovery.
It will start to get better as the housing recovery starts to improve on a property tax revenue basis. The drag from state and local governments will be reduced over the next couple of year, but it's still significant and is a large part of the reason the recovery has been so protracted.
Q: How negative are the Russia-Ukraine and China situations?
A: The crisis in Ukraine has not escalated, which is good news for the world economy.
China faces a period of slower growth, in large part because it's suffering from the effects of over-investment in real estate. There's going to be a substantial financial retrenchment with banks having to write off losses in property investment.
Having said that, I don't think there's going to be a financial crisis in China, because as soon as any bank starts to show negative capital in its balance sheets, the government will recapitalize it before there would be any major financial repercussions.
Q: How does Connecticut look?
A: Connecticut is still experiencing a drag in its recovery, but it is recovering steadily and not falling back into recession.
The main drags included, first the financial industries from Fairfield County to Hartford are still downsizing.
The second drag is state and local governments cutting back on payrolls, and that's more than five years past the start of the recession.
There doesn't seem to be any prospect of a reversal in coming years for two reasons: First, house prices are not increasing very rapidly, in part because there's a substantial inventory of foreclosed homes in the state. As a result it's going to take a very long time for property tax revenues to get back to pre-recession levels.
The second reason is that state government still has substantial obligations, the biggest one being the pension system. The other one is just replenishing the reserve fund, which is still at a very low level.
Between those two expenditures it will keep any other government spending down for several more years.
Smaller drags include the gaming industry which in the northeast region has over-expanded in the northeast, and the revenues of the southeastern casinos have fallen substantially.
Also, there's a continuing drag from Europe, where a larger than average share of Connecticut's exports go. While the aerospace industry is not that much affected by Europe, other export industries, like machinery, chemicals, and electronics do suffer from the comatose state of the European economy.
Disclosure: The author is long AAPL.
The author wrote this article themselves, and it expresses their own opinions. The author is not receiving compensation for it (other than from Seeking Alpha). The author has no business relationship with any company whose stock is mentioned in this article.