Last quarter I completed a series of articles looking at the Dry Bulk Industry and comparing the company's Revenue, Expenses, and Balance Sheet on a common per unit basis. I am continuing the series this quarter in an attempt to find which companies are consistently maximizing revenue, minimizing expenses, and have a healthy balance sheet.
The first article in the updated series covering Revenue has already been completed:
The Dry Bulk Industry: Q3 2014 Comparison Of Revenue And Income
The companies I will look at are Baltic Trading Limited (NYSE:BALT), DryShips, Inc. (NASDAQ:DRYS), Knightsbridge Tankers Limited (VLCCF), Navios Maritime Holdings Inc. (NYSE:NM), Navios Maritime Partners L.P. (NYSE:NMM), Safe Bulkers, Inc. (NYSE:SB), and Star Bulk Carriers Corp. (NASDAQ:SBLK).

One caveat of this. I am looking at the total expenses of the companies and breaking them down on a per Ship and per DWT basis. Some of the companies are engaged in activities other than just Shipping of Dry Bulk. DRYS has a fleet of Tankers in their fleet. NM has a logistics portion to their business. I am leaving these in the study because when an investor buys a stock in one of the companies, they get the whole package, not just the Dry Bulk portion. Breaking the revenue, expenses, and balance sheet down like this is an attempt to provide a metric for comparing the companies.
The tightening of the belt is a good measure of efficiencies the companies have been able to achieve. While there can be multiple expenses that are registered each quarter the main expenses investors can expect to see are:
Voyage expenses
Vessel Operating expenses
Depreciation
General and Administrative expenses
Dry docking
Management fees

In order to focus on the operating expenses that are directly tied to the actual daily operations of the fleet, this article will focus on Voyage expenses, Vessel Operating Expenses, and General, Administrative, and Technical Management Fees. While depreciation is recorded as an expense, it is typically used to reduce the tax burden of the company and no cash is expended. Dry docking is required in the industry, and each ship will go through it, but the timing will change from quarter to quarter. Management fees will also depend on the structure and parent organizations. While those fees will take away from the bottom line, it's the actual management and operations of the fleet that I want to focus on.

The data used to compile the charts comes from the most recent Quarter, and only looks at that quarter. While some of the expenses will fluctuate from quarter to quarter, all shippers will be subject to bunker fuel rates, weather delays, and repairs needed that will affect expenses.
The fees the companies will log are also tied to how the fleet is managed. The two means most companies use are either Voyage Charter or Time Charter.
Voyage Charter: In a Voyage Charter a company hires a shipper to move its product from one location to another. The charterer pays the shipper on a per-ton basis and the shipper pays the port costs, fuel costs and crew costs. Because most of the dry bulkers are moving iron ore and coal, the voyages are typically one way. So a shipper will move a load from Australia to China, but have to return empty on their dime.
Time Charter: In a time charter the ship is chartered for a specific period of time and the charterer will decide the ports and routes. The charterer will pay for all fuel, port charges, commissions, and a daily hire to the owner of the vessel.
Historically, placing ships on the time charter rate has been more profitable, especially when rates have been up in the $40,000 per day range. Industry experts are predicting a pickup in these rates in the next 6-12 months, and many of the drybulk shippers are timing their charters to expire over the next 6-24 months in order to be able to maximize their exposure to the higher rates.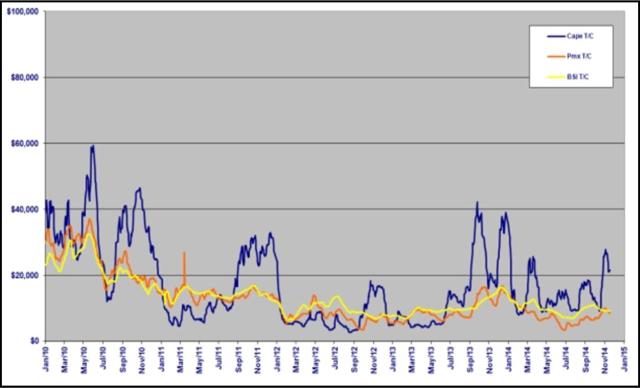 Voyage expenses
Voyage expenses are all expenses unique to a particular voyage, including bunker fuel expenses, port fees, cargo loading and unloading expenses, canal tolls, agency fees and commissions. When a company operates their ships in the voyage charter spot market, the company is responsible for all voyage expenses as opposed to spot market-related time charters in which a company is not responsible for voyage expenses.
Vessel operating expenses
Vessel operating expenses includes crew costs, provisions, deck and engine stores, lubricating oil, insurance, maintenance and repairs and management fees. Under both types of charters the company will be responsible for these costs.
General and Administrative Expenses
General and administrative expenses include onshore vessel administration related expenses such as legal and professional expenses and administrative and other expenses including payroll, office rent and expenses, directors' fees, and directors and officers insurance. General and administrative expenses also include non-cash compensation expenses.
Comparison
When the costs are broken down for comparison, it becomes evident which companies are predominantly using the Voyage Charters and which are using Time Charters. Those with higher Voyage Expenses are predominantly using Voyage Charters and having to pay for their own fuel and port charges. Those with lower Voyage Expenses are predominantly entered into Time Charters and the company they have chartered the Ship to will pay for those Fuel and Port charges.

Moving forward, with the price of bunker fuel falling, it will likely be more profitable for those companies to pocket the savings from falling fuel rates than pass them on to another company.
BALT, NMM, and SB all had the lowest Voyage Expenses, and posted similar numbers last quarter on a per DWT basis. NM had by far the highest Voyage Expenses, followed by DRYS and VLCCF. Again, the use of Voyage Charters will likely pay off in Revenue improvements next quarter with the fall in Bunker Fuel prices.
Operating expenses came in with tighter Operating Expenses per ship, with the exception of NMM. Across the group, expenses per ship came in between $400K and $650K. On a per DWT basis, the numbers came in between $2.85 and $8.40.
With the exception of NMM, SB had the lowest expenses per ship and VLCCF had the lowest per DWT. In comparison, SB had an identical average per ship last quarter, but SBLK had a lower average per ship at just over $236K.
With General and Admin Expenses, VLCCF came in the lowest per Ship and per DWT with an average of $41K per Ship and $.23 per DWT. After that were SB and NMM. On the other end is DRYS with an average of just under $1M per ship and $8.68 per DWT.
Conclusion
When looking at Expenses, BALT and SB have trimmed the outflow of money down through chartering arrangements and improved efficiencies. While the strategy has worked well in the past, those companies with Voyage Charters will likely see higher profits this quarter. NM and DRYS had the highest expense levels. Expenses paint one side of the story of a company's performance, and investments should not be based solely on how much a company spends.
Disclosure: The author has no positions in any stocks mentioned, and no plans to initiate any positions within the next 72 hours. The author wrote this article themselves, and it expresses their own opinions. The author is not receiving compensation for it (other than from Seeking Alpha). The author has no business relationship with any company whose stock is mentioned in this article.
Editor's Note: This article covers one or more microcap stocks. Please be aware of the risks associated with these stocks.