With the wide sell-off in oil, investors and companies alike are unsure of the future of oil's price in 2015. Accordingly, the high-yield energy market has been under pressure as well as the capital expenditure plans of numerous oil and gas companies.
Brent has sold off from $110 per barrel in July to under $60, and WTI has decreased from $100 per barrel in July to under $55. The price continues to break levels of resistance with some analysts predicting the price to be in the $50s and possibly even $40 per barrel range.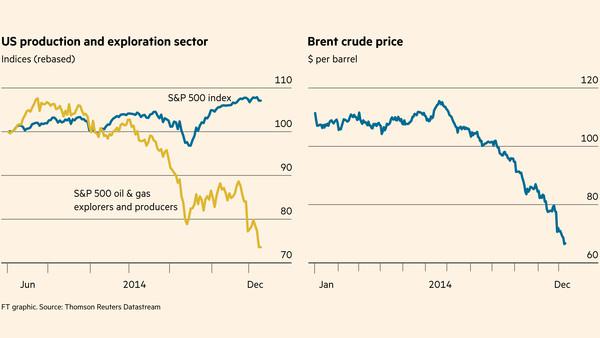 Credit Markets
The rapidly decreasing price of crude led investors to scrutinize 25CMBS (commercial mortgage-backed security) pools worth $251 million on properties in the Bakken formation of North Dakota (Source: Financial Times). The sliding price of oil is pressuring shale producers to deal with the possibility of less capital expenditure, lower production levels, involuntary asset sales, and even bankruptcy. With no clear signal of a floor in oil prices, portfolio managers are reducing their exposure to energy companies in the $1.3 trillion US market for junk-rated debt, of which energy accounts for approximately 16% of the market. Junk-rated debt in the energy sector has returned -5.27% this year versus a 3.08% return for the Bank of America Merrill Lynch US High Yield Index (Source: Financial Times).
Distressed Debt Opportunities
Moreover, Marty Fridson, chief investment officer at Lehmann, Livian, Fridson Advisors said 18% of the energy sector bonds in the overall Bank of America Merrill Lynch US High Yield Index are already distressed. Accordingly, the market believes the energy industry will have a 5.39% default rate versus the total high-yield sector default rate of 2.64%. Additionally, Fridson said 33% of the bonds in the more specific Bank of America Merrill Lynch US high-yield energy index were distressed, up 15% from two years ago.
Impact of Debt
If US crude prices averaged around $70/barrel in 2015 EOG Resources (NYSE:EOG) and Anadarko Petroleum (NYSE:APC) would have net debt to EBITDA ratios of 0.97 and 0.99 respectively (Source: Tudor Pickering Holt). Larger companies such as Marathon Oil (NYSE:MRO), Apache (NYSE:APA), Devon Energy (NYSE:DVN), and Chesapeake (NYSE:CHK) would also have relatively manageable debt loads.
However, companies such as Laredo Petroleum (NYSE:LPI), SandRidge Energy (NYSE:SD) (if interested, please see my further analysis), and Range Resources (NYSE:RRC) would have debt to EBITDA ratios of around 4x. Meanwhile, Ultra Petroleum (NASDAQ:UPL) (if interested, please see my further analysis), Exco Resources (NYSE:XCO), Goodrich Petroleum (NYSEMKT:GDP), and Halcon Resources (NYSE:HK) would have debt/EBITDA ratios greater than 4x (Source: Tudor Pickering Holt). Any solid US shale assets owned by companies that cannot afford to develop the well are most likely to be acquired by financially stronger companies, such as EOG Resources and Devon Energy.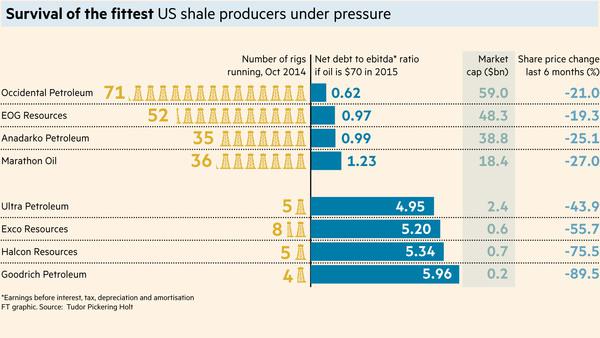 Decreased Capex in US Shale Industry
On December 8, 2014, ConocoPhillips (NYSE:COP), the world's largest exploration and production company based on production and proved reserves, announced plans to reduce its capital budget to $13.5 billion, a 20% decrease from 2014 (Source: ConocoPhillips). The capex plans includes approximately $1.9 billion in base maintenance and corporate expenditures with lower spending in several producing assets. COP's development drilling programs will allocate $1.5 billion less in 2015, deferring substantial investment in unconventional North American plays, including the Permian, Niobrara, Montney and Duvernay. ConocoPhillips will also significantly reduce spending at the APLNG and Surmont Phase 2 projects as well slightly decreasing spending on exploration and appraisal programs. For more info please see another article by Casey Hoerth
Baker Hughes (BHI) also showed that the number of rigs drilling for oil in the Eagle Ford shale play fell by 16 rigs to 190 in October 2014. Meanwhile, in the North Dakota plays, the rig count fell by 10 to 188. Additionally, the number of new permits issued to drill wells fell approximately 30% in both the Eagle Ford and Bakken areas from October to November (Source: Drilinginfo).
Lower Capex Worldwide
Large oil and gas companies are questioning high cost energy projects with break-even prices per barrel above the current market price of oil. These projects include Shah Deniz 2 in Azerbaijan, Kaombo in Angola, Carmon Creek in Canada, and Gorgon in Australia. "Shell CEO Ben van Beurden said early this year that its big expensive projects made it too 'convoluted' for the company to give public forecasts of production or cash flow," (Source: Wall Street Journal). Royal Dutch Shell (RDS) decided not to pursue a U.S. facility to convert natural gas into LNG, as well as not pursue a natural gas project in Saudi Arabia.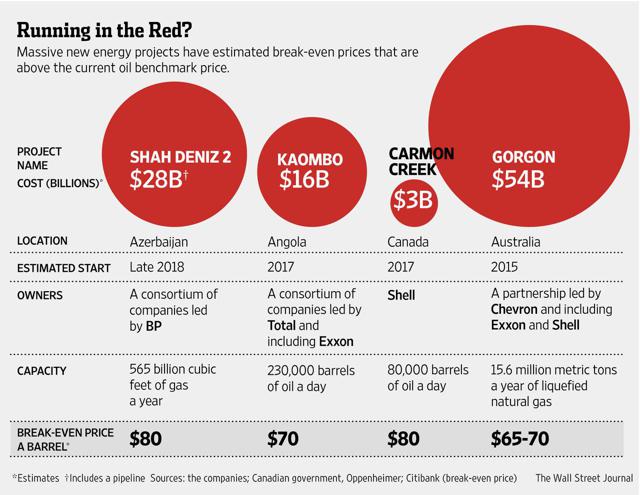 Due to the dramatic slide in oil prices, companies are hesitant to invest $930 billion on future energy projects with crude near $60 per barrel (Source: Goldman Sachs). For instance, based on $70 oil, fields accounting for 2.3 million barrels/day of output by 2020, and 7.5 million barrels/day have become uneconomical (excluding US shale). Areas with high break-even prices such as Canada's oil sands could lead to asset sales and project delays. Woods Mackenzie believes the energy industry could see reductions up to $250 billion annually by 2018, as projects that worked at $80-$90 are no longer feasible.
Disclosure: The author has no positions in any stocks mentioned, and no plans to initiate any positions within the next 72 hours.
The author wrote this article themselves, and it expresses their own opinions. The author is not receiving compensation for it (other than from Seeking Alpha). The author has no business relationship with any company whose stock is mentioned in this article.