Markets are trading higher today as we await the latest Fed statement and Janet Yellen's press conference later this afternoon. One has to believe that the Federal Reserve will look to reverse course with its recent statements where it made obvious to investors that it was looking to be more hawkish than dovish. A lot has changed in the last month or so and being the one bright spot in a poor global economy hardly justifies rate hikes and hawkish talk. While it is hard to imagine that they openly discuss the possibility of moving out the potential rate hike date, but expect Chairman Yellen to stress that the Fed is dependent upon the data and that they will act according to the data.
There are a number of travel related stocks rallying today on news that President Obama is looking at easing the US embargo on Cuba and trying to normalize relations.
Chart of the Day:
The flight to safety continues as various regions and countries experience economic problems. Falling oil prices are at the forefront right now but countries like China are still facing strong headwinds, even though their stock markets say otherwise. The US Treasury market is where capital hides in troubling times and that has played out once again over the past week.
Even though volatility is not at or near 52-week highs, US Treasuries are and this is a result of problems overseas.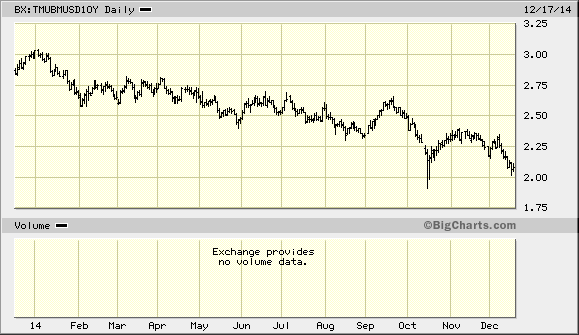 Source: BigCharts
We have economic news today, and it is as follows:
MBA Mortgage Index (7:00 a.m. EST): Est.: N/A Act.: -3.3%
CPI (8:30 a.m. EST): Est.: -0.1% Act.: -0.3%
Core CPI (8:30 a.m. EST): Est.: 0.1% Act.: 0.1%
Current Acct Bal (8:30 a.m. EST): Est.: -$95.0 B Act.:-$100.3 B
Crude Inventories (10:30 a.m. EST): Est.: N/A Act.: -0.847 M
FOMC Rate Decision (2:00 p.m. EST): Est.: 0.25%
The Asian markets are higher today:
All Ordinaries - up 0.18%
Shanghai Composite - up 1.28%
Nikkei 225 - up 0.38%
NZSE 50 - up 0.02%
Seoul Composite - down 0.21%
In Europe, the markets are mixed this morning:
CAC 40 - up 0.74%
DAX - down 0.03%
FTSE 100 - up 0.19%
OSE - down 0.52%
Ruble Impacting International Business
The rapid fall of the Russian Ruble is once again impacting companies with international operations. The latest company taking action to review their pricing is Apple (NASDAQ:AAPL), which announced that it was halting sales from its Russian online store as it reviews pricing in the country. This is not the first time that the tech giant has closed its site to sales in Russia, with the last time being just a month ago. The company raised prices by 25% after that review, and based on the recent price action with the Ruble we suspect that another dramatic move will be necessary.
Amazon Spin-off(s)?!?!
As analysts and research/consulting groups begin to post their predictions for 2015 we are beginning to see some truly interesting ideas, many of which appear to be pipe dreams. For instance, The Edge Consulting Group, as reported by CNBC, is predicting that Amazon.com (NASDAQ:AMZN) will spin off its Amazon Web Services unit into a standalone business. While the argument for doing so is solid and makes a lot of sense when looking at Amazon as a retailer it makes less sense when viewing Amazon as a technology company along the lines of Apple or Google (NASDAQ:GOOG) (NASDAQ:GOOGL).
Yes higher margin businesses are worth more as standalone ventures than they are when grouped with low margin businesses, but when those services are part of an ecosystem we see little reason why a management team would want to separate that key service by putting it into a new publicly traded company and losing control over a key function.
No one would think of asking Google or Apple to create a REIT to hold their data center assets in, even though that would create tremendous shareholder value and most likely boost shareholder returns, because it is important for those companies to maintain customer confidence in their ecosystem. We think the same applies to Amazon Web Services, both from a customer perspective as well as a shareholder perspective (in that the rich margins here allow the company to operate with razor thin margins elsewhere).
More Problems On The SEAS
Investors in SeaWorld (NYSE:SEAS) received more bad news yesterday after the company announced that it was going to delay its quarterly dividend until 2015 in order to avoid debt covenants. Due to this, the company decided to start the share buyback program due to start in 2015 now, but only in the amount of $15 million for the rest of 2014. The remainder, $235 million, will be available starting in 2015.
SeaWorld also announced that they would be taking a $12 million charge resulting from the company's plans to eliminate 300 jobs.
Disclosure: The author has no positions in any stocks mentioned, and no plans to initiate any positions within the next 72 hours.
The author wrote this article themselves, and it expresses their own opinions. The author is not receiving compensation for it (other than from Seeking Alpha). The author has no business relationship with any company whose stock is mentioned in this article.