This article is the second in a series about stocks that don't pass my sniff test. Avis Budget (Nasdaq: CAR) was the first, Big Lots (NYSE: BIG) is second. Both companies are struggling to find a way to find a way to grow sales without hurting future growth.
Big Lots, like Conn's (NASDAQ: CONN), provides credit options to its customers with poor credit in order to purchase large ticket items. Conn's is paying for that poor strategy now with its earnings -- SeekingAlpha contributor Amit Chokshi called attention to the issue last year in the article Frothy Finance Makes Conn's Inc. An Attractive Short. Both Conn's and Big Lots are employing the same strategy to grow revenues through credit sales, but Big Lots is just getting started.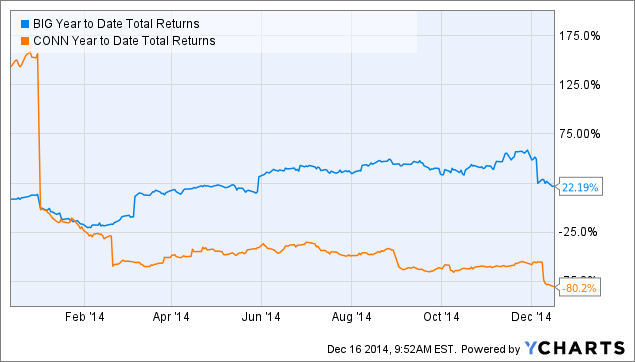 Background
In the first half of the year Wal-Mart (NYSE: WMT) reported Q1 same-store sales of -0.1%, and Target (NYSE: TGT) reported Q1 same-store sales of -0.3%. In fact, most discount retailers were struggling, but Conn's reported same-store sales growth of 15.2%. The increase, according to Conn's, was driven by furniture and mattress sales, which grew 65%. The growth strategy was simple, provide in-house financing to low-income customers for big ticket items. What could possibly go wrong with that?
On December 9, the Chief Financial Officer Brian Taylor stepped down and the company announced plans to restructure due to losses from its credit financing program. Those losses caused the company to grossly miss bottom-line estimates. Even though Conn's stock was halted it dropped 29% in pre-market trading. Now the company is being investigated by a slew of law firms for potential violations of federal securities laws.
On December 5, four days before Conn's stock was halted, Big Lots announced a $.06 per share drop in earnings for Q3, but the company grew the Furniture and Home Decor segment by 10.2%. Big Lots credits the growth in furniture, which represents 25% of revenues, with the implementation of the new "easy credit program".
"Easy Credit" Program: Big Lots vs Conn's
Big Lots' credit program was first announced in Q4 of last year by the CEO. Here's an excerpt from that announcement:
As we look to 2014, the business will be engaged in rolling out [a] furniture financing program to a majority of our stores. We have tested this concept for six months now and have consistently experienced high single to low double-digit increases in furniture sales at the store level.
The strategy delivered the company into positive comp territory for the first time in 8 quarters as shown in the chart below.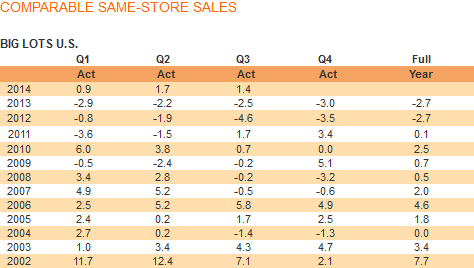 Source: Big Lot's
Unlike Conn's, Big Lots uses a third party to handle credit sales. The third party buys the merchandise from Big Lots so there's no recourse, no liability. It's a brilliant move on Big Lots' part. Without the "easy leasing" program, as it was referred to on the last earnings call, it's doubtful the company would have made positive comps this quarter. So, who is the third party that's willing to take on all the risk in this transaction? Progressive Financial facilitates Big Lots' credit program.
Progressive Financial is the leading "no credit" consumer financing company in the U.S. Here's an excerpt from the company's website:
Progressive has helped thousands of Retail Stores & Merchants service their customers for over 12 years. In today's economic times, it has become more difficult for consumers to obtain financing. Consumers are finding that banks have tightened their lending standards and reduced their credit limits. In many cases consumers with good credit are being turned down.

We offer a lease/purchase program to customers that currently cannot qualify for traditional financing. With over an 80% approval rate, our services have enabled over 9,500 retail stores to widen their customer base and increase their sales.
In April, Progressive was purchased by a rival in the furniture leasing business -- Aaron's Inc (NYSE: AAN) -- for $700 million. Apparently, the real company on the hook should issues in the credit portfolio emerge is Aaron's. Either way, Big Lots relies on the easy credit program provided by Progressive for growth. I'll discuss more about the effect Progressive Financial is having on Aaron's in my next article.
Cash Flow
In addition to growth concerns there are some issues with cash flow. In Q2, Big Lots initiated a dividend of $.17 per share. The cost to the company was just shy of $19 million over the first nine months of the year. In March, the company announced a new share repurchase program. YTD the company has purchased 5.9 million shares for a total cost of $239.8 million. That's a total of ~$260 million in cash.
Big Lots made $62 million in cash flow from operations in Q3, but that was offset by $75 million in capital expenditures. As a result, both the dividend and stock buyback were financed under the revolving line of credit, and cash flow from financing, represented by the red line below, grows increasingly negative.
Bottom-line
Kudos to the management team at BIG for using a third-party to handle its credit program. The good news is that Big Lots' will not be responsible for any losses should they occur. The bad news is that if anything happens to the credit program or causes Progressive to tighten its credit policies, Big Lots' top-line growth will decline because the easy credit program is the company's primary source of growth.
While Big Lots isn't directly responsible for losses incurred, those losses may indirectly have an effect on future cash flow if they lead to tighter credit policies. Management is also concerned; buying back shares with borrowed funds is a deflection. Additionally, a growing use of cash flow from financing may become a problem in 2015. Steer clear of BIG until management can figure out a way to structurally mitigate these risks without compromising future earnings.
Disclosure: The author has no positions in any stocks mentioned, and no plans to initiate any positions within the next 72 hours.
The author wrote this article themselves, and it expresses their own opinions. The author is not receiving compensation for it (other than from Seeking Alpha). The author has no business relationship with any company whose stock is mentioned in this article.