Blue chip equities are often priced for perfection. Indeed, most income investors automatically commit their investment funds to blue chip stocks. This can be a mistake since in some cases, blue chip equities offer lower dividend yields than those available via same company debt issues. We examine a few debt offerings that permit income investors to earn comparable yields with blue chip bonds and preferred shares.

AT&T (NYSE:T)
Background
AT&T is currently a holding company. AT&T has four core business segments: wireless, wireline, AT&T U-Verse TV, and advertising solutions.

Current Dividend
As the chart below indicates (), AT&T's dividend has been growing less than 5% per year. This lack of dividend growth does not bode well for investors who seek a growing income stream. AT&T pays a 57-cent quarterly dividend. This equates to a 5.6% annual dividend yield. The yield does not warrant purchasing this equity. The company is burdened with a heavy debt load. Investors should seek income from AT&T debt offerings or preferred shares.

I recommend purchasing an AT&T instrument which will provide a similar rate of return to the AT&T common dividend. For example, the AT&T Inc., 6.375% Senior Notes due 2/15/2056, cusip: 00211G208, offers a coupon rate 6.38% yield on a $25 share price. T currently trades at $26.68, and offers a 5.9% yield. There is always, if legally stated, risk of a callable bond or preferred share being called in early by the company. A bond or preferred share typically offers more safety than a common equity.

Stock Valuation
AT&T has a 35% long-term debt load. This is a significant debt load in the world of changing communication. AT&T is adept, however, at changing their key business model. Witness the recent T-Mobile USA (OTCQX:DTEGF) proposed purchase for $39-billion in stock and cash.

The stock trades at a 2011 price-to-earnings (P/E) multiple of 13. The stock is trading at $31.11 and is expected to have earnings-per-share (NYSEARCA:EPS) of $2.35 in 2011. The stock's P/E multiple is greater than the expected increase in AT&T's revenue and income.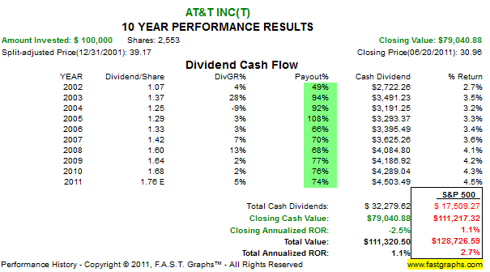 Coca-Cola Company (NYSE:KO)
Background
Coca-Cola Company is the world's largest beverage business enterprise. The company markets over 500-brands through independent bottlers and company-owned bottlers. 70% of sales are outside the United States.

Current Dividend
The company pays 3 dividends per year. The net 2011 dividend is expected to be $1.88. This 2.8% dividend yield is secure, and likely to increase in upcoming years.

My preference is to purchase cusip 191216AM2. The face value coupon rate was offered at 4.875%, maturity date of 03/15/2019, and currently trading at $112.075. The yield is 3.104%. The yield is similar to the dividend and offers an extra level of security within one's portfolio.

Stock Valuation
The stock is trading near 52-week highs. The stock is trading at $66.26 with an annual dividend of $1.88. The market cap is $150-billion. Warren Buffett's Berkshire Hathaway owns a 8.7% position in KO. Click to enlarge: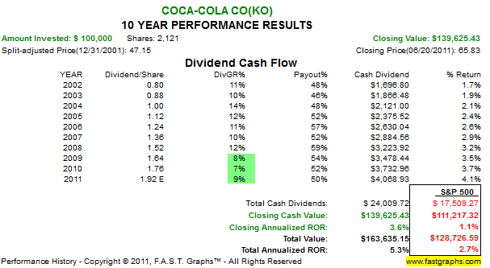 Southern Company (NYSE:SO)
Background
The Southern Company has four subsidiaries which provide electricity to 4.4 million customers. The area of business is in Georgia, Alabama, Florida, and Mississippi. Southern Company is a popular dividend stock held by many income investors.

Current Dividend
Southern's 2011 dividend is expected to be $1.87 for 2011. This equates to a 4.7% annual dividend yield. Southern has nuclear operations, and investors should seek higher safety in utilities associated with nuclear exposure. This is even more the case after witnessing the draconian impacts caused in Japan's nuclear accident.

My recommendation is to invest in a bond, such as a cusip 842587CE5. The coupon rate is 4.150, maturity date of 05/15/2014, and trading at 106.790 on June 20th. I previously owned a couple of U.S. utility companies who declared bankruptcy due to nuclear cost overruns. If given a choice, my preference is to invest in the bonds of a utility with zero nuclear exposure.

Stock Valuation
The stock is trading at $39.86. The stock has a market cap of $33-billion. The stock's EPS and dividend growth rate are expected to continue at less than 5% per year. History, per the below chart (), has shown us the lack of SO dividend growth in the past 10-years. The stock is expected to earn $2.70 in 2011. This equates to a 14.7 price-to-earnings multiple. Based upon SO's growth, this is a fairly rich P/E multiple.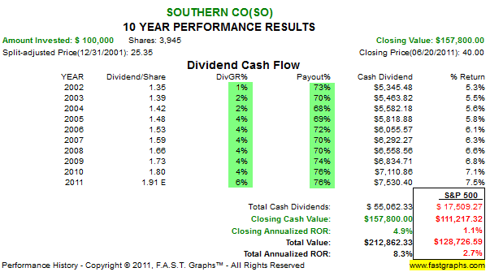 Verizon Communications (NYSE:VZ)
Background
Verizon is a premiere communication player. They recently received positive publicity when they were allowed to sell Apple's (NASDAQ:AAPL) popular iPhone. AT&T previously held an exclusive contract on iPhone sales. Verizon was created with the merger of Bell Atlantic and GTE in 2000.

Current Dividend
I recommend investors consider moving into the Verizon bond offerings for safety. The current dividend payout is running at a very high percentage. An example is bond cusip 92343VAC8. This bond has a coupon rate of 5.550 and a maturity date of 02/15/2016. The bond traded at 113.689 on June 21st.

Stock Valuation
Verizon trades at $35.99 per share. The market cap is $100-billion. The dividend growth rate has remained in the single digits for the past 10-years. Verizon has paid a higher percentage, per the below chart (), of earnings to meet its dividend commitment. Verizon is expected to earn $1.95 in 2011. This equates to a 15 price-to-earnings multiple.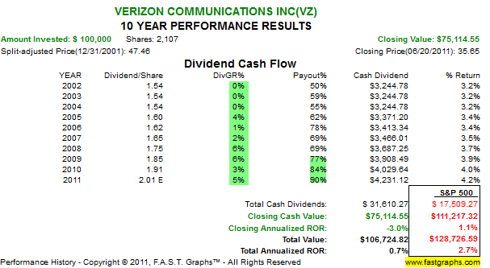 Wells Fargo & Company (NYSE:WFC)
Background
WFC went through the banking crisis in the 2008-2009 time frame. The stock dipped as low as $8 during this volatile time period. WFC owns Wachovia which makes WFC one of the larger financial market cap companies at $150-billion.

Current Dividend
WFC currently provides a 12-cents a quarter dividend. This equates to a 48-cents per annum dividend. This represents less than a 2% dividend yield.

I recommend income investors consider the cusip 94980VAE8 as an alternative. The Wells Fargo 5.750% security has a maturity date of 05/16/2016 and is not callable. The bond traded, on June 21st, at 111.531 for an effective yield of 3.186%.

Stock Valuation
WFC currently trades at $27.46. 2011 earnings-per-share are anticipated to be $2.85. This equates to a 9.63 P/E multiple. The stock has $30-billion in debt. Click to enlarge: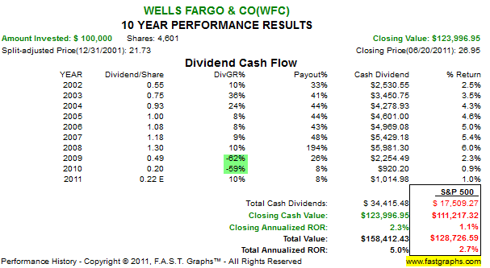 Disclosure: I have no positions in any stocks mentioned, and no plans to initiate any positions within the next 72 hours.