A significant near term catalyst is likely to bring about a volatile swing one way or the other on the stock of Impax Laboratories (NASDAQ:IPXL). On January 9, 2015, Impax will hear what they hope will be an approval from the Food and Drug Administration (FDA) on their New Drug Application (NDA) for Rytary, a Parkinson's therapy, that has been held in limbo for 3 years. Also pending at the FDA are 23 other Impax drug applications. The company has been attempting to satisfy the FDA ever since it received a warning letter dated May 31, 2011 following an inspection of its Hayward, California plant. The ragged, gappy appearance of Impax's 5 year stock chart is due in large measure to this back and forth interaction with the FDA. The Deviations from current Good Manufacturing Practice ((cGMP)) cited by the FDA related to sampling and testing of in-process materials and drug products, production records and the process for investigating failures of certain manufacturing batches, according to the company. Impax now plans, once approved, to manufacture Rytary, both U.S. and Ex-U.S. at its Taiwan facility. During the later part of July, 2014, the Hayward plant was re-inspected and the Taiwan plant inspected as well. The results failed to satisfy either the FDA or the market. After the announcements were made, Impax stock dropped over 14% in a single day. Nevertheless, the company is spending $25 to $28 million dollars this year on consulting fees in order to support remediation efforts and to overcome the problems. It has been sending monthly progress reports to the FDA and believes it has now overcome all manufacturing related issues that might hinder the Rytary approval. Recently, optimism has built some momentum behind the stock. However, short interest has been building as well. Over the past 3 months, short interest has increased 33.96%., while the company's short interest ratio was reported as of December 1st at 12.84.
(click to enlarge)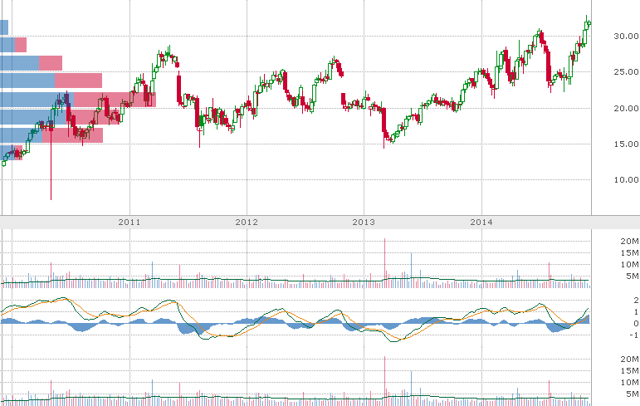 Marketwatch.Com
Impax has a business model that includes both generic and branded drugs. In its last annual report, the generics side, called Global Pharmaceuticals generated revenues of about $398 million vs the branded Impax Pharmaceuticals $113 million. Revenue from the branded side comes largely from the sale and distribution of Zomig, a treatment for migraine headaches, under a licensing agreement with AstraZeneca (AZ). Income from operations was a negative $6.3 million although net income, due to legal settlements, came in at $101 million. Impax's 3 largest customers in 2013 represented 76% of gross revenues. Five products represented 46% of the company's Global Division sales and one product, Zomig, represented 100% of Impac Division sales.
Of course each trader has his own style, perspective and risk tolerance. Given the sensitivity of the Impax stock price to past FDA actions and the uncertainty associated with the projected January 9th, 2015 event, traders can either take a position now on one side or the other or they can develop a hedge.
Impax is likely to come out of this multiyear trial a stronger company. A new President and CEO, G. Frederick Wilkinson, has come in from outside, Activis Plc., and has taken over the reins from the founder, Larry Hsu, who continues on the board. By reexamining and modifying operational and business processes, Impax employees and executives have learned to better manage this growing pharmaceutical business. In this context, the January 9th review may be an historical milestone for Impax.
Disclosure: The author is long IPXL.
The author wrote this article themselves, and it expresses their own opinions. The author is not receiving compensation for it (other than from Seeking Alpha). The author has no business relationship with any company whose stock is mentioned in this article.