I recently discovered ZBB Energy Corporation (ZBB), a small renewable energy stock so oversold that it currently trades below net cash level, which is very unusual for a true American enterprise with a listing on the NYSE. I am a happy buyer at this unfair low valuation, and so are the insiders, who have been buying en masse lately. After all, if you want to consistently outperform the market, make sure you only buy stocks with clear asymmetrical risk vs. reward profiles. ZBB Energy still burns cash and operates at a loss, but I expect their strategy will translate to significant revenue growth and profitability in 2015. The global grid storage market is expected to rise from a mere $200 million to $10.4 billion in a couple of years, meaning that ZBB Energy's market opportunity will grow by over 7000%. With a market cap of only $17 million, this stock has the potential to quickly rise significantly higher, while the cash-rich balance sheet makes it hard to see any material downside risk in the near future.
Brief business overview
ZBB Energy produces and sells innovative renewable energy storage solutions and control platforms. Here's the clear advantage for customers: with their solutions, a company can save renewable energy output during peak production, to use it at a later time at their convenience. This is called 'variable power'. This feature is not possible with traditional forms of energy, like coal and gas. Renewable energy is inherently variable; wind speeds vary and the sun isn't always shining.
The demand for renewable energy is expected, although it can be a rocky road, to only grow strongly. What you need to know is that energy storage is probably the most important component of this massive multibillion dollar market. What's the use of generating variable energy if you can't store it? That's why ZBB Energy operates in the next areas of interest:
Micro-Grid: ZBB intelligent control and engineered storage platforms provide grid interactive (on grid) and grid independent energy to a variety of applications and markets domestic and abroad. Think emergency services, military bases, islands, mines, etc.
Off-Grid: You may be living 'on the grid', but not everybody is. More than a billion people worldwide (have to) live off the grid. That means they're not connected to any on the grid energy services, like electricity. ZBB Energy provides off-grid solutions, like this new GridStrong product they recently launched.
Commercial and industrial buildings: According to the company, people can eliminate or minimize the use of diesel generators for back-up power requirements with intelligent power integrated to leverage building management system technology to benefit both economically and ecologically. The company expects to unveil this new product suite in Q1 2015.
Strategic partnerships
ZBB Energy has multiple strategic partnerships in place, which I believe should create significant shareholder value in 2015 and beyond:
Partner nr 1: Cummins Crosspoint
ZBB Energy designs innovative power controls for Cummins Crosspoint for hybrid vehicle systems and provides the controls technology for their second generation hybrid motor vehicle systems.
Partner nr 2: Meineng Energy
ZBB has a joint venture with Meineng Energy, a provider of leading-edge energy storage systems and solutions to the greater China market. Just a few months back, Meineng received a $3.2 million cash investment from Shenzhen Oriental Fortune Capital in exchange for an 8% equity stake. A quick calculation reveals the JV is valued at $42 million. ZBB's indirect equity interest equals approximately 30%. Meineng offers ZBB an entry in the highly lucrative renewable energy market in China.
Partner nr 3: Lotte Chemical
ZBB Energy has a license agreement in place with a large chemical conglomerate called Lotte Chemical. The following information stems from a SEC filing: ZBB received a one-time $3 million license fee relating to its zinc-bromide flow batteries. ZBB also granted to Lotte an exclusive and royalty-free limited license to manufacture or sell a Zinc Bromide flow battery in Korea, a non-exclusive royalty-free limited license for Lotte to use the battery system internally in all locations other than China and Korea and a royalty-bearing limited license to sell the battery system in all locations other than China, the United States and Korea. An additional $1 million payment will also be made if certain performance milestones are successfully achieved. In addition, Lotte is required to make ongoing royalty payments to the company on Lotte's sales of the battery system outside of Korea until December 31, 2019. The royalty percentages are not disclosed but will be based on net sales.
The largest and most important project ZBB Energy is running is their 500-kilowatt hour project with Lotte. According to the CEO in the latest earnings transcript, this project is key because all of the product performance improvements and cost reductions that they have tested are being designed into this product, and these product capabilities will drive the majority of ZBB's grid storage revenue forecast. The milestones in this project are on track.
Partner nr 4: BPC Engineering
This is a Russian company, providing ZBB an entry into the Russian economy. This economy has a hard time nowadays, so I don't expect much from this deal in the near future. However, the Russian government has stated that they want to become less dependent on oil, thereby opening doors for opportunities in renewable energy. This should bode well in the longer term, and ZBB Energy could perhaps have themselves a first-mover advantage.
ZBB Energy is furthermore continuing to expand its strategic partnership and customer base. Last quarter for example, the University of Sydney got supplied with ZBB Energy's EnerSystem. Given how things are evolving and the abundance of opportunities ahead, I expect 2015 to be a very fruitful year.
Why is the share price at an all time low?
A look at the chart reveals that the share price has reached all time low territory.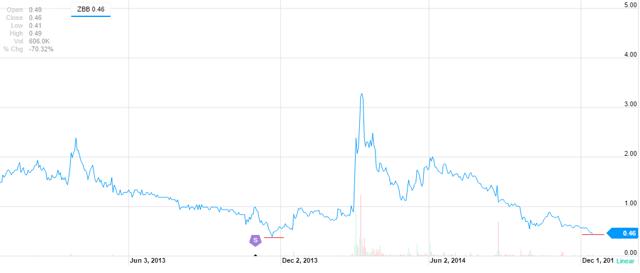 The stock just took out its former lows of last year. These prices are a far cry from historical prices. ZBB Energy is still for the most part a developmental stage company and slow market adoption and delays have disappointed investors so far. Add a yearly offering in the mix, and it's no wonder the share price has gotten so depressed. The most recent offering took place in August, causing the share price to tumble 20% in 1 day. On top of that, an energy panic (just watch the news) is hurting all energy stocks. Lastly, tax-loss selling, stop-losses and margin calls probably had a negative impact too. This stock has slid so much that the market cap has now dipped below net cash value.
ZBB Energy's financial condition
As of today, ZBB Energy has a net $19 million working capital at hand. They only have $2 million in long-term debt sitting on the balance sheet, and they have a joint venture with a Chinese company called Meineng Store Energy System. They also have valuable IP, which the market somehow values at 0. The company burns about $1 million per month (net loss is slightly lower), so they have sufficient cash to get them through the second quarter of the fiscal year 2016. Additional orders, of course, will only strengthen or lengthen the runway. 2014's annual revenue was $7.8 million, and net loss was $8.8 million.
Also, the outstanding warrants are priced much higher (at $1.88) than the current share price, so I don't expect any conversion capping the share price in case it takes off. ZBB Energy has a pretty clean share structure.
Inflection point of revenue growth could be near
The financial statements show revenue has been steadily growing over the past couple of years. This is interesting because ZBB Energy is still for the biggest part a developmental stage company. So far, the primary focus was on research & development, initiating partnerships, entering markets, etc. In other words, this technology has a long sales cycle. But I believe 2015 should be the year to ramp up commercialisation. The company has recently strengthened its sales force. The US federal government announced it will provide $4 billion in funds for all sorts of renewable energy projects, including grid storage. State governments like California and Hawaii are walking the same path; US states are large markets. With so many catalysts going for the company (new products, partnerships, new customers, government funding, etc.), 2015 could be the year for strong revenue growth. With strong revenue growth, the company is sure to reach the break-even point, and even profitability.
Valuation
Just based on a simple fundamental break-down, ZBB Energy is worth at least:
$19 million net cash + $12.6 million stake in JV with Meineng + $3.3 million backlog - $2 million long term debt = $33 million. This is almost 100% higher than today's market cap. But what about the value of the IP, equipment, partnerships, and other intangible assets? Although the company still operates at a loss, those assets have value too, but somehow it is not assigned any value by the market. But then again, I have seen extreme levels of mis-pricing before in the micro-cap space, and ZBB Energy could be another prime example of one.
If we take a price/sales multiple based approach, I believe in an accelerated growth of revenue as described in the paragraph above. With an annual revenue of $15 million and price/sales multiple of 3 (same as today), the market cap could approach $45 million, which equates to a 125% higher share price. Keep in mind that competitors like Redflow are valued much higher on a relative basis, so the upside could be bigger if Wall Street re-rates ZBB Energy to the average in the industry.
With 125% upside, and limited downside risk, ZBB Energy seems to me to be an excellent risk vs. reward opportunity.
The company CEO, Eric Apfelback recently stated:
We believe there are multiple opportunities in the near-term within the commercial and industrial and utilities markets, including behind-the-meter, microgrid power systems, and our GridStrong conservation voltage reduction application. We are also focused on international markets and island projects where energy storage has been more readily adopted, as well as working with our strategic partners to leverage potential sales channels and reduce product and manufacturing costs. We believe this sales strategy will ultimately bring our company to cash flow breakeven and profitability.
Strong insider buying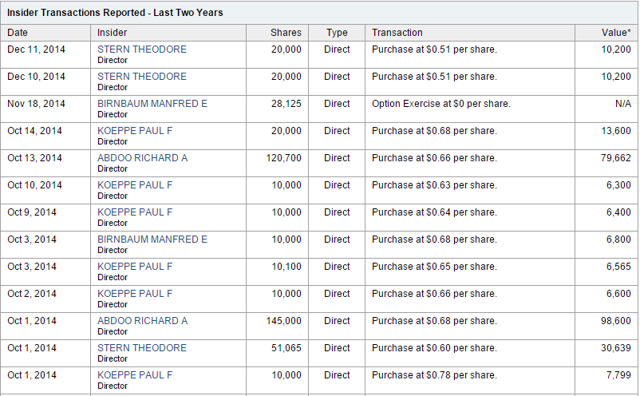 An overview of the risks
ZBB Energy is a volatile micro-cap so investors should bear in mind these risks:
First of all, ZBB Energy still burns cash and operates at a loss. They have never been profitable. Their products have a long sales cycle, and the company's life cycle is similar to a developmental stage company. Certain losses come first, any potential gains later. It's hard to predict if and when they will get profitable. It depends on whether the company is able to win new contracts or partnerships, and/or reduce costs.
Secondly, will management deliver? If they can't grow revenue, they will continue to burn cash. Dilution then becomes another inevitable occurrence, although I don't see any dilution risk in the short term. You should know that the company has a history of dilutive offerings.
Thirdly, specific market conditions, oil & energy, are pretty grim at the moment. As you know, energy stocks got hit hard the last months due to the crash in oil and related commodity prices. ZBB Energy's stock has clearly suffered too. But there is a contrarian view: if a crash already occurred, doesn't that then reduce market risk? It does for a big part in my view, but of course, the risk of continuing weakness remains on the table.
Lastly, ZBB Energy is not the only company focusing on grid storage. The only direct competition I know of is an Australian company called Redmond, but there are other companies out there with alternative products that could be a threat to ZBB. The risk is that ZBB Energy's technology becomes outdated, causing the business model to become less viable.
Please read all SEC filed risks here (scroll down to page 29 and 30).
Summary
ZBB Energy has an excellent risk vs. reward profile. I hardly see any material downside risk in the near future given the fact that the stock trades below net cash level, and far below book value. The energy sector as a whole may appear grim at the moment, but after a severe price drop, I hold the contrarian view. With so many positive developments going for the company - strategic partnerships, new products, new customers, government support and hyper growth in the renewable energy industry - I project a 125% upside for 2015.
Click here for full disclosure and disclaimer information.
Click here to join my free newsletter.
Disclosure: The author is long ZBB.
The author wrote this article themselves, and it expresses their own opinions. The author is not receiving compensation for it. The author has no business relationship with any company whose stock is mentioned in this article.
Editor's Note: This article covers one or more stocks trading at less than $1 per share and/or with less than a $100 million market cap. Please be aware of the risks associated with these stocks.