In 2004, James Surowiecki published a book entitled The Wisdom of Crowds: Why the Many Are Smarter Than the Few and How Collective Wisdom Shapes Business, Economies, Societies and Nations. The main thesis of the book is that aggregated information from a large group of individuals is often more accurate than that from any single expert.
Applied to investing, one reason it is difficult to beat indices over the long term is because the indices reflect "the wisdom of crowds" - the aggregated knowledge of millions of investors, each of whom contribute their small parcel of wisdom. On the other hand, Surowiecki cautioned that wisdom of the crowds fails in a number of situations. Often emotion and imitation can undermine an individual's independence, an attribute that is critical for crowd wisdom to succeed. Emotion and imitation are just two reasons that crowdsourcing might not be expected to work well for investing, since no investor is making decisions in a vacuum.
In 2011, Shawndra Hill (Wharton Business School) and Noah Ready-Campbell (Google) examined crowd sourcing in a paper entitled "Expert Stock Picker: The Wisdom of (Experts in) Crowds." Using data provided from Motley Fool, the authors found that "wisdom of the crowd" works to some extent in investing, but identifying a subset of experts within the crowd made performance much better.
The advantages of expertise in a crowd-sourced environment was further corroborated in a paper earlier this year that was highlighted in an article written by Seeking Alpha editor-in-chief Eli Hoffmann.
The summary bullet points of Eli's article are reproduced here:
A recent academic study, highlighted in today's WSJ, validates that crowd-sourced research is predictive of future stock prices.
SA articles and comments were predictive of future stock prices and earnings surprises over all time-frames studied, from one month to three years.
Traditional media, sell-side research, and other social platforms don't appear to have similar predictive value.
Thus, Seeking Alpha contributors and commenters ("experts") add predictive value that is not provided by other media.
Taking this one step further, Mike Nadel has constructed a "new nifty fifty" portfolio based on input from a select group of ten "expert" dividend growth investors, all of whom have been key contributors to the dividend growth investing community on Seeking Alpha.
It seems a logical next step would be to construct a Seeking Alpha crowd-sourced portfolio. We have little doubt that such an aggregation of knowledge would outperform the mainstream funds and indices. However, it would be a major effort to poll SA readers and effectively consolidate such knowledge into a portfolio.
Wisdom of Fund Managers
Instead of trying to tap into the wisdom of Seeking Alpha members, I decided on a more modest approach to leverage the wisdom of experts. In this article, I discuss the first steps in assembling a "Wisdom of Experts" portfolio, which includes 27 stocks selected from the top picks of the top fund managers.
For this exercise, I constrained the portfolio to large cap stocks that trade on US exchanges. A similar portfolio could also be constructed with a mid-cap and small-cap focus, but just a quick look through fund portfolios showed a much wider diversity of top selections for small and mid-cap companies than for large companies.
The basis for this work is 33 large cap mutual funds and ETFs that are rated by Morningstar as 5-star. For those not familiar with Morningstar ratings, the service evaluates funds on a number of performance and risk-based metrics and rates them on a scale of 1-star (lowest) to 5-star (highest). It is a backward-looking rating based on past returns vs. the fund's peer group. Approximately 10% of the funds evaluated receive a 5-star rating, so these are truly the best performing funds based on their recent historical performance. Morningstar has been providing this service for nearly 30 years and has become the go-to source for investors seeking the best mutual funds and ETFs.
The 33 funds used for this analysis are list below. They are all broad based large cap funds that are categorized as growth, blend, value, or conservative/moderate allocation. The performance of each fund year-to-date is provided in the last column and ranges from 1% to 17% with an average of 9%, just below the S&P 500 index return of 10%.
Morningstar 5-Star Large Cap US Equity Funds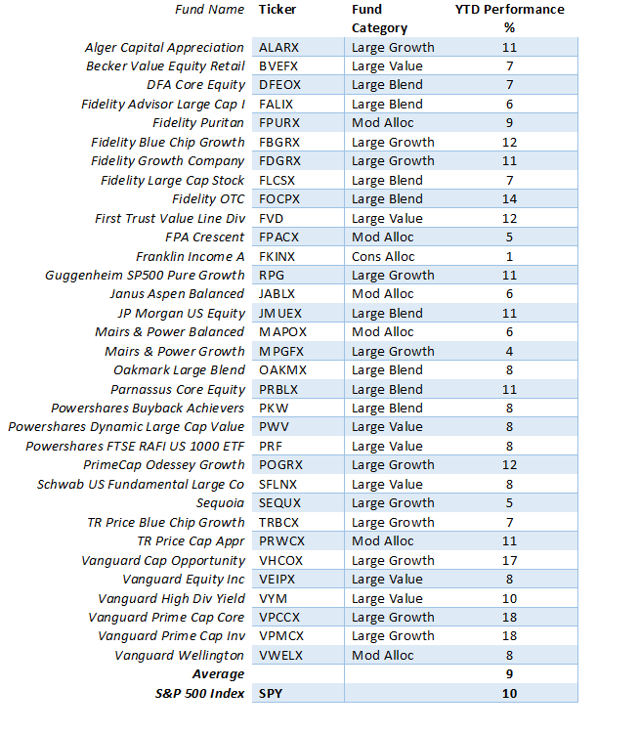 To build the "Wisdom of Experts" portfolio, we selected the top 10 holdings of each fund and scored as follows: 10 for the top holding, 9 for second, 8 for third, and so forth down to a 1 for the tenth company. We considered including a scoring element that took into account the weighting within a fund, but that added complexity and we could not see that it was adding any additional value.
In total, then, we had 10 x 33 = 330 selections that comprised about 75 different companies. We added up the scores and selected the top 27 for the "Wisdom of Experts" portfolio, which is shown in the Table below and includes each company's weighting, their year-to-date return, current annual dividend rate, and forward P/E based on 2015 earnings.
The weighting of each stock in the portfolio is a reflection of the scoring for each company. For example, the point total for the top 27 companies was 1129 and Apple scored 126, so they received a weighting of 126/1129 or 11.2%.
"Wisdom of Experts" Portfolio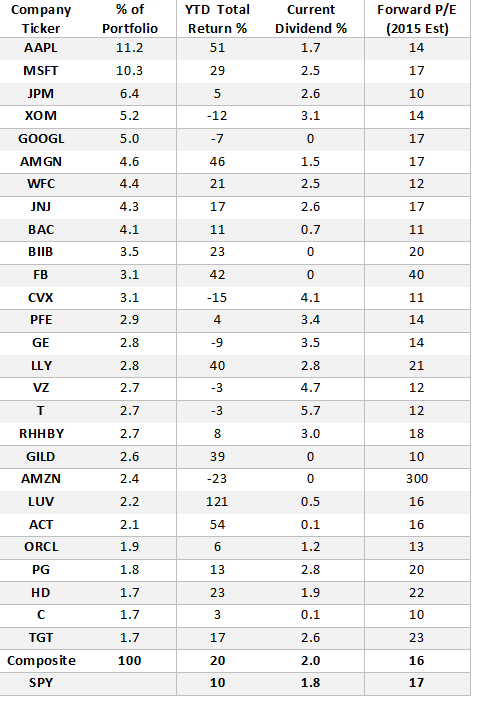 data as of 12/12/2014
Some Caveats
Before discussing the portfolio, we acknowledge a few concerns with constructing a portfolio is this way.
The data provided by the mutual fund companies are not real time, but are a retrospective look back at their holdings in the most recent quarter. For all we know, the funds could have made significant changes in their portfolios. We won't know until next quarter.
The data is backwards looking. Many of these companies have had a great 2014 but may have a tough time maintaining performance in 2015. We will buy or sell companies in our portfolio on a quarterly basis as fund holdings are released, but we are going to be a step behind the money managers who will be reacting to real time data.
The bull run for the stock market continued in 2014. The 33 top-rated funds may not fare so well in a downturn.
"Window dressing" is a common strategy by fund managers. In other words, they buy a company toward the end of the quarter that has done very well recently so it looks like they were smart in owning a top-performing stock.
The Portfolio - Performance
The third column of the portfolio above provides year-to-date total return for each company in the portfolio. At the bottom, we provide the composite data for the entire portfolio. The portfolio would have increased 20% for the year had it been assembled on January 1, 2014. This, of course, is an arbitrary time frame to measure performance, and we all know longer times are better barometers of performance, but we used this timing since we really do not know what companies were in these funds 5 years ago. Most of the funds likely had significant changes during the current year. We will be able to capture these changes (offset by a quarter) going forward and will get a much better idea of short-term, and ultimately long-term, performance of the portfolio.
Nonetheless, the performance for 2014 was impressive, up 20% as a composite vs 10% for the S&P 500 index, with data through Dec 12, 2014. What is perhaps more striking is the lackluster performance of these 5-star funds. The average year to date performance is 9%, which is very close to the 10% increase in the index. A few funds outperformed, but with 33 five-star funds to choose from, selecting an outperforming fund would have been difficult. In fact, the "Wisdom of Experts" portfolio would have outperformed all 33 funds had it been in place on the first day of this calendar year.
Sector weighting vs. S&P 500 (NYSEARCA:SPY)
Shown below is the sector weightings for the "Wisdom of Experts" portfolio vs the S&P 500 index. The portfolio is heavily weighted in technology and health care, both of which have done well this year and have thus contributed to the (retrospective) performance of the portfolio.
The Portfolio - Discussion
The portfolio consists of 27 companies instead of the target 25 since the bottom 3 all tied in the scoring.
The top 10 holdings in the fund represent 59% of the weighting. The top two holdings, Apple (NASDAQ:AAPL) and Microsoft (NASDAQ:MSFT), have had strong years and account for 8.7% of the 20% gain in the portfolio.
The portfolio has a good mix of value and growth companies, as well as a unique blend of conservative companies (JNJ, PG,T, WFC) along with quite a few bolder selections (AMZN, FB, LUV, BIIB). The forward P/E of 16 is similar to that of the S&P 500 index, again reflecting the balance of conservative low P/E names along with some higher beta growth stocks.
The best performing stock in the portfolio for the year is Southwest Airlines (NYSE:LUV) with an advance of 121% YTD. It may surprise some to see this company as a top holding in several funds, but the FastGraph chart for the past 10 years shows the tremendous growth of the company over the past 3 years. In this chart, the black line is the share price, the blue line the historical P/E for the stock, and the orange line is an anticipated P/E based on growth rate. At the bottom of the chart, the actual EPS through year 2013 is shown along with predictions for 2014 and 2015. The EPS growth rate is also provided. For LUV, EPS growth this year is estimated to be 75% and next, 38%. Thus, even with the doubling of the share price this year the P/E for next year is still a modest 16.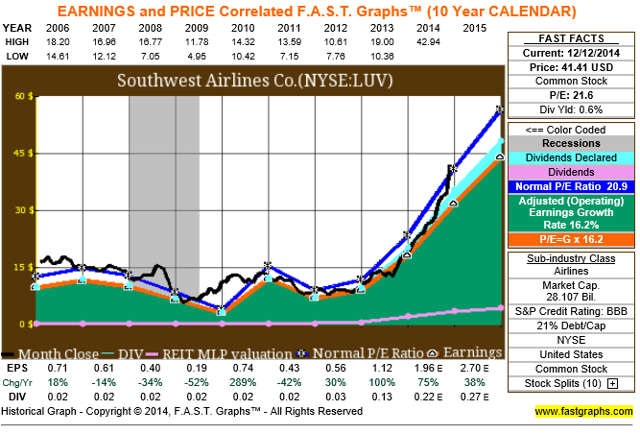 The worst performing member of the portfolio for the year is Amazon (NASDAQ:AMZN), down 23 % so far. With profits failing to materialize, investors are beginning to question the company's conquer-the-world strategy.
Technology
While the portfolio is over-weighted in technology, this is mostly due to the top 2 holdings in AAPL and MSFT, accounting for a portfolio weighting of 21%.
Sixteen of the 33 five-star funds include AAPL as a top 10 holding and 9 have the company as its highest weighted component. Based on an estimated EPS of $7.71 in 2015, the forward P/E is a reasonable 14 for a company that is expected to grow earnings by 20% next year. A FastGraph review of AAPL (below) indicates the company still trades well below its long term P/E of 23 (the top blue line). The main concern with AAPL is how to follow up the tremendous launch of the iPhone 6 that will begin to fade in 2015.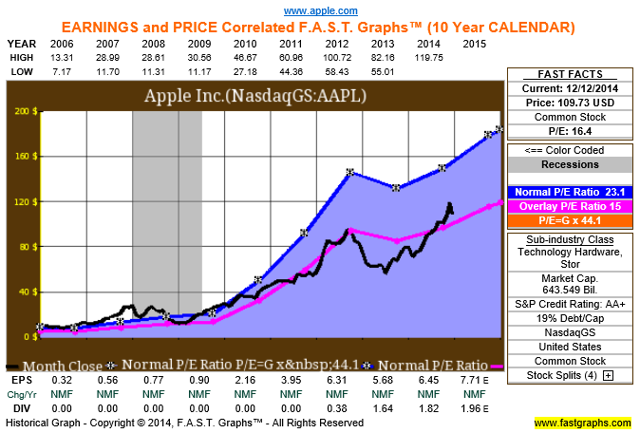 While it is not surprising to see AAPL as the most heavily weighted component of the portfolio, having MSFT as a strong second place is unexpected. MSFT was a top 10 holding in 16 of the 33 five-star funds and has been a stellar performer, with shares doubling over the past 2 years. The change in CEO (February 2014) has contributed to renewed confidence in the company's long-term prospects. With a forward P/E of 17 based on projected 2015 earnings and only a 5% increase in earnings expected for next year, MSFT is no longer cheap and is trading above its normal P/E ratio of 14.6 based on the FastGraph below ( the black line has moved above the blue line).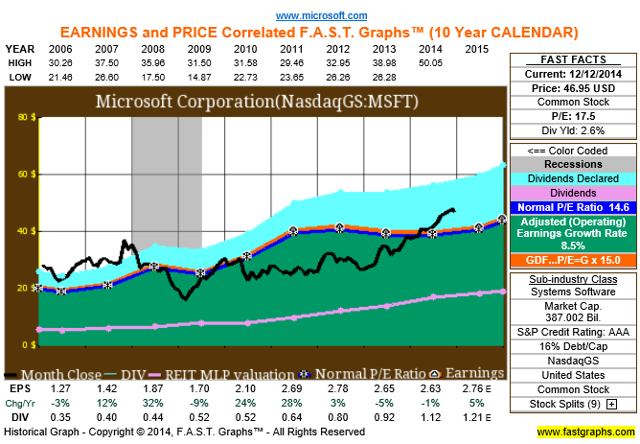 It may come as a surprise to some that Google (NASDAQ:GOOG)(NASDAQ:GOOGL) is down by 7% for the year. The company is expected to generate EPS of $26 this year and $30 next, which gives it a forward P/E of 17, an unusually low value for this company that continues to grow at double digits.
Healthcare
Healthcare contributed the most companies of any sector with 8.
Amgen (NASDAQ:AMGN) is the most heavily weighted at 4.6%. The share price of AMGN has doubled over the past 2 years and the stock now trades at a P/E of 17 based on 2015 expected earnings. With its PCSK9 drug for high cholesterol set to launch next year, along with a growing portfolio of cancer drugs (Kyprolis), and a significant player in biosimilars, AMGN should be able to continue to grow EPS by 10% per year for the foreseeable future.
Perhaps the most surprising healthcare pick is Eli Lilly (NYSE:LLY). Shares in this turnaround story have quietly increased 40% this year. Revenue and earnings are down sharply this year as the company works through the patent expiries of Cymbalta and Evista. On the brighter side, the R&D division is beginning to deliver, with its GLP-1 drug Trulicity approved this year. The approval of a generic version of Lantus (insulin) in Europe this year and expected approval in the US in 2016 should help grow future earnings. With a forward P/E of 21, LLY is now fully valued.
Gilead (NASDAQ:GILD) and Biogen Idec (NASDAQ:BIIB) represent the changing of the guard in big pharma. Both companies have had tremendous growth over the past few years, with GILD now among the largest pharmaceutical companies by market cap in the world. With a forward P/E of only 10, Wall Street remains concerned about the long-term revenue flow of Gilead's HCV franchise (Sovaldi and Harvoni), which will account for half of the company's revenue in 2014 and in the years to come. We would look for this company to move up in weighting in many of the top funds in 2015.
Biogen Idec is a leader in the treatment of multiple sclerosis, with 3 drugs on the market, Tecfidera, Avonex, and Tysabri. Tecfidera, which was just launched in 2013, is expected to generate nearly $3 billion in revenue this year. BIIB has a deep pipeline and recently released some preliminary, but encouraging, results for a potential treatment for Alzheimer's. The company has a forward 2015 P/E of 20, but with growth expected to remain at 20% for the next several years, BIIB should continue to be a top pharma performer.
Traditional pharma is still well-represented in the portfolio, with Johnson & Johnson (NYSE:JNJ), Pfizer (NYSE:PFE), and Roche Holdings (OTCQX:RHHBY) providing the conservative ballast for the portfolio.
Financial
Financials make up the 3rd largest sector of the portfolio at 17% by weight, which is similar to the weight in the S&P 500 of 15%.
It was somewhat of a surprise to see JPMorgan Chase (NYSE:JPM) as the top financial holding and overall #3 slot in weightings. JPM is a top 10 holding of 12 of the 33 five-star funds. This appears to be a value play as JPM is only trading at 10X next year's anticipated earnings and pays a reasonable dividend at 2.7%. Earnings are expected to grow 9% next year.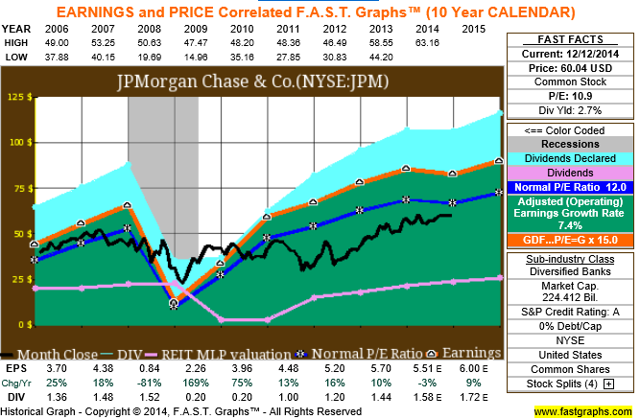 Wells Fargo (NYSE:WFC), Bank of America (NYSE:BAC) and Citigroup (NYSE:C) round out the financial sector. All have modest P/Es of 10-11 based on 2015 estimated EPS.
Energy
Two large integrated oil stocks are included in the portfolio, Exxon Mobil (NYSE:XOM) and Chevron (NYSE:CVX). Both are down for the year, with most of that coming in the 4th quarter with the dramatic drop in oil prices. XOM and CVX are dividend aristocrats, having increased their dividends for more than 25 years. Lower oil prices are expected to dampen earnings for the next year, with P/Es in the 14 range for XOM and 11 for CVX for 2015. It will be interesting to see how the funds adjust their energy holdings for the new year.
Summary
We do not want to draw too many conclusions from this exercise in developing a portfolio that encompasses the wisdom of experts. We will need to accumulate data over many years to determine if this approach can really outperform the indices. A 1-year retrospective analysis demonstrated that this approach could aggregate the top performing companies, but we all know that past performance is no predictor of future performance. In addition, we have not analyzed each fund to see what holdings they had at the beginning of the year and how their holdings changed during the year. Admittedly, these are all potential downsides for this analysis.
Nonetheless, tapping into the collective wisdom of the top-performing fund managers may be a way to build a portfolio that can beat the indices.
Since the portfolio is an agglomeration of the best ideas of 33 fund managers, it does not have a particular style. It is not defensive, nor aggressive, nor conservative. It is not a momentum play nor contrarian. It is eclectic and has a little of everything. This could be an advantage to avoid manager's biases.
We will update the portfolio on a quarterly basis as information on fund holdings become available. We appreciate any comments and criticisms, particularly in ways to improve the approach of leveraging the aggregate knowledge of experts.
Disclosure: The author is long AAPL, GILD, JNJ, CVX, GE, VZ.
The author wrote this article themselves, and it expresses their own opinions. The author is not receiving compensation for it (other than from Seeking Alpha). The author has no business relationship with any company whose stock is mentioned in this article.
Editor's Note: This article discusses one or more securities that do not trade on a major U.S. exchange. Please be aware of the risks associated with these stocks.