Overview
RSP Permian (NYSE:RSPP), which is an independent oil and natural gas company, is focused on the acquisition, exploration, development and production of unconventional oil and associated liquids-rich natural gas reserves in the Permian Basin of West Texas.
As of 3Q14, the company owned 46,738 net acres in the Permian Basin with proved reserves of 76.1mmboe. The company's proved reserves consist of 59% oil, 21% natural gas liquids and 20% natural gas.
From a production of 2,807boepd in 2011, RSP Permian's production has gradually increased to 11,217boepd in the third quarter of 2014. Further, the company exited 3Q14 with a production of 14,600boepd.
In the recent carnage among oil and gas stocks, RSP Permian has declined by 36.7% from a 2014 peak of $32.88 to current levels of $20.82. The stock has shown strong resilience on the back of quality assets, very low leverage, strong liquidity and steady production growth.
Talking about resilience, Laredo Petroleum (NYSE:LPI), another pure play Permian Basin player, has declined from a 2014 peak of $30.98 to current levels of $7.7. While Laredo Petroleum also is attractive at current levels, RSPP's resilience comes from the financial position and hedges to be discussed later in the article.
Strong Financial Position Has Prevented Further Downside
As of September 2014, RSP Permian had debt of $500 million, which is due in 2022. Further, a strong cash position of $151 million translates into a net debt of $349 million and a net debt to EBITDAX of 1.6 (based on 3Q14 annualized EBITDAX). Therefore, the company's leverage is low and there is no immediate term debt maturity.
From a liquidity perspective, RSP Permian has $151 in cash and $500 in undrawn credit facility. A total liquidity position of $651 million is robust for a company with a current market capitalization of just $1.6 billion.
For the first nine months of 2014, RSP Permian had a capital expenditure (including acquisition of properties) of $652 million. As oil prices decline, the company's capital expenditure is likely to be lower in 2015. However, the key point is that the company's capital expenditures will be within the current liquidity position of $651 million.
More Acquisitions Coming In 2015
Another important point that I want to add is that RSP Permian closed acquisitions worth $257 million in the third quarter of 2014. The company's growth strategy is primarily through the acquisition of acreage in the Permian Basin. With $651 million in liquidity, I believe that RSP Permian will continue to acquire assets in 2015.
The steep decline in oil prices will result in mergers, acquisitions and disposal of assets by over-leveraged companies. The acquisition of Talisman Energy (NYSE:TLM) by Repsol (OTCQX:REPYY) is an indication of the trend I'm talking about.
RSP Permian is well positioned from a leverage and liquidity perspective to be a potential acquirer and in uncertain times the company can potentially get assets at throwaway prices. I wrote earlier on why the Talisman Energy acquisition by Repsol was at very attractive valuations from the buyers' perspective.
Robust Production Growth
As mentioned earlier, RSP Permian has a steady track record of production growth. In the recent past, production growth has accelerated as RSP Permian's financial flexibility increases. For 2013, the company's average production was 7,293boepd and in the third quarter of 2014, the company had an exit production of 14,000boepd. Therefore, the production growth has been robust and is likely to remain robust for several reasons -
First, the company's financial flexibility allows for strong investments in 2015, resulting is continued production growth
Second, the company has a deep drilling inventory with 1,760 horizontal and 1,241 vertical locations identified for drilling.
Third, inorganic growth will add to production other than the development of existing assets
Approximately 50% Production Hedged For 2015
The chart below gives the company's hedging program (swaps and collars) for 2015.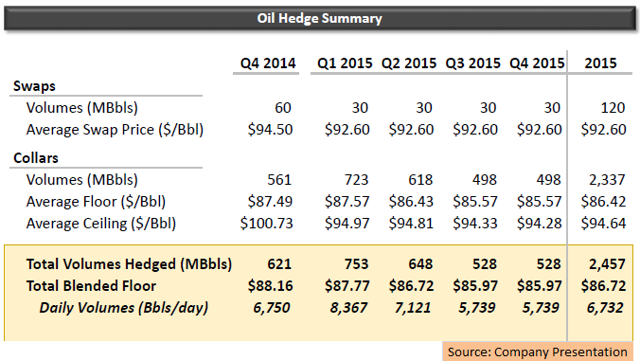 At a blended floor price of $86.7, the company has hedged a daily production volume of 6,732boe. RSP Permian exited 3Q14 with a production of 14,000boepd. Even if the daily average production for 2015 is considered at 14,000boepd, RSP Permian has nearly 48% of the production volumes hedged at the above said price.
The company's hedging will allow generation of fairly robust cash flows in the coming year even with oil prices trading below $60 per barrel. It is difficult to put an estimate to the cash flow as the pricing of the un-hedged volumes will determine the overall cash flow. However, it is certain that the company's cash flow will remain strong even if it's not as strong as 2014 cash flows.
Conclusion
RSP Permian has a focused growth plan and the company is operating in a quality asset. The company's credentials are excellent in terms of production growth, asset acquisition and financial prudence. It is therefore not surprising to see RSP Permian outperforming many oil and gas stocks on the downside.
At current levels of $20.8, I believe the stock is worth accumulating with a one-year time horizon. The oil price movement in 2015 will determine the outlook for 2016.
Disclosure: The author has no positions in any stocks mentioned, and no plans to initiate any positions within the next 72 hours.
The author wrote this article themselves, and it expresses their own opinions. The author is not receiving compensation for it (other than from Seeking Alpha). The author has no business relationship with any company whose stock is mentioned in this article.