"Tetra Tech (NASDAQ:TTEK)" is a leading global consulting, engineering, and project management firm providing services and solutions that focus on addressing fundamental needs for water, environment, infrastructure, resource management, and energy. With its $1.6 billion market cap it resides in the Industrials sector of the small cap growth universe.
Tetra Tech was recently reorganized into two primary divisions-Water, Environmental and Infrastructure ("WEI") and Resource Management and Energy ("RME").
WEI currently accounts for about 45% of net revenues. About 75% of this comes from government clients (35% U.S. Federal and 40% State, Local & Provincial) with the remainder from commercial clients. Geographically, about 75% of revenues are from the U.S. and 25% from Canada. WEI is expected to grow organically at a rate in the low-single digits.
RME accounts for about 55% of net revenues. About 75% of this is from commercial clients and 25% from government (20% U.S. Federal and 5% State, Local & Provincial). Geographically, about 65% of revenues are from the U.S., 30% from Canada, and 5% International. RME is expected to grow organically at a rate in the mid-single digits.
For those not familiar with the business, the following excerpt from the company's 2014 10-k provides a good general overview of the type of work the company does:
Our water services support government agencies responsible for managing water supply, wastewater treatment, stormwater management, and flood protection. Our water services also support private sector clients that require water supply and treatment for industrial processes. We help our clients develop water supplies and manage water resources, while addressing a wide range of local and national government requirements and policies. We provide essential support for water and site management needs for resource extraction in the oil and gas and mining industries. Our water and environmental markets also include both government and commercial clients that are working to restore contaminated areas and protect and manage future uses. Our infrastructure market includes a broad range of engineering services for water management and conveyance, transportation, public and commercial buildings, and related community needs. Our infrastructure services include mechanical, civil, and electrical engineering solutions designed to provide resilient and long-term solutions sensitive to changing climate and development needs, and emerging economies. Our resource management services provide support for the safe, sustainable extraction of necessary mineral resources and oil and gas, including a wide range of services to meet water, environment, energy, and infrastructure-related needs, sometimes in remote regions of the world. Our energy market consists of both government and commercial clients that seek to develop energy resources, identify energy efficiency enhancements, and support the development of energy transmission and distribution corridors.
Tetra Tech is a Stable Global Leader
I was led to Tetra Tech a few years ago after a prayerful search for an additional strategic water investment. It along with "Valmont Industries (NYSE:VMI)" (a company I recently wrote about on Seeking Alpha here) are currently the primary 2 stocks involved in water related business that I hold in client portfolios. [I also hold "Ecosphere Technologies (OTCQB:ESPH)" and follow "Severn Trent (OTCQX:STRNY)" but currently do not hold it due to overvaluation.]
Tetra Tech doesn't have quite the dramatic growth potential of a Valmont, but it is steady long-term option. It should be obvious to anyone reading the above business descriptions that it is well diversified across multiple client types and industries. The demand for their services is seemingly constant due to environmental concerns, water and resource scarcity, and the need for infrastructure development, especially in emerging countries.
Tetra Tech is the largest environmental management firm in North America and a well known leader in the water-related consulting & engineering services industry. A relative of mine works for a local, private firm in the same industry and when I asked him a while ago about Tetra Tech he was readily familiar with them. The leading industry trade journal, "Engineering News-Record ("ENR"), has ranked them the number one water services firm for the past eleven years. In 2014, they were also ranked #1 in water treatment and desalination, water treatment and supply, environmental management, environmental science, consulting studies, solid waste, power operation and maintenance, and wind power.
Tetra Tech's reputation and industry leading position is important to future business growth because it gives them a competitive advantage. The company explains in their most recent 10-k:
Increasingly, the consulting and engineering industry is being asked to provide integrated solutions in a global marketplace. ... Large firms that offer integrated solutions differentiate themselves from smaller firms that generally offer niche services by providing fully integrated sustainable solutions that provide lasting value to our clients. As a large company with a history of leading with science, we are ideally suited to providing interdisciplinary solutions across our water and related service lines.
As testament to this, Tetra Tech is the largest water consultant to the U.S. federal government.
Think about it. Managers with a government agency (e.g., EPA or Dept of Energy) or a Fortune 500 firm responsible for securing engineering & consulting firms for $50 million contracts will more likely be drawn to a proven leader like Tetra Tech. Not only is it a good way for them to cover themselves (I don't think like this but I realize many do), but the firm's experience level will probably make it a lot easier process for them, in general.
Leveraged Recapitalization to Drive Shareholder Returns
Tetra Tech had $193 million of long-term debt and $122 million in cash on its balance sheet at the end of its 2014 fiscal year on September 28th. They also had $395 million in working capital at year end. Considering their 2014 EBITDA was $207 million, this gives them a Net Debt to EBITDA ratio of about .34 (Net Debt = Long-Term Debt - Cash). The company has recently stated that they want to increase their leverage to 1 to 2 times Net Debt to EBITDA. They want to use the additional funds to repurchase their stock, make acquisitions, and continue to invest in organic growth opportunities. They also recently started paying dividends for the first time so a small portion of the new capital could be used to increase the current quarterly payout ($9 million or .07 a share). In order to accommodate the additional leverage, in May 2013 the company entered into an Amended Credit Agreement for $665 million. $205 million of this is a term loan facility and the remaining $460 million is a revolving credit facility. Adding leverage makes sense given that Tetra Tech's long-term debt is currently financed at a low, weighted-average interest rate of 1.82%.
The impetus for the recent realignment of Tetra Tech's business units was the exiting of some of the less profitable aspects of its former Remediation and Construction Management ("RCM") unit. The company estimates that this will lead to higher EBITDA margins of 12-13% for the 2 new business units WEI and RME. Furthermore, parts of RCM were more capital intensive so depreciation costs will fall by about 20%. Based on the company's estimate that revenue (net of subcontractor costs) will decline by .5% in FY 2015 (mid-range of their guidance) and rise by 5% in 2016 (my estimate), I project EBITDA to be around $243 million in 2016 (assuming a 12.5% EBITDA margin). A 1.5 Net Debt to EBITDA leverage (the mid-point of the company's target) would imply $487 of long-term debt in 2016, assuming they continue to have $122 million in cash. This would mean an addition of $294 million in long-term debt over the next 2 years. Adding almost $300 million of debt aligns with the recent decision by Tetra Tech's Board of Directors to authorize a $200 million stock buyback over the next two years. On the most recent earnings call, CFO Steven Burdick said they are definitely planning to buy back the full amount.
The following table shows how I see the numbers playing out:
| | | |
| --- | --- | --- |
|   | 2015 | 2016 |
| Revenue | $1,850,000,000 | $1,940,000,000 |
| Net Income | $117,000,000 | $122,000,000 |
| Free Cash Flow | $163,000,000 | $166,400,000 |
| Shares Outstanding | 61,331,000 | 58,427,000 |
| Earnings Per Share | 1.91 | 2.09 |
| P/E Multiple at $25.3 share price | 13.3 | 12.1 |
| P/FCF Multiple at $25.3 share price | 10.9 | 10.1 |
| Dividends | $18,000,000 | $21,000,000 |
| Dividend Yield | 1.16% | 1.42% |
| Shareholder Yield (Dividends + Buybacks) | 7.6% | 8.2% |
[Assumptions: (1) Shares Outstanding in the above table assumes the company buys back $100 million of shares each year at an average price of $27 and they dilute 800,000 shares each year for employee compensation plans). (2) Dividends in 2016 assumes company increases payout by $3 million or 17%.]
Based on Tetra Tech's historical earnings multiples (see following chart), the above projections would imply that the shares may be undervalued.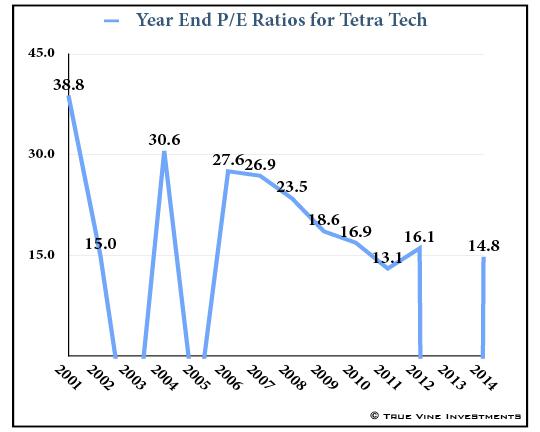 From a historical valuation perspective, investors buying the stock now face limited downside risk to long-term returns.
It is likely that the company will make some acquisitions during the next two years that will also accrete to earnings. Over the last nine years they have averaged $84 million a year in acquisitions.
Over the last two, 7-year stock market cycles Tetra Tech has grown its earnings by an average annual rate of 11.4% (2002 to 2008) and 12.4% (2009 to 2015; assuming my estimates). Given this and my review of the company's long-term prospects, I estimate future annual earnings growth of 11%.
True Vine Investments' proprietary stock evaluator assigns an earnings multiple target of 12.5 to the stock, assuming my current outlook of moderately bullish. The stock is fully valued on my earnings view, however, the same target applied to free cash flow multiple implies a 15% undervaluation. At this point, I hold a modest allocation in client portfolios and am not selling, given the fact that (1) shareholder yield is currently high (7.6 to 8.2% - see above table), primarily due to buybacks, (2) accretive strategic acquisitions should be expected, and (3) the company's backlog and recent signings have been strong. Due to the stable nature of the business I have been targeting slightly higher allocations to more conservative client portfolios.
Intermediate Term Precautions
There are a couple precautions I have for investors considering Tetra Tech. They are not near term concerns, but long-term investors should be aware of them.
1. Government Budget Constraints
More than half of Tetra Tech's revenue comes from federal, state, local, and provincial governments in the United States and Canada. The company could quickly face revenue headwinds if these governments are forced to severely cutback. That being said, the company's revenues remained strong throughout the last financial crisis so it would seem that the type of projects the company takes on are somewhat a priority for governments.
In the past, the company has emphasized there expansion into international markets and a greater portion of commercial clients in the revenue mix. It now appears they have changed their tune as the U.S. budget outlook has improved, emerging markets have slowed down, and the U.S. dollar has strengthened. The company has subsidiaries in China and India, however, I have not come across any projects they have completed there. It seems that over the intermediate term the company faces the challenge of developing and communicating their strategy for international expansion. I suspect that future acquisitions will eventually play a key role here.
2. Share Dilution Acts as Drag to Earnings Growth
Tetra Tech has several stock-based compensation plans for employees and outside directors. Investors should be aware of these because over time they act as a hidden deduction against earnings per share when the company is not repurchasing shares. Consider the following table:
| | | | |
| --- | --- | --- | --- |
|   | 2002 | 2008 | 2014 |
| Weighted Average Shares Outstanding at End of Fiscal Year (Diluted) | 55,086,000 | 59,632,000 | 64,544,000 |
| Earnings Per Share | $.53 | $1.02 | $1.69 |
| Hypothetical Earnings Per Share (assuming no dilution) |   | $1.11 | $1.97 |
At a constant earnings multiple of 15 investors would have earned a total return of 201.5% over the last two, 7-year market cycles (14 years total ending in 2015 - assuming my estimates). Assuming no share dilution and a constant earnings multiple of 15, investors would have earned a hypothetical total return of 276.8%. This amounts to the average annual return being reduced by 5.5%.
This is not necessarily a bad thing, because it is important to the long-term performance of Tetra Tech that there employees are compensated properly. Their engineers, consultants, and scientists are the core capital of their business. Investors just need to make sure they are factoring this in to their long-term return expectations.
Conclusion
Tetra Tech is currently fairly valued but still a good option for long-term investors. There are several near term catalysts in the favor of shareholders as the company leverages up their capital structure that I believe outweigh possible headwinds. Investors are not going to hit any immediate home runs with this stock, but over time the stock will produce a lot of singles that add up. The stock is especially suitable for conservative investors with a long-term horizon that are seeking stable portfolio growth. The fact that the company recently begin paying dividends for the first time supports this view.
Important Regulatory Disclosures:
I am a Registered Investment Advisor in the State of Pennsylvania. I screen electronic communications from prospective clients in other states to ensure that I do not communicate directly with any prospect in another state where I have not met the registration requirements or do not have an applicable exemption.
Positive comments made regarding this article should not be construed by readers to be an endorsement of my abilities to act as an investment adviser.
Disclosure: The author has no positions in any stocks mentioned, and no plans to initiate any positions within the next 72 hours.
The author wrote this article themselves, and it expresses their own opinions. The author is not receiving compensation for it (other than from Seeking Alpha). The author has no business relationship with any company whose stock is mentioned in this article.
Additional disclosure: I personally do not own shares of Tetra Tech because I recently used all my savings to start my own advisory business. However, Tetra Tech is currently a holding in most of my clients' portfolios. A small amount of my salary is therefore derived from the performance of the stock. I reserve the right to buy or sell the stock at any time while managing my clients' portfolios, sometimes for purposes unrelated to my views in this article.