The price of oil has fallen from $115 a barrel in July to below $70 in less than five months. As Pulitzer Prize-winning American author and economic researcher Daniel Yergin pointed out in The Wall Street Journal on November 30, the key driver of lower oil prices is the increase in supply. World demand continues to rise, but only slightly. The growth in Chinese oil imports has slowed almost to a halt, while supply, on the other hand, is booming. US oil production has grown by 80% since 2008. Canadian production has also greatly increased. Libya is back on stream after a period of disruption in output.
The recent decision by OPEC, dominated by Saudi Arabia, to maintain current production volumes despite falling prices, has given rise to speculation that the Saudis want to put the shale oil (SHLE) producers out of business. While that may be the case, it is hard to see where a new surge in international demand will come from in the short to medium term, at least not a sufficient increase to test this new abundance of supply and a sluggish global economy.
A lower oil price will hit high cost oil producers, but a recent study by leading global analytics firm IHS Inc. (IHS). concludes that 80% of shale oil production will be economic at prices between $50 and $69 a barrel. With infrastructure investments already made, and new technology bringing further cost reductions, the recent gains in US and Canadian oil supplies look set to continue production even if further new investments in higher price oil are put on hold.
Additional downward pricing in demand is also coming from the tremendous growth in clean tech. This boom emphasizes technological solutions to reduce energy consumption and pollution. Examples include fuel efficient vehicles, renewable energy including solar and wind, infrastructure upgrades in smart grid and LEDs. Clean tech is leading the charge against fossil fuels with a strong focus on reducing pollution and climate change concerns.
While cheap oil has major economic consequences, it also has significant geopolitical ramifications for both producer and consumer countries.
According to a recent piece by Harvard Economics professor Martin Feldstein in Project Syndicate, countries including Venezuela, Iran and Russia are suffering greatly from the price decline in oil. These countries are also at odds with US foreign policy. While there have been no official announcements, there is speculation that lower oil prices may be a powerful policy lever for Europe and the U.S. to use against these countries, and Russia in particular. Feldstein argues that Putin may not be able to maintain the transfer programs that currently sustain his popular support with oil at $60 or lower and that a sustained decline could potentially jeopardize his regime.
In the British publication the Telegraph, Vladimir Putin recently suggested that the decline in the price of oil has been engineered by political forces to effect change in his unpopular policies. Regardless, the impact on the Russian Rouble and reserves has been dramatic: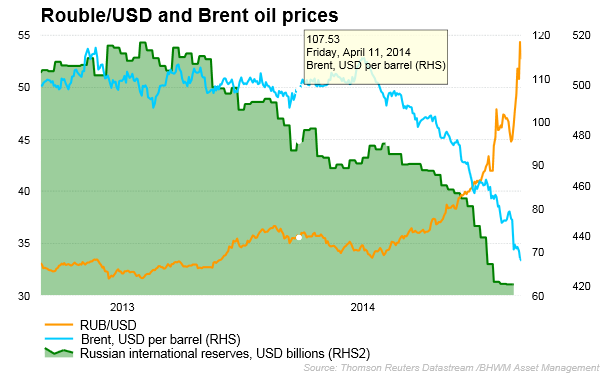 In contrast to producers including Russia, oil consumer countries benefit from lower prices. Cheaper gasoline will mean more disposable income to spend on other goods and services. It will reduce transportation costs for freight businesses and airlines, thereby helping their margins. Lower oil prices will help manufacturers of plastics, synthetic fibers, pharmaceuticals, lubricants, chemicals and other products that are produced using fossil fuels.
In aggregate, lower oil prices could be a positive for investors in US equities because of the overall boost in consumer spending and increases in margins. If that is the case, how can investors best take advantage of the recent dislocation in oil prices?
History may provide some guidance from oil drillers. These companies' share prices are highly sensitive to fluctuations in oil pricing. In previous periods of rapid decline in oil prices: 1997-1998, 2001-2002 and 2008-2009, the drillers saw their stock prices tank by as much as 60-85%. This was in spite of the fact that they remained profitable throughout those periods, with margins never dropping below 25%.
After hitting those lows, driller prices recovered by 200 to 500 percent, with an earlier recovery than the price of oil. As the price of this commodity drops once again, investors are seeing drillers like Transocean (NYSE:RIG), Seadrill (NYSE:SDRL) and Diamond Offshore Drilling (NYSE:DO) experiencing large drops in their stock prices.
Previous oil price declines saw driller trough P/E (TTM) in the 3 times price to earning range, implying potentially another 30-50 percent more downside, if oil price declines continue and drillers hit trough p/e levels yet again. A likely tell for when these stocks may look more attractive is when the majority of the companies have cut or suspended their dividend.
Oil & Gas - Drilling Top 10 by Market Cap ($)

12/08/2014

Company

Ticker

Market
Cap ($mil)

Enterprise Value

P/E using
12 mo Est

Div
Yield

% Ch Price
Year-to-Date

Seadrill Ltd

SDRL

$6,071

$16,258

4.24

32.47%

-70.01%

Transocean Ltd

RIG

$6,781

$13,899

7.33

16.03%

-62.12%

Noble Corp Plc

$4,127

$8,796

7.55

9.16%

-56.29%

Diamond Offshor

DO

$4,102

$5,028

9.66

1.67%

-47.45%

Ensco Plc

$7,278

$12,009

5.85

9.66%

-45.66%

Atwood Oceanics

$1,919

$3,581

4.97

0.00%

-44.17%

Rowan Cos Plc

$2,632

$4,731

6.08

1.89%

-40.24%

Patterson-Uti

$2,332

$2,969

8.25

2.51%

-37.09%

Nabors Ind

$3,534

$7,324

6.74

1.97%

-28.13%

Helmerich & Payne

$7,301

$6,980

10.05

4.08%

-19.79%

Weighted Avg

$5,458

$9,557

7.18

10.16%

-46.15%

Mean

$4,608

$ 8,158

7.07

7.94%

-45.10%

Source: Zacks Investment Research
While we believe there is a forthcoming opportunity for investors in this industry group, it is worth noting that there has been a fundamental change in the way business is done with the dominance of long term contracts. During previous downturns, there were very few long term contracts, so the drillers had limited production backlogs to keep them going through a lean year or two. Now the larger drillers like Transocean and Seadrill each have $10's of billions worth of backlogs. Even smaller drillers have backlogs of a few billion dollars. This provides significant insulation from hard times ahead even with no such insulation the drillers managed to remain profitable through hard times in the past.
The decline in oil prices is having far reaching consequences both negative and positive. It is also providing a tail wind for the US economy. While energy companies share prices are negative short term, the price dislocation in oil is setting up a potentially attractive opportunity for longer term investors, particularly in the drilling space. The industry's transition to long term contracts and stable multi-year income generation makes this doubly so.
Disclosure: The author has no positions in any stocks mentioned, and no plans to initiate any positions within the next 72 hours.
The author wrote this article themselves, and it expresses their own opinions. The author is not receiving compensation for it. The author has no business relationship with any company whose stock is mentioned in this article.